Camping Hacks from a Clueless Camper –
I'm almost ashamed to admit last weekend was the first time I've ever been camping in my entire life. Despite my inexperience as a camper, I did walk away with a few brilliant camping hacks that I believe are worth sharing with others. Most of these frugal camping hacks are so simple and inexpensive that anyone can and should implement them on their next camping trip. I stumbled upon some of them nearly by accident.
*This post contains affiliate links.
You may be wondering how I, a complete redneck living in a world where I am surrounded by other rednecks, managed to make it nearly four decades on this earth without camping. I mean, we butcher our own meat with our own hands here at The House That Never Slumbers (not literally in our house, the butchering mostly happens in our neighbors' barn  Update: Now we really do butcher in our own basement.). We eat plants and animals that came from the woods on a regular basis. We love building fires (see instructions for my DIY Fire Starters). So why have I never camped in my entire life?
My mom grew up camping all over the country. It was the only vacation her family could afford. She's stayed in a lot of different state parks and campgrounds. She has fond memories of it, but we never camped while I was growing up. My dad isn't much of the camping type. He's always worked in a hot factory all day in a job with a lot of lifting and so on.
I suppose spending his time off work in sweaty conditions doing more manual labor didn't seem like much of a vacation to him, so we've always stayed in hotels with air conditioning and televisions. I'm guessing the novelty of camping might seem more alluring to people who spend their days behind a desk. I don't know. We just never camped.
Pin this to your Pinterest camping hacks board!
In the summers, we played in the creek ('crick') everyday. We caught crawdads and cooked them over open fires. Did you know they turn red like a lobster? We fished – sometimes with lines and sometimes with buckets or nets. We squished our feet in the mud of the creek banks and got leeches on our toes which isn't all that pleasant of an experience to tell you the truth. We climbed in the barns. We climbed on the roof of any building we could find a way to reach.
We explored the woods while my parents chopped wood for our wood stove. We built fires, lots of fires, at ages when most people would have considered us way too young to play with matches. We did all of this barefoot and sometimes in our underwear because we lived in the country, and no one expected kids to wear clothing then. My mom claims my sister never wore any clothes until she went to school. The worst thing about school though was wearing shoes. The shoes were always there choking my feet when summer had ended.
A desire to go camping somewhere never crossed my mind as a kid though, probably because anything people do while camping was something we could do at home on any given day on our own land. I did attempt to sleep in a tent outside approximately 716 times during the few weeks that my cousins would visit every summer. This always sounded like a great idea until it was dark, and late, and cold in the tent, and our parents were inside the house, and we had to use the bathroom, and mosquitoes started making that annoying buzzy sound in our ears. Someone would inevitably hear a noise or see a shadow that seemed scary. Usually, after getting bats and make-shift weapons to protect ourselves, we still gave up after a few hours of trying to be brave.
Though we may have survived camping in the house a few times, we never made it an entire night in a tent outside EVER. Later when we were older and owned a trampoline, we attempted to sleep on that approximately 37 times. This is again an activity that only sounds like a good idea until you actually try it. The problem with five kids on a trampoline is that the stretchy surface forces everyone to gradually migrate into one huge pile of children in the middle. It's completely uncomfortable. We never made it an entire night "camping" on the trampoline either. So after a childhood of multiple campout failures, I did finally camp last weekend.
My First Camping Trip
We had decided to camp for a weekend with RiflemanDad's siblings and cousin and their families. His family grew up camping at a certain campground in far Northern Indiana. We called early in June to get our reservations to camp the last week of July.
Shortly after making the reservations, we stumbled upon a cheap popup camper on a local rummage site. But don't worry these tips aren't necessarily popup camper hacks. They will work no matter which type of camper, RV, fifth wheel, or tent you own.
We knew our newly acquired popup camper needed some work, but we had most of the summer to get that under control, so we bought it. We ordered the parts we would need right away. We waited, and we waited, and we waited some more.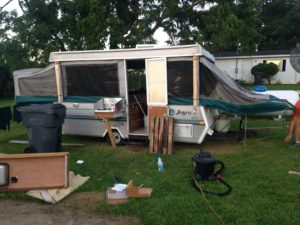 Some of the parts came the Saturday before the trip. Since the parts were needed to make the pop-up camper raise and lower, we couldn't really do any cleaning or work fixing up the camper until about Tuesday of the week we were leaving on Friday morning. This made the situation a little frantic and it involved some pretty serious redneck engineering on the part of RiflemanDad, but by Friday, we had a camper that was at least as hospitable as a tent.
We didn't have much time to work out any sort of organizational system in the camper. I had held off on purchasing many items (hanging organizers, plastic storage tubs, etc.) until we were sure the camper could even be repaired. Fortunately, there were a few items I already had on hand for other purposes that turned into some pretty nice small camper hacks.
Camping Hack #1 – Metal Rings
I don't even know where I picked up these metal rings, but I had two packs of them in the basket of stuff I had been stashing away all summer for this camping trip. You can find lots of different sizes of metal rings on Amazon, but to be quite honest, they're asking more than I would pay for them.
I might have picked mine up at Dollar Tree. The ones on the website are being sold as "book rings." I think my packages had them labeled as shower curtain rings. Regardless of the label, they are cheap and helpful. Don't you love Dollar Tree camping hacks?
Regardless of what you call them, they are quite handy. I used them to clip a bunch of hair elastics to a handle on the camper cabinets. I had one ring of hair elastics and one ring of large rubber bands. At home, I normally use a carabiner clip to hold hair elastics in the bathroom, but I actually think these rings are more functional. They are thinner, so they can fit into places a thicker carabiner might not. It was also easier to take the elastics off these rings.
Don't miss 5 Simple Items You Must Pack for Your Next Hotel Stay!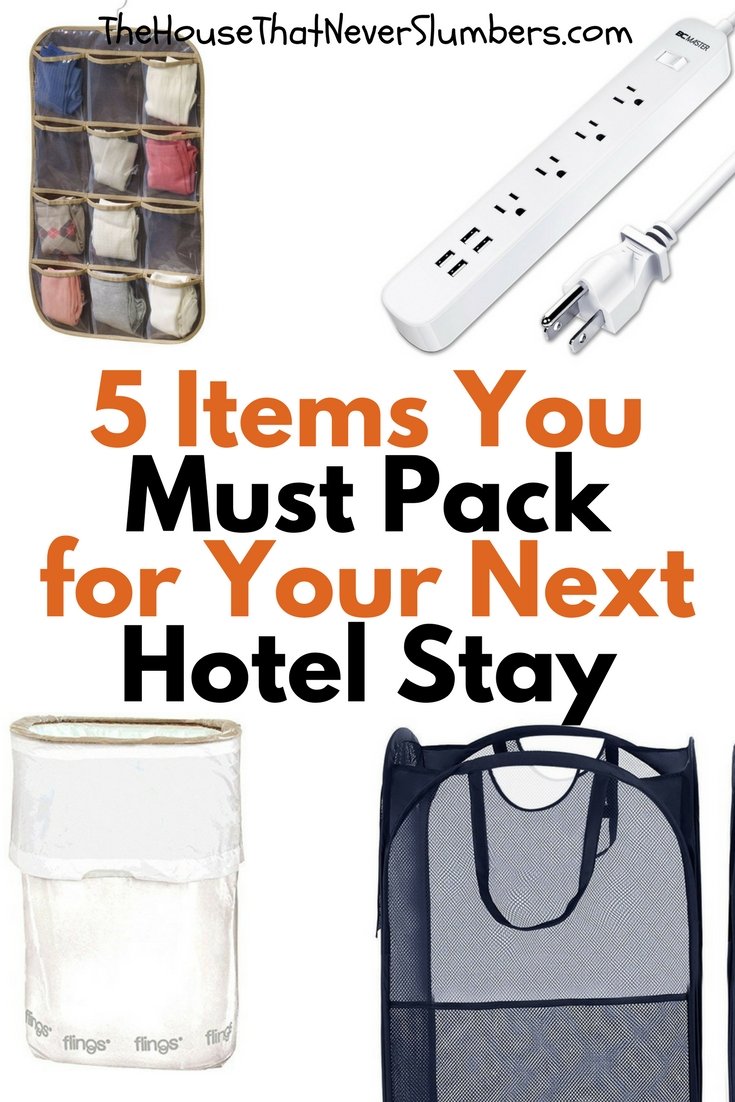 These rings have many storage and organizational uses for camping and life hacking in general. You can use them to connect pencil pouches together. You can clip things to the headrest in a car. You can hang a curtain. They are super cheap and take up very little packing space. I'll probably throw several in my suitcase the next time I travel on a non-camping trip too.
Camping Hack #2 – Collapsible Clothes Hamper Trash Can
I knew we would need some type of trash container at the campsite. I suppose people staying in an RV have a real camper trash can, but I needed something I could load easily in the Jayco pop up camper. I figured a collapsible trash can for camping would work best for us.
I shopped around for several different ones online all summer. This Trash-Ease Portable Trash Bag Holder is neat, but that's more than I wanted to pay. It would definitely be on my list if I had unlimited funds though.
I continued to watch prices on a lot of different camping trash can options throughout the summer, but I never did buy any because we just weren't sure the camper would even be usable.
The day before we were leaving I found a collapsible clothes hamper at Menard's that was deeply discounted, so it became my trash hamper.
It was part of a dorm organizing set that included some hanging organizers as well. The original price for the set was $20, but it was marked down, and there was a rebate, so it will end up only costing me $5 for the entire set.
This collapsible hamper on Amazon looks similar to the one I have, but it also has a zipping lid.
You wouldn't be able to zip the lid with the trash bags clipped to the handles, but the zipper lid might be a nice feature if you plan to use it as a hamper later. I can't vouch for the quality, since I haven't used that exact one.
Using collapsible items is an important feature of any pop up camping hacks because you are so limited on space, but DO NOT try to use the cheap, mesh folding hampers with a trash bag.
I've tried that in hotels in the past, and it doesn't work nearly as well as this type of trash can hamper. While packing the camper, I placed about eight standard kitchen drawstring trash bags inside the hamper. I placed one trash bag inside of the other and then another inside of that, so they were layered.
I pulled the hamper handle through the drawstring on each side, and then I used one of my handy-dandy metal binder rings to secure the trash bag to each handle. I collapsed the entire contraption. It packed away easily in one of the storage compartments under the camper booth seating and worked beautifully all weekend. I was able to secure it to one of the posts of the easy-up canopy with the metal ring to keep it from blowing away or being knocked over by one of my rowdy kids.
It really was the best pop up camping trash can ever. You can keep this in mind for your easy up canopy tent hacks as well. We've spent a lot of time using a folding canopy at baseball games, softball games, track meets, and cross country meets. This hamper trash can is perfect for those all-day sporting event situations too!
Camping Hack #3 – Small Plastic Shelf
I bought a couple of small plastic shelves from Hollar earlier in the summer. They were only $5 each, and I had a coupon for joining. If you would like to shop on Hollar, this is my referral link. You will get a coupon for creating a login, and I will get a coupon if you purchase anything (this is information I am required to disclose to you).
These small shelves ended up being perfect for the camper. They come apart and go back together easily and also fit nicely in the booth seat storage. I felt like a total genius when I realized the paper towel roll would even fit on one of the posts.
This gave us additional tiered storage for our food and paper plates and so on. I can't find the rectangular shelves on Hollar anymore, but they still sell a 3-tier round shelf that appears to be the same type. It should work really great for paper plates, since the diameter is listed as 14.5 inches. I should note that the color of the shelf isn't necessarily what is pictured. Of the two shelves I ordered, one was the light blue color in the picture, and the other was a neon green. If the color is super important, you might not want to take a chance on this product. The color didn't matter to me for use in the camper because the popup camper is far from fancy.
Update: I'm actually using one of these plastic shelves in my son's bathroom now. It's beside the sink and holds all the toilet paper which fits the same as the paper towels did. I can put four new rolls of toilet paper on there when I clean the bathroom, and not have to worry about my son not bothering to change the roll for a long time.
Camping Hack #4 – Folding PVC Drying Rack
I saw this PVC Drying Rack on Pinterest much earlier in the summer and thought it would be nice for camping. (Actually, you can find more PVC hacks than you could ever imagine on Pinterest!) When I went to price the of thismaterials for that one, it became abundantly apparent that PVC itself is very cheap, but the elbows and T's are rather expensive.
I decided to come up with my own design for this PVC camping drying rack that eliminated the need for most of the elbows and T's. Instead of making each rung PVC, I just made the main frame of this outdoor drying rack from PVC.
I then drilled holes and ran vinyl-coated clothesline wire through the holes to make the lines for drying. Not only did this eliminate the need to buy the expensive connectors, it also allowed the PVC camper drying rack to fold much flatter than it could have with the rungs being made from PVC.
If I were to build this PVC clothes rack again, there are some minor tweaks I would make, but overall, it was a really functional addition to our camping equipment. It stored nicely, and I intend to do a full post with more details and instructions at a later time.
If you don't have time to build your own drying rack, there's a large variety of drying racks available for purchase. If you are camping, you will definitely want to have some way to dry your towels and bathing suits, and you can't always assume there will be trees positioned in a way that allows a clothesline.
Maybe we won't be clueless campers next time!
These are just a few camping hacks from a clueless camper on her first trip. Though these pop up camper hacks were a success, we also managed to experience several camping fails on this first camping trip, but that's a topic for another post. I hope to learn a little from each subsequent camping trip, and one day I will no longer be a clueless camper. Maybe.
The newlyweds (Remember them from the My Daughter Was Married in High School post?) bought a 2000 Dutchmen Lite 26QB to renovate. We're just as clueless at camper renovation. You can read about that and see the video walkthrough in Married in High School – Now Celebrating Six Months, or subscribe to our YouTube channel to follow the progress updates.
Do you have any favorite camper life hacks?
Though I'm still a novice camper myself, my expert-in-all-things-camping friend over at Mama Bear Outdoors has a great post on The 14 Best Car and Tent Camping Essentials. Be sure to check it out for great camping tips and hacks!
If you found this information helpful, please like, share, tweet, pin, follow, and subscribe to The House That Never Slumbers!
Also, check out one of our favorite and most useful camping items, the folding table cooler! We've even included a video review.