5 Simple Items You Must Pack for Your Next Hotel Stay –
Wherever we go, chaos follows us, and hotel rooms are certainly no exception. I've accepted it as an inevitability of large families. You simply cannot put six or more people and all the luggage and gear they require in a small room for any length time without creating a bit of disarray. Fortunately, through the years we've discovered five simple items we must pack for every hotel stay.
*This post contains affiliate links.
5 Must-Have Travel Items
You can never know for sure how many electrical outlets a hotel room will have, and many times the ones available are hidden behind nightstands and other furniture. Rather than fighting for the limited number of outlets when trying to charge everyone's phones, tablets, and laptops, we just bring a power strip or two. We've been carrying a regular power strip for more than a decade, but in recent years we've added a second one that includes USB ports to our luggage.
The built-in USB ports conveniently eliminate the need to bring multiple charger backs for each person and more importantly the possibility of leaving a couple of backs and chargers in the hotel room because they're scattered everywhere and hidden behind dressers or nightstands. Our powerstrip lives in my suitcase when we aren't traveling, so I never have to worry about forgetting to pack it.  
A hanging pocket organizer is an absolute necessity for keeping the hotel bathroom somewhat organized. Make-up, deodorant, razors, contact solution, hair accessories, and all other small items can be kept in a pocket organizer hanging from the hand towel rack rather than cluttering the entire sink area.
The one we use is something I bought at a dollar store more than ten years ago. It's great because the pockets are clear to allow you to see what's in each section, and it's shorter than the normal shoe organizers, so it fits the wall space from the towel rack to the sink well.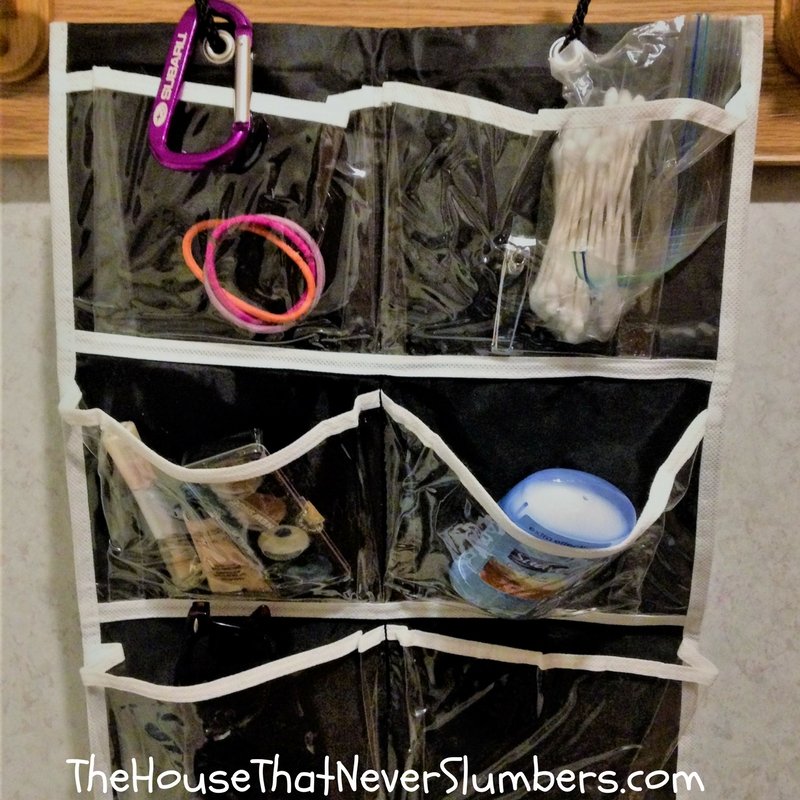 This hanging pocket organizer meant for socks should also be about the right size.
Hotels have the tiniest trash cans ever which irks me to no end. The can is full with two or three pieces of trash. Those miniature trash cans are useless. We generally only let housekeeping clean our room every couple of days, so those baby trash cans just don't cut it for us.
I managed to find pop-up trash bins that hold a 13-gallon bag many years ago deeply clearanced at Walmart. I bought every one they had, and we've been using them since then. It's so much easier to keep the room somewhat clean if we have a trash can large enough to hold all the empty foam restaurant cups and the take-out containers when we're finished. When the trash bag is full, one of us carries it to the hotel dumpster.
Amazon has pop-up trash bins similar to the ones we have.
When we went camping last summer, we actually used a pop-up nylon laundry hamper. It held a 13-gallon trash bag perfectly, and I may ta
ke it on our next trip hotel trip instead. You can read more of my Camping Hacks from a Clueless Camper.
4.) Free Pant Hangers
Never throw away these free hangers that you get when you buy clothing! They will make your hotel stay so much easier.
I save these hangers all through the year. I throw a bunch in my luggage anytime we stay in a hotel. Hotels usually have that nice coat hanger area, but there are never more than a few hangers, and sometimes only 1-2 that have the clips. Those clips make it so much easier to hang wet bathing suits to dry.
These free hangers work just as well as the fancy metal hotel hangers, and I usually just toss them at the end of the trip to make room for souvenirs in the luggage.
I never stay in a hotel without bringing a couple of collapsible mesh hampers. These can be folded to easily fit in a suitcase, or we use ours to hold all the snacks and paper products when packing the van. Then once we unpack the food in the hotel room, we can have the hampers for laundry.
I ALWAYS do laundry at a hotel. We have too many people to allow the laundry to build up through an entire trip. I just cannot bear the thought of coming home from vacation to a nightmare of laundry. I usually do all the laundry every two days at a hotel. This also allows us to pack less and wash everything halfway through the week to wear again.
I don't use the mesh hampers for dirty laundry because I don't want to pack a smelly hamper in my luggage. We throw all our dirty laundry into trash bags. We carry it to the hotel laundry room in the trash bags. I use the mesh hampers to carry the clean laundry back to the room.
If you don't care that they're a bit flimsy, you can buy collapsible hampers from the Dollar Tree. The ones I use are from the Dollar Tree. Eventually, they rip and I have to replace them, but that's fine for the price. DO NOT try to use these as your extra trash can! Trust me. I've tried. They just fall over constantly without something heavy filling them.
One Additional Luxury Item
I wanted to mention one more item that's a really nice addition to any hotel stay. I don't consider it a necessity because it's fairly pricey, but this folding table cooler has been a wonderful item for our last couple of vacations. It's nice to have the extra table surface if we bring pizzas back to the hotel and need a place to sit the boxes like a buffet. It also gives us a nice flat surface for playing cards. Check out my full review and video of this amazing folding table cooler.
What are your favorite must-have travel items? Let us know in the comments.
Please like, share, tweet, pin, follow, and subscribe to The House That Never Slumbers!
Catch future tips on frugal travel and frugal living with a large family by signing up below.
Pin this for future reference: