Bullet Boutonnieres and Bouquets –
Yes. You read that correctly Bullet Boutonnieres and Bouquets! My daughter and her husband (who were married while still in high school, by the way) chose to incorporate ammunition into their wedding flowers. Who does that, right?! You could say both the bride and groom, in this case, are very into exercising their second amendment rights. The groom's father is a law enforcement officer, so he grew up being well-trained on all manner of firearms. The bride's father is an avid hunter, so she learned to shoot while the .410 was still taller than she. For their six month anniversary, the couple went to the shooting range. She still had some of the shells from that date and wanted to use one of those for her bouquet. With the wedding bouquet already being held by ammo, it only seemed natural to put the boutonnieres and corsages in bullet casings to continue the rustic but elegant theme (and by that, I mean fancy redneck).
Redneck is exactly what my daughter wanted. She dated this guy because he was carrying a knife the night she met him. He claims he didn't have a knife that night, but I'm sure his memory is faulty on that. She came home from the fair very late, and I asked her about her evening. She named a few people she had met. I asked about each new person, but she only wanted to speak about one because he was, ". . . cute, and redneck, and he had a knife." When she said the word knife, those little cartoon hearts started popping out of her eyes and floating up to the sky. And she said the word in the same tone those girls in the old Beach Party movies would say, "He's soooo dreamy." The next day, I said to RiflemanDad, "I think she's choosing this kid because he was carrying a knife." RiflemanDad said, "Oh well." I said, "It actually makes perfect sense because he's still too young to carry a handgun." RiflemanDad said, "Hmmm."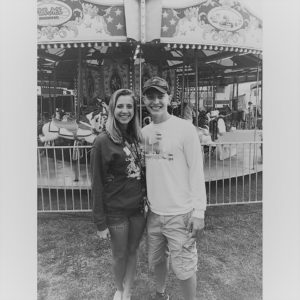 We decided to visit the fair because we're creepy stalkers like that. By "creepy stalkers," I obviously mean responsible parents who do great investigative research on anyone our children meet. Okay, fine, so I'm the stalker. RiflemanDad is not so much into the investigative research part of the job. I could have conducted a lot better social media stalking investigative research if the before mentioned eldest daughter would have given me a last name, but she still claims she didn't know the last name then, so we were forced to make a visit to the fair and inconspicuously walk around with all her siblings trying to use our best detective skills to figure out which guy in her group was the person of interest. I pointed out a boy, and said, "That's probably him. He has a man aiming a rifle on his t-shirt." RiflemanDad said, "I think the fact that he is right on her side wherever she goes might be more of a giveaway." There was that too. He was kind of giving off a pretty clear this-girl-is-everything-I've-ever-wanted vibe. Good thing he was carrying that knife to attract her attention the first night.
*This post may contain affiliate links.
Fast forward a year and a half later, and we found ourselves with only about ten weeks to put an entire wedding together. We don't believe in spending an absurd amount of money on a one-day event that lasts a few hours, so practically everything about the wedding was DIY. We did all the floral arrangements ourselves using artificial flowers we purchased at a fraction of the cost on Amazon and the Wish app. We have virtually no experience in arranging flowers, so we were truly winging it every step of the way. The good news is that when your child gets married while still in high school, no one's talking about the flowers anyway. But really, don't be intimidated by arranging your own wedding flowers. If you we can DIY a wedding bouquet, so can you!
The shotgun shells and the bullet casings all started out the wrong colors for this wedding. The casings
were originally a brownish, brassy color, and the shells were red plastic with the brassy cap. It only took a couple of cans of spray paint to fix that. It was an unusually cold spring in Indiana, so finding a good day to spray paint outdoors was nearly impossible. It was pouring rain on any days that were warmish. Most of the days we sprayed were cold enough for snow. We staked kabob skewers in the dirt to hold each shell/casing. This made it so much easier to get all sides sprayed on each round. It took two coats for the silver on the bullet casings, and three coats of the Tiffany blue to cover the red plastic on the shells. We first sprayed the entire shell with the Tiffany. I then wrapped a post-it note around that and taped it in place, so we could spray the tip with two coats of silver. If you are spray painting outside, try to find an area that is somewhat blocked from the wind. The wind blows thin spots into the coverage on freshly painted objects. After a couple of hours outside, we would bring the shells/casings inside to finish drying overnight. We did this by planting the skewers into an upside down cardboard box.
The flowers we used for the bouquets for the bride and bridesmaid were extremely inexpensive. I had been watching the 50% off sales at Hobby Lobby, but most of the nicer flowers there were still pretty expensive even with the discount. The pre-made bridal bouquets there would not have worked with the shotgun shell anyway. I took a chance on ordering flowers from Amazon. I started by ordering this pack of twenty white roses to see if I was happy with the quality. It was worth the risk at a price under $4 for 20. I ordered a second pack as soon as those arrived. Fortunately, my daughter (now known here as Mrs. Merica) was enrolled in an Early College program that gave her an .edu email address, so she was able to get the student promotion for a free six months of Amazon Prime to get us free two-day shipping on most of our orders.
I can't find the mint roses in my past Amazon orders, so I must have ordered those from the Wish app. Just keep in mind, items ordered from the Wish app can take a long time to arrive. I've had inconsistent results with Wish. Some of my items have been lost in shipping. They've always credited me for items that didn't arrive without any hassle, but you just need to give yourself plenty of time if ordering items for a wedding from Wish. Make sure you have time to re-order if they don't arrive by the first estimated date. At the time of this publication, Wish is offering up to 50% off on your first order if you download the app and enter the promo code hhrcqmk (This is my referral code, so I must disclose that I also would get a coupon worth up to 50% off if you use that code.). You can download the Wish app by clicking here from your mobile device.
All the roses had a wire stem, and I basically just twisted stems together until I had arranged them the way I wanted. I did watch several tutorials on YouTube before doing this, but they were mostly not helpful because nobody else was trying to shape a bouquet the right way to fit in a shotgun shell. I made the burlap ruffle by running a thread through some burlap ribbon. I started with a small ruffle that was just big enough to go around the stem. Then I sewed a larger ruffle to that and a larger one to that until the ruffle was big enough to completely cover all the mess of stems. Then Mrs. Merica (I guess only Ms. Merica at that time) hot glued the ruffle to the bouquet just how she wanted it. We added the shotgun shell over all the stems and covered any stem that was left showing by hot gluing burlap ribbon around that.
The bullet boutonnieres and corsages were much simpler than the DIY wedding bouquet. We ordered nice real-touch latex calla lilies and tulips from Amazon. The mint tulips were about $6 for 10 when I ordered them, and the white tulips were a little cheaper when I ordered but are about the same price as the mint now. The Tiffany blue calla lilies were $12.99 for 20, and the white calla lilies were about $8 for 20 when I ordered (but were showing a lower price at the time of this publication). We used wire cutters to snip the stems short on those and hot glued them into each bullet casing. We hot glued a pin to each casing and then wrapped it in baling twine (Did you know that baling twine stuff is called jute if you buy it at a craft store?) to make sure it couldn't fall off. Mrs. Merica added whatever ribbon she liked as accents to those. All the ribbon was cheap $1 a roll stuff from Dollar Tree or Walmart. The sanctuary of the church was very nice. We didn't feel like it needed huge floral arrangements at the altar. We just put some of the leftover real-touch latex calla lilies in four mason jars with some baby's breath we purchased at Kroger the previous evening. The jars were placed at the front of the church. We had additional mason jars waiting on the bridal party table to hold the bouquets during the reception.
Pin this!
We were extremely pleased with the final product, especially considering the small amount of money we spent compared to what it would have cost to pay for professional floral services. Even the bullets ended up being a cute addition to the other rustic decor. You can also view the instructions for the rustic log cake stand. In spite of our hasty planning and inexperience, everything came together much better than expected, and it was a lovely day for a lovely couple.
What was your favorite part of the wedding decor at your wedding? Or someone else's wedding?
These are links to the exact flowers we used. Click the picture to purchase them today.
You may also enjoy: