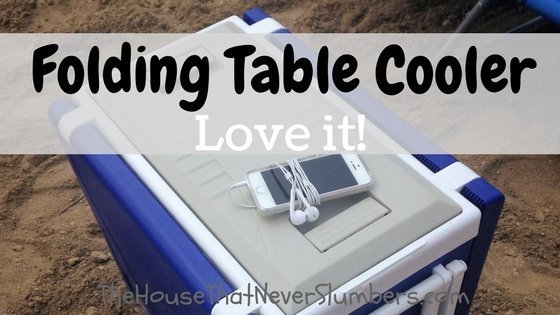 Folding Table Cooler Review –
I've owned this Outdoor Multi-Function Rolling Cooler with Table and Chairs for a year, and it's one of my favorite products. We use it in so many different ways. It truly is multi-functional. It's been a great addition to our athletic and outdoor gear. The best products are always ones that solve a problem for the owner, and this particular cooler solves a couple of problems for us. Please check out our video testimonial at the end of this post!
*This post contains affiliate links.
I ordered this Rolling Cooler Table from Amazon when they were relatively new. I normally don't get a chance to buy new and expensive products when they first enter the market. I usually wait for the cost to come down after the newness wears off, but last summer I had some Amazon credit from participating in a market research panel and from trading in some old books, movies, and video games.
Pin this!
I had noticed this table in a catalog somewhere and really wanted it, so I went looking for it on Amazon. There's very little you can't find on Amazon, right? Fortunately, I had just enough Amazon credit. The exact Outdoor Multi Function Rolling Cooler with Table and Chairs that I ordered is now listed for much more than I paid. So glad I ordered it last summer! Another seller has one that looks exactly the same for around what I paid. I can't guarantee it's the identical product, but I can see no differences, so use your own discretion.
Reality versus Expectations
When I started working on this post and went back to my order history to see the exact item, I was shocked to see several iffy
reviews for this cooler. I LOVE this cooler! People I don't even know stop and ask me about it every time I take it anywhere. I've had nothing but good experiences with this cooler. I own approximately a dozen coolers of various shapes, sizes, and materials that I use in different circumstances, and this one is my favorite. I've increasingly started using this cooler as a replacement for many of my others ones.
There were barely any reviews when I ordered it a year ago because it wasn't very old yet, so I took my chances. Boy, am I glad I did! After reading several of the current reviews for this Rolling Cooler Table, I feel many of them stem from the buyer expecting something totally different from the description.
Dimensions Are Clearly Stated
Several of the reviewers who said they sent it back stated they returned it because it was "too small." The dimensions of 41.5″ (L) X 18″ (W) X 16″ (H) are clearly stated in the description. I knew what size cooler I was ordering when I ordered this product. I was not expecting this to be my huge rolling ice chest. I have a huge plastic ice chest on wheels that I use if I'm serving bottled water to 30-50 guests at a backyard BBQ. If I were camping without refrigeration for a week, I'm sure I would take the huge rolling ice chest.
When it's the middle of the winter, and an ice storm knocks our power out for a couple of days, it's the huge ice chest that I drag out of the basement to hold the milk, meat, and other perishables outside on the deck until the power is restored. I didn't expect this cooler to replace my big ice chest.
I would consider this a medium-sized cooler. It's not the huge ice chest, but it's much bigger than a small lunch cooler. I purchased this cooler to be the one we take for a day at the pool, or a few hours at the beach, or a Saturday doubleheader for my daughter's varsity softball team, and also to be the cooler we use for cold drinks in our van on the way to and from our vacation destination which always has a refrigerator when we arrive. It has worked marvelously for all of those purposes.
When we travel to and from Florida, we need to stock some cold waters and other beverages and usually some sandwiches as well in the van. It's a 13-hour drive, and nothing bothers me more than walking into a gas station and paying $1 or more for a bottle of water when I can buy a case of water for 10-12 cents per bottle.
I'm so frugal that if I have to pay more than I know I should for something, it makes me feel physical pain. It's like nails on a chalkboard. We generally have seven of us in the van, so a huge ice chest cooler is not feasible to fit around all the luggage even if we needed one that big. This cooler is a nice size for the van. It keeps enough drinks cold that we do not run short, but it doesn't take up a ton of the luggage space. We keep additional cases of water and pop in the stow-n-go compartments of the mini-van and refill the cooler as needed. If the stow compartments are full of all our beach gear, we can stop at Walmart to pick up more drinks and ice.
This cooler is great in the van because of the size, but it's even better at the beach/pool or at a game. One very nice feature of this cooler is the removable dry compartment. This square container removes from the cooler for cleaning. It can slide from one end of the cooler to the other to give access to anything underneath either side. If you don't care to slide it, you can just fill more drinks into the empty top side.
The Awesome Dry Compartment
This dry compartment can hold all the lunch meat, cheese, and small condiments/toppings needed for sandwiches without letting the bags slide down into the melting ice to get all soggy. I actually wish it came with a second dry compartment for my fruit. I've considered contacting Best Choice Products to find out if I could buy an extra to hold more food on top of my drinks. That would make this cooler even more amazing.
The dry compartment is a nice size to fit in the fridge too, so I can often pack my lunch supplies the night before our activity. I throw all the bags of lunch meat and so on into the dry compartment and put the whole container into the fridge. Then I don't get to my destination only to realize I forgot to add the small bottle of ranch or the Swiss cheese to the cooler as I was hastily packing early in the morning.
The Spectacular Table Feature
There are so many amazing aspects of this cooler, and I haven't even mentioned the table yet. The table has revolutionized our outings. If you've ever tried to feed several children lunch meat from a cooler, you will certainly understand. The usual scenario goes something like this:
Mom is sitting leisurely in her folding chair watching her daughter's softball game. Child comes up to Mom and wants a sandwich. Mom gets out lunch meat and toppings and makes a sandwich for said child, not because said child is incapable of making his own sandwich but because Mom does not trust this child's dirty hands to touch the food at this moment. Mom puts all the toppings away and begins to watch the game again. Said child sits beside the cooler with his plate and beverage sitting on top of the cooler as if the cooler is a table. Most hard-sided coolers work well as a tabletop as long as you don't need to lift the lid, so this arrangement is working well until approximately 2.5 minutes later when the next child makes her way to Mom. Next child has been lost on a playground somewhere and is now hungry. Next child is going to starve without a sandwich. Mom must now uproot the previous child from his perfect makeshift table to open the cooler, remove all the toppings (which are in separate individual bags in any normal cooler without the dry compartment already starting to get soggy), make a sandwich, and put everything back in the cooler. Now two children are sitting next to their improvised table happily eating their sandwiches for approximately four minutes when third child appears from who-knows-where now wanting a sandwich. Softball playing daughter hits one over the fence while Mom is digging through the cooler for a third time, and Mom misses the spectacular hit. Mom finishes fixing food for the third child and puts everything away. Now three children are sitting at their makeshift table trying to eat just as the game finally ends, and it's the lunch break between games for Dad who's been coaching and homerun-hitting daughter.
It's like giving that mouse a cookie.
This same story can play out the same way in a number of different settings – Mom's reading a book on the beach. Mom's just dozing off by the pool. Mom's playing cards by the campfire.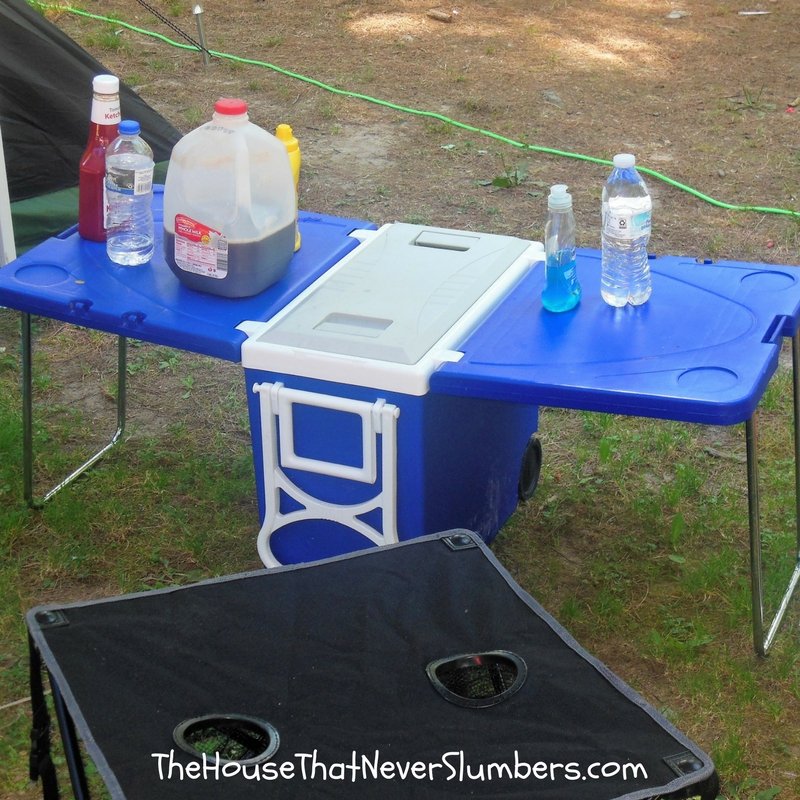 This cooler completely eliminates the problem of uprooting everyone's plates and drinks to get back into the cooler for more lunch supplies a million different times. No more moving everything to the side or to the ground repeatedly. The table feature folds out easily from the cooler on either side giving a rather sizable table surface. Any additional diners can easily lift the lid from the cooler, remove the dry compartment, fix a sandwich, and put everything away without all the hassle.
Yes, I know we could assemble our sandwiches the night before and save the trouble of doing that outside, but we don't like soggy sandwiches, and then you are wasting valuable cooler space with the bulk from the bread. We want our sandwiches made fresh, otherwise, bleh, not worth eating. The ability to access the contents of the cooler without disrupting the table is worth every penny I paid for this cooler and more.
The Folding Stools
A few reviews mentioned this cooler not being sturdy. I will say, if someone was expecting to be able to sit on the lid, I would not encourage that with this product. I know most people sit on the lids with hard-sided large chest coolers. I know we do. You will not be able to do that on this cooler. The way the lid is designed, it's just sitting on a thin lip of plastic inside the cooler. I think this is because any design with hinges would make the folding table top on that side impossible. The hinges would be in the way. I would much rather have the extra tabletop surface than a lid with hinges to use as a seat.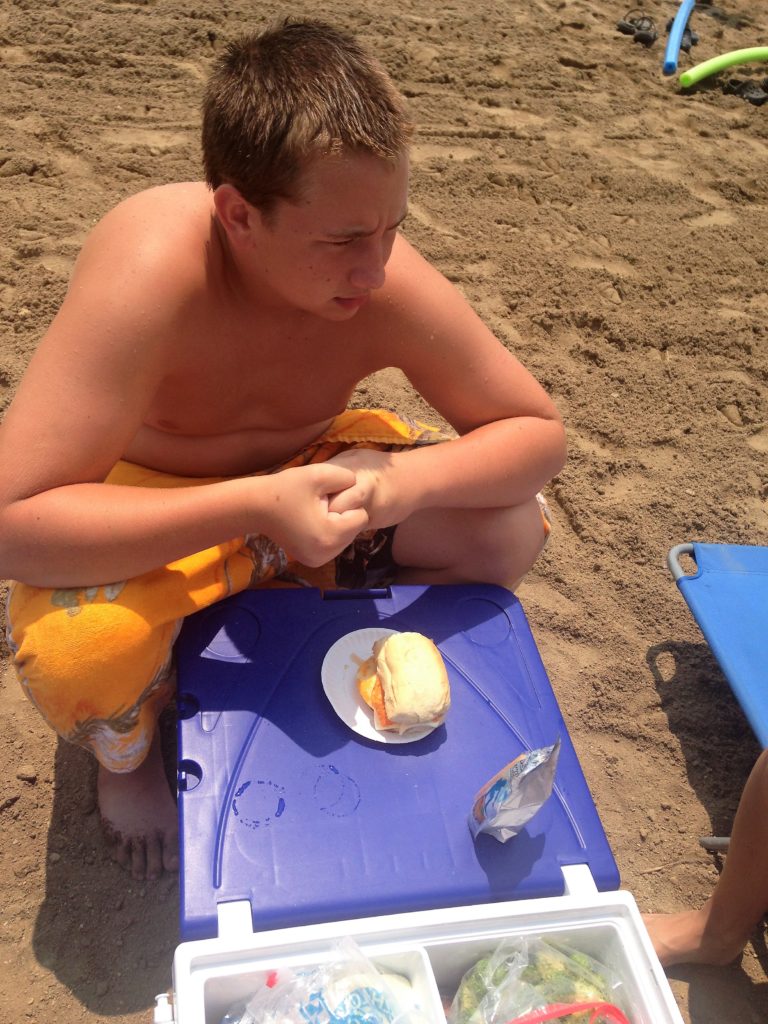 This cooler has the two folding stools. if you need to sit on something, those are fine. Some complained about the size of the stools as well. Again the dimensions of the cooler were clearly stated. There's no way for a stool to be larger and still fold under a cooler of these dimensions. We rarely use the stools for seating though. We usually just use them as a footrest when sitting in our folding bag chairs. They're actually the perfect size for that.
In addition to using this table cooler outside for the beach, pool, and camping and inside the van to keep drinks while traveling, it was also nice to have the extra table surface in the hotel at Pigeon Forge this spring. In the condo at Florida, we always have a full kitchen and full refrigerator. We just use this table cooler to take drinks and snacks down to the beach there.
In Pigeon Forge our hotel only has a small fridge, so we usually keep extra drinks on ice in the cooler and reserve the fridge space for leftovers. It was so nice to have the extra table too though. It's very nice if the kids want to sit out on the landing and play cards, or if we bring in pizzas, we can spread the different pizza boxes across the cooler table to keep from getting grease and cheese all over the beds.
Some people in the reviews complained that there was no drain. It was clear to me from the pictures that this cooler did not have a drain. I did not expect it to have a drain. I've had coolers this size in the past, and they didn't have a drain either. Only the really big coolers normally have a drain.
I can easily lift this cooler to pour out the water in a sink, or I can tip it over the side of the bathtub, or I can dump it outside on the deck. The function of this cooler is in no way diminished to me because it doesn't have a drain.
Read the description before you buy!
I personally believe most of the dissatisfied reviewers at Amazon had expectations that were not consistent with the description of the product. When I ordered the product, I knew the dimensions. I knew this was not a large ice chest. I knew there was no drain in the picture. This is a very good medium-sized cooler.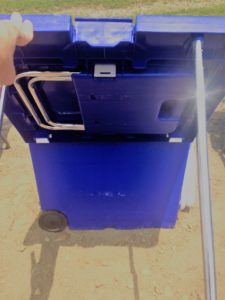 This cooler is one of my prized possessions. I would be devastated if something destroyed this cooler. Would I trade my firstborn child for this cooler? Of course not! But would I trade the microwave in my kitchen for this cooler? I think I would if I had to choose between the two.
It really is one of the most useful products I own. I'm so glad there were hardly any reviews when I purchased it because I might have been too skeptical to give it a try if I had read through the ones there today. It has served my family well, and I'm confident it will continue to meet our needs.
Don't miss our video testimonial of the Best Choice Products Multi Function Outdoor Rolling Cooler with Table and Chairs immediately below!
This cooler works great for trips involving a hotel stay or campground camping where you have access to some form of ice to refill the cooler. If you are planning to camp completely off-grid, you might want to consider a rotomolded cooler. VeraViseWoWTravel has a nice product guide comparing a variety of rotomolded coolers. Be sure to check out their Best Coolers For The Money- Rotomolded Cooler Review & Buying Guide.
Watch the video to see exactly how it works!
Another seller has what appears to be the same folding table cooler in red, currently listed for a better price, if you would prefer that instead of blue.

Please like, share, pin, tweet, and follow!
What's your favorite outdoor product?