Warmest Gifts for the Person Who is Always Cold –
Let's face it. We all know THAT ONE PERSON. The person who is ALWAYS cold! We've all encountered the meme. It circulates ruthlessly on Facebook every winter.
I AM THAT PERSON! I'm the always cold person here. I'm definitely not alone in the world though. There are many of us lurking in every group. It's highly probable you have an always cold person on your shopping list, so I'm sharing my favorite gift picks for the person who is always cold.
*This post contains affiliate links.
Pin this!
Wearable Sleeping Bags for the Person Who is Always Cold
Did you even know wearable sleeping bags exist? I didn't until just now, but what an incredible idea. I'm not sure it's a completely original invention. I mean, when I was a kid, we called something like this a snowsuit, but now it's apparently known as a "wearable sleeping bag." The only difference is that this wearable sleeping bag thing has the feet like footie pajamas, and that's what makes it awesome!
 As if the very concept of a wearable sleeping bag wasn't cool enough on its own, you can actually buy an adult-sized Chewbacca wearable sleeping bag. I'm not even joking!
If Chebacca's not your favorite, don't worry Selk'bag makes these wearable sleeping bags for several other Star Wars characters as well as a full Realtree camo one. For some reason, I can't convince the hunters here to trade their camo coveralls for a wearable sleeping bag.
If you think your loved one who is always cold will be too cool (pun intended) for the Star Wars wearable sleeping bag, you could always go with the Wearable Walking Sleeping Bag instead. It's sleek and super attractive. I'm sure any man wearing this will have a hot chick on his arm as the photo suggests.
Blankets for the Person Who is Always Cold
The wearable sleeping bag might be a bit much even for me, but the wearable blanket is right up my alley. I love my Snuggie. I've had it so long I've worn holes in it.
Now you can get the Catalonia Wearable Fleece Blanket with Foot Pockets.
 Or how about the POSH HOME Hooded Throw Blanket?
Or the Huggle Hoodie which is kind of a cross between a 
giant sweatshirt and a blanket.
You could always just go with a good ol' electric blanket. I'm not personally a big fan of electric blankets. I'm too frugal for the added use of electricity, and all the cords and wires make them uncomfortable to me. But my girls have electric blankets, and they really like them. I think electric blankets are especially nice for the always cold person who lives in a house that is kept on the chilly side. We keep our house warm with the help of a wood stove in our basement.
Heated Slippers for the Person Who is Always Cold
People who are always cold are fighting a constant battle to keep their feet warm. In pioneer days, they would heat an iron in the coals of the fireplace and leave it at the foot of the bed. Today you don't have to put hot coals on your feet to stay warm because you can find a variety of heated slippers.
These Carex Bed Buddy Warming Footies have a removable insert that can be microwaved to provide warmth for your feet.
The Intelex Cozy Body Boots have specially treated millet grains and dried lavender in them, and the entire slipper must be heated in the microwave.
If the idea of putting something that's been on your feet in your microwave doesn't appeal to you, the S'beauty Full Plush Electric Heated Slippers plug right into a USB port to provide warmth.
Mug, Tumbler, or Thermos for the Person Who is Always Cold
Warm beverages and soups are a great way to warm up the body on cold winter days. I use a stainless steel tumbler A LOT for coffee or cocoa in cold weather and for ice in warm weather. They are very versatile.
RTIC 30 oz. Stainless Steel Tumbler
BluePeak 20 oz. 2-pack with Straws
 THERMOS FOOGO Vacuum Insulated Stainless Steel Food Jar
My mom is also an always cold person, so my siblings and I bought her an Under The Weather Sports Pod for Mother's Day. My nephew plays baseball and football, and my kids' outdoor sports are cross country and track, so my mom is at a lot of rainy, cold events. The Under The Weather Pod is AMAZING. It's not bulky to carry, and it's easy to put up and take down.
EasyGO makes a 2-person sports pod tent, but we weren't quite as comfortable with the reviews on that, so we went with the Under The Weather single pod when we purchased.
Reusable Hand Warmers
My neighbor gave me reusable hand warmers last Christmas, and they are great! The guys here use the disposable HotHands hand warmers and feet warmers a lot when hunting, but those are too expensive to use every single day of the winter (which is how often I want to use hand warmers).
These reusable hand warmers recharge by boiling and stay warm for a decent amount of time.
I had a bad experience with the disposable hand warmers one time, so these reusable ones are perfect for me. I had to stand at the polls from 6 am to 6 pm one Election Day when I was running for public office. (I shouldn't tell this story because the people who elected me might question my good sense after hearing it.) It happened to be near zero temperatures that particular November.
My husband gave me HotHands to put in my boots, and I know there's a clear warning on the package about putting them directly on your skin, but as the day wore on, my feet got colder and colder. Those HotHands in my boots started feeling not so hot anymore, so I moved them inside my socks trying to get my feet a little warmer. Keep in mind, my feet were completely numb from the cold by that point.
They didn't feel hot at all. My feet were still freezing. Finally, after 12 hours of standing at the polls, I got to my house and started removing layer after layer of clothing. I peeled my socks from my frozen feet, but the HotHands stayed on the bottom of my foot. I tried to peel it off, but it wouldn't budge. I finally had to painstakingly remove (think like ripping off a band-aid but a million times worse) each HotHands packet from the bottom of each foot where they had burned into my skin. THE WARNING ON THE PACKAGE ISN'T JOKING!
I had huge bubbled blisters on the bottom of each foot for a couple of weeks after that and huge open wounds on my feet for much longer. I do not put HotHands in my socks anymore. You should take warning labels on packaging seriously.
Skinnies™ Undershirt for the Person Who is Always Cold
*I received a complimentary Skinnies™ garment from The Allergy Store to try.
The Allergy Store carries a line of special Skinnies™ garments. These are designed for sufferers of itchy conditions like eczema or atopic dermatitis. I was contacted to try this garment because I had previously written about my thirty year battle with eczema in How to Brew Kombucha.
I managed to accidentally cure myself of eczema by healing my gut with Kombucha, but I remember the winter itchiness all too well. Cold weather was always a vicious cycle for me because I was freezing and wanted to be warm, but certain clothing like fleece, denim, or nylons that trapped my body heat just irritated my skin even more.
The viscose fabric of the Skinnies™ undershirt I've been wearing almost daily is made from a plant-based fiber. It feels similar to cotton, only softer and smoother. It's specially made to cause less friction on sensitive skin.
The National Eczema Association awarded Skinnies™ the Seal of Acceptance. The seamless design of Skinnies™ "utilizes innovative and proven technologies that quickly alleviate the symptoms and discomfort associated with various skin conditions."
I actually love my Skinnies™ undershirt so much that I wish I had it in every color. I've worn it under my other clothing 3 of the last 4 days. The most amazing feature is the thumb holes in the sleeves that allow me to warm my hands too. I have a couple of other shirts that have this feature, but none of them are as comfortable as the Skinnies™ shirt.
I was keeping the book at a junior high basketball game the other night. Last winter I wore gloves, much to the amusement of others at the scorer's table with me, to keep the book at several games because the gyms were so cold. But gloves really make it difficult to keep up with the action on paper. I was pleasantly surprised to find my Skinnies™ undershirt kept my hands warm enough but didn't interfere with my ability to write quickly.
I'm also excited to find that I can still type effectively while wearing the Skinnies™ sleeves. I definitely cannot type in gloves, but these sleeves don't interfere at all!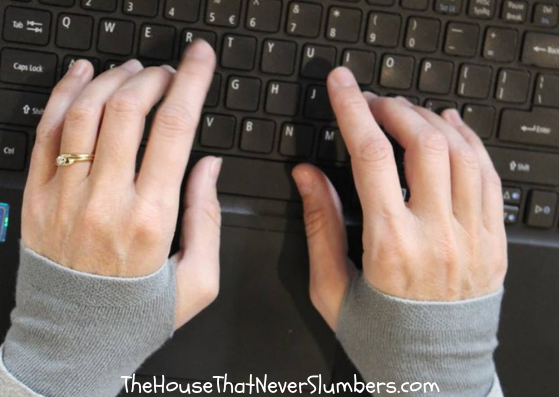 Skinnies™ is truly a remarkable product. It keeps you warm without adding the extra bulk that usually accompanies another layer. It also provides a non-irritating barrier between your skin and any other clothing. Skinnies™ comes in all sizes and would be worth checking out for anyone with skin conditions or allergies. It would be a great gift for any always cold person as well!
Perfect Gifts for THAT PERSON Who is Always Cold
These are just a few of the warm items that might be great gifts for the person in your life who is always cold. Just remember, cold people aren't coldhearted. They just have to work harder to keep from shivering all the time. Enjoying cold temperature periods requires a little more effort for some of us, but these gifts can bring warmth to the long winter.
You may also enjoy: