Married in High School – The Proposal –
Some couples have a proposal, and then they set a wedding date. Some couples have a wedding date set for a while and then have a proposal. And then there's this couple who, as a result of a series of unusual circumstances and a little bit of persistence, threw that previously determined wedding date right out the window shortly after the proposal anyway.
The story of the wedding has already been covered in My Daughter Was Married in High School, Today Would Have Been My Daughter's Wedding Day, and Married in High School – Now Celebrating Six Months. Of course, every good trilogy needs a prequel to be released after the fact, so the story of the proposal seemed like the logical next episode in the continuing saga. Fortunately, we have the ever-so-helpful Facebook to remind us what happened On This Day in every year. So on December 2nd, I was conveniently reminded that it's been a year since the proposal that sent our lives for the first half of 2017 into a complete whirlwind of activity.
Asking Her Father
Of course, the rest of us knew the proposal was happening that evening, but my daughter somehow did not. My husband never actually asked for permission to marry me because he accidentally proposed (story here), but this young man did ask even though it seemed a bit unnecessary considering we had already let him build living quarters in our basement the prior summer in anticipation of an impending August wedding.
I really hate mudding and sanding and painting, so I wasn't entirely thrilled about building the bedroom and kitchen area that summer. I kept thinking we have ALL NEXT SUMMER, so why do we have to do this right now? That's when we all still thought the wedding would be the following August. My desire to procrastinate was completely justified. How was I to know? If it had been left up to the timeframe my husband and I usually adopt for home projects, that basement would still be bare concrete. But SOME PEOPLE were really eager to get the rooms finished. I left my house one day and returned to find my basement cleaned, organized, and prepped for building wall frames because SOME PEOPLE thought we shouldn't wait until the following summer when we would be busy planning a wedding too.
SOME PEOPLE also like to start fires with stuff I like to hoard in the basement (perhaps the burning may have happened in conspiracy with my own husband). I really needed all that stuff, and I was definitely going to use it someday. I had four perfectly fine couches that were structurally sound. All they needed was to be reupholstered. One also had a broken side where my son ran and jumped and did a flip over it. I'm sure that side could have been fixed, and it was completely fine otherwise. It was only ripping in a few spots. I was saving all of those to make something awesome from Pinterest someday, and now they are gone. All my couches, right up in flames!
Thank goodness he didn't toss all my mason jars too, or he would have been stuck getting married at the courthouse.
But anyway, even though we had let a certain person who likes to burn couches build basically a second house right under us and allowed him to move a whole bunch of his family heirloom furniture to the spots where my couches (May they rest in peace after their unfortunate and untimely cremation.) used to sit, he was still polite enough to formally ask for permission to marry our daughter one afternoon. He followed my husband around all morning without asking. He sat and watched my husband play Halo on the Xbox for three hours without asking. Then they went outside to chop wood for a while. They were walking back into the house, but first, my husband stopped to pee from the deck, and it was at that exact moment the future groom finally got the nerve to ask (of course, without realizing he would be interrupting a bathroom break).
*This post contains affiliate links.
If you don't live in the country, you probably don't understand men peeing from the deck (or on a tree, or the tire of a car, or wherever else they happen to be outside). It's all perfectly fine as long as you turn away from the road and there are no women nearby. It's not at all uncivilized, though it probably seems barbaric to city folk. It's just more practical. The fact that my son walks right past the bathroom which is just inside the back door to pee from the deck, has always played in my favor because the alternative is that he uses the indoor restroom which then needs to be cleaned much more frequently. It's a win-win. Except this local custom does occasionally create some rare awkwardness if that's the exact moment someone is trying to ask an important question, or if that happens to be right when the UPS man is walking up the steps.
So because of that not-so-picture-perfect moment on the deck, the rest of us knew the plan for that Friday evening was a proposal, but somehow my daughter was left completely clueless. Seriously CLUELESS! He had given her a promise ring the prior Christmas, and she perhaps just expected the proposal to come later in December. She was aware he had been ring shopping a couple of weeks before, but she believed he was still trying to find the right ring. She had been keeping her nails professionally manicured and dropping hints about a ring every fifteen minutes from the point that she knew he was actively shopping for it which I thought was a little pushy or her myself.
His mom had taken her for fresh nails the weekend prior, and I was so worried they would not make it through the week because she had been losing nails at the rate of one per game up until that point. All through the day of the proposal I was quite literally praying for her nails to survive the basketball practice. She made it through the practice. Whew! She knew he was picking her up after to go out, but he wouldn't tell her where. She really was still clueless though.
She managed to get a shower after the practice ended at 5:30, but she didn't really have time to mess with hair and make-up. Indiana in December is dark by 6:00 PM, and they were driving a couple of hours away, so she definitely didn't have time to get dressed very fancy, and it wasn't like she realized there was going to be a proposal.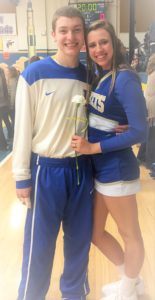 Supper at Cracker Barrel
They first went to a Cracker Barrel for supper. Cracker Barrel is just one of the many reasons we all affectionately refer to them as "the 80-year-old couple." Do you remember the story that was circulating on Facebook about the little, old couple who had dined in every Cracker Barrel in the United States? Well, that could be these two someday.
We also call them "the 80-year-olds" because they nap so frequently. They can't make it through an entire day of vacation without napping. Trust me, we're all a little relieved that none of us will have to stop whatever else we're doing to go back to the hotel/condo to supervise their naps anymore on our trips. My parents don't even need as many naps as these two on vacations.
Probably the most glaring reason they get called "the 80-year-olds" is that they've always interacted with each other more like a couple that's been together for decades instead of two people who only met days, weeks, or months ago though.
Cracker Barrel might not be the obvious choice for a pre-proposal dinner for most teenagers, but it's the perfectly logical choice for these two.
He usually orders the same Country Boy Breakfast every time at Cracker Barrel. She claims he sometimes thinks about ordering some other meal, but at the last second, no matter what he meant to order, he switches to the Country Boy Breakfast. He normally eats all of his steak, eggs, biscuits, fried apples, and most of his hashbrown casserole, and she eats his grits. He ordered steak and broccoli that night instead, and he barely took even a few bites of it.
Trying to Throw Her Off Track
After they finished eating, they turned a different way out of the parking lot, and she knew they weren't going back toward home. She wanted to know where they were going. She saw the lights of the airport, and somehow he ended up saying they were going to the airport to ride in a plane. She thought he was being serious and was almost hyperventilating for a moment because she has never flown and wasn't really sure she wanted to take a ride in a small airplane. He had to tell her that wasn't really the plan.
They eventually arrived at a Christmas lights display in Marion that they had visited the prior year. They walked around all the lights, and it was very cold. He had initially hoped to propose in front of the American flag, but that was way out in a field, so they didn't really have access. He decided it would have to be in front of the fountain instead, but his photographer had been delayed.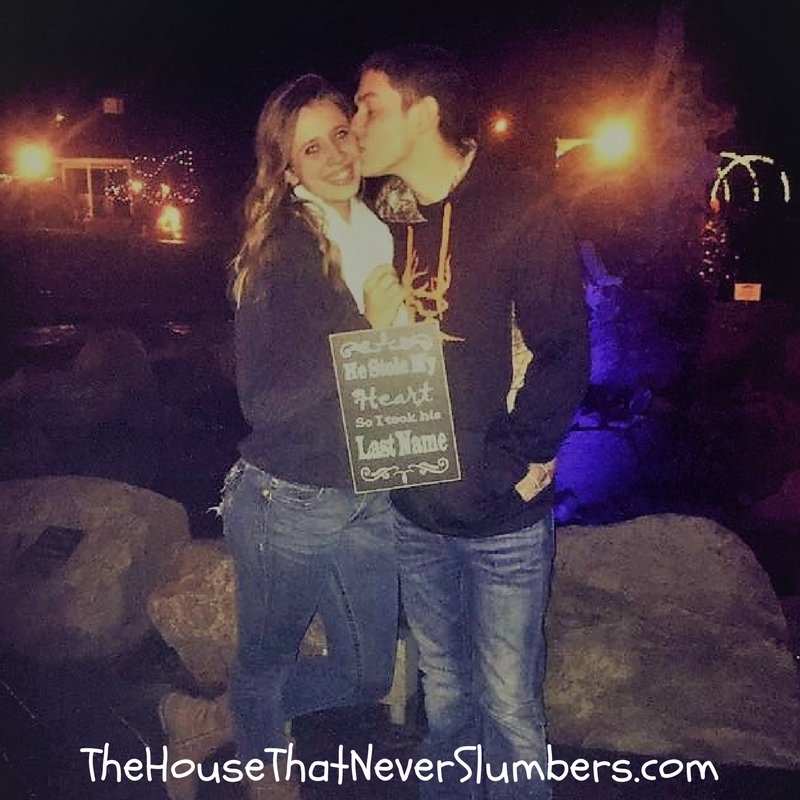 The whole time they were walking around, he was trying to figure out how he was going to deal with the fact that she was wearing gloves. He also started to wonder which knee he was supposed to use to kneel, so he had to discretely Google that. I didn't even realize there was a rule about which knee.
She Was Getting Cold and Wanted to Leave
She was starting to get too cold and wanted to go back to the car where it would be warm. He insisted they check out the gift shop. He tried to stall her with smelling all the candles because she has a bit of a candle obsession. The gift shop also has a lot of signs which is something else she tends to hoard collect, so it was a good place to kill a little bit of time. After taking as long as he could in the gift shop, she was ready to leave, but he had to insist they walk the loop one more time.
He had enlisted the help of a friend from church who was living on the nearby college campus to take pictures, and he finally saw her running up. He stopped at the fountain and told the future bride to remove her glove and the promise ring. By that time, she must have known what was actually happening. He had prepared a long speech and been practicing it in his head all evening, but he was nervous and abandoned all of that and just asked the one question.
She says he was nervous because his entire future hinged on the answer to that one question, and what if her answer wasn't in his favor? We find it hysterical that he had any doubt she would say yes. She had been hinting about the ring EVERY FIFTEEN MINUTES for weeks. She was getting anxious about being able to find a dress before August but thought she needed the ring to start dress shopping, so she kept reminding him and reminding him and reminding him.
I actually asked her several times afterward if she forced him to propose, but she assures me she only started mentioning the ring after she knew he was shopping for it. It's still baffling to all of us that she was completely unsuspecting throughout the evening.
The Proposal Should Not Have Surprised Anyone
We sometimes joke that my son-in-law was the boyfriend who ruined every holiday for all the other teenage couples. He's always been very sure of where the relationship was headed. The second time he was at our house when they had only known each other for perhaps two weeks, I was scrolling through Facebook and came across a camo prom dress. I wanted to show my daughter, but I was uncertain if it was okay to presume anything about prom that soon in the relationship. He was barely sixteen, and we were still at least seven months from Prom. I discretely flashed the picture of the camo prom dress at my daughter while I thought he wasn't looking, and she said, "No, I'm not wearing a camo prom dress this year for sure." Without even skipping a beat, he said, "Fine. Camo wedding dress."
I actually looked up and stared at him and asked, "Did you say 'camo wedding dress?'" He looked down and I'm pretty sure he blushed a little, but he admitted he had. At that point, I figured he intended to stick around a while. She did not wear a camo wedding dress, but her bouquet was arranged in a shotgun shell that she saved when they went shooting to celebrate six months of dating. [Thanks to my brother's constant reminders we aren't allowed to say six month anniversary because anniversary can't be anything but an annual celebration.]

We Planned the Wedding in Lightning Speed
At the time of the proposal, we thought we could plan the wedding at a fairly leisurely pace. We did not anticipate the wedding would later be moved up by five months and send us all into hyperspeed wedding mode, but you can catch that story in the wedding trilogy – My Daughter Was Married in High School, Today Would Have Been My Daughter's Wedding Day, Married in High School – Now Celebrating Six Months. You can now catch my additional reflections in Married in High School – One Year Later – Why Marriage Matters Most.
What is your proposal story? Was it a surprise?
Feel free to like, share, tweet, pin, and follow! Subscribe using the subscription form.