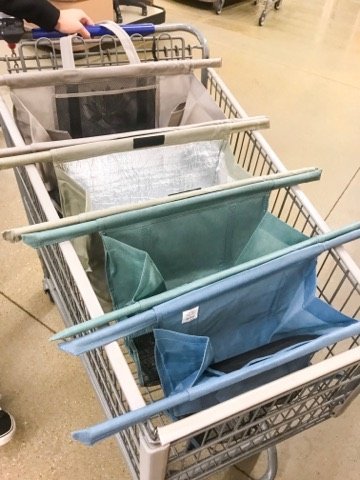 Win a Lotus Trolley Bag Just in Time for Your Holiday Shopping!
This Lotus Trolley Bag giveaway has now ended. We would like to send out a warm congratulations to Tiffany of Pennsylvania who was the winner randomly selected by the KingSumo giveaway widget. Thank you to all who entered! Even though the giveaway has ended, feel free to continue reading to find out more about this cool, eco-friendly product.
————————————————————————————————————-
We've partnered with Lotus Trolley Bag to bring you this exciting giveaway. The Lotus Trolley Bag is a great addition to any shopping trip, especially the extra big shopping hauls that tend to accompany holidays and special events. You can reduce waste, and if you shop at Aldi or another store that doesn't provide free bags, reduce the cost of buying bags for your groceries with this reusable shopping bag system.
*Lotus Trolley provided me with a complimentary product in exchange for this post, and Lotus Trolley will be sending a bag to the winner. This post may also include affiliate links.
Lotus Trolley Now Has Bags in Neutral Earth Tones
The customers asked, and Lotus Trolley listened. The eco-conscious manly men out there asked for reusable shopping bags in less feminine colors. Men shop too!
Earth tones appeal to shoppers of all types, and really aren't earth tones perfect for an earth-minded product? They coordinate perfectly with all your fall and winter outfits.
Lotus Trolley Bag Keeps Shopping Organized
You can find Lotus Trolley on the web here. You can also learn more about my experience using the Lotus bag with its original colors in our Aldi Shopping Trip with Lotus Trolley Bag Video.
How Do I Enter to Win a Lotus Trolley Bag?
You can find all the ways to enter right here. If you don't see the KingSumo Giveaway Widget within a few seconds (which is apparently happening on some mobile devices), please click here to go directly to the giveaway.
Other Lotus Trolley Bag Uses
The bags that make up the Lotus Trolley system are huge and sturdy! They're very nice for carrying bulky athletic equipment to and fro, cleaning all the dirty sweatshirts out of the van, or transporting food for church carry-in dinners or team meals.
Lotus Trolley also makes a reusable shopping bag for your cart at bulk club stores. This larger version fits the carts at Sam's Club, Costco, and other warehouse stores.
Pin this!
Where Can I Purchase a Lotus Trolley Bag?
You can now find the Lotus Trolley Bag in 100 select Walmarts. If the bags do well in these select Walmart stores over the next two weeks, they will become available in all 4000 Walmart stores. Isn't that exciting?! They make great gifts, so check your local Walmart right away to see if you can grab a few.
You can also purchase this eco-friendly shopping bag from Amazon.
The winner of this Lotus Trolley Bag giveaway will be announced on Friday, November 8, 2019! Happy shopping!
Follow my blog with Bloglovin