What is The UnderWarmer Heated Vest?
The UnderWarmer is a one-time-use heated vest with 8 heat packs built into compression material. This heated shirt works for over 10 hours and is perfect for a variety of cold-weather, outdoor activities including, but not limited to, hunting, football games, soccer games, cross country meets, track meets, road races, and outside work.
Pin this!
Knowing we have avid outdoorsmen (and women) here, The UnderWarmer sent us several complimentary samples of this amazing heated undergarment to try during the Indiana hunting season when weather can be brutal.
*This post discusses gifted product and contains affiliate links.
"This UnderWarmer Vest is DOPE!"
My son is a man of few words, and he rarely gets excited about anything. Whenever I text him something which is usually three paragraphs long with at least two questions that need a specific answer, his only possible replies are "yeah," "no," or "okay."
He skipped school two different mornings recently to hunt. He claims the reason he goes to school when he's sick is so he can take a couple of days to hunt during the rut. [I make my husband call to report his absences. I just refuse to make the my-son-won't-be-in-this-morning-because-he's-hunting call.]
The first morning that he stayed home to hunt, it was under 20 degrees – a perfect opportunity to break out this heated The UnderWarmer vest. The heated compression vest is air-activated and ready to use within 30 minutes.
The first words he uttered as he came storming through the door with all his camo hunting gear was, "This vest is dope!" Dope, of course, means good. It's the very highest form of compliment from my son, and it's usually reserved only for opinions on food.
Although my son-in-law is not pictured here because his college/work schedule means he often hunts on different days than the others (so, unfortunately, he wasn't around for the photographs), he was very impressed with this heating clothing product. He said, "I really liked them. Would definitely use for the cold, cold hunts."
Never Leave the Treestand Early Again Because of Cold Temperatures
Though my husband did not use the word "dope" for this heated vest, he agrees. My husband believes one of the most important benefits of The UnderWarmer is the extended hunting hours on very cold days. The temperature was in the teens on the days he wore his heated UnderWarmer vest to hunt, and he was toasty warm for hours.
There have been times when the guys have intended to hunt all day but needed to leave the treestand to take a break midday or get out of the tree early because they were just too cold. The UnderWarmer eliminates that problem.
In the last years of my father-in-law's life, he was unable to hunt because he had a metal heart valve. Though he was medically cleared for activities like hunting, the metal would get very cold in extremely low temperatures and cause him physical pain. Although there's no way to know for sure now, we believe The UnderWarmer would have allowed Papaw to enjoy hunting after his valve replacement.
You Need Fewer Layers of Hunting Apparel with The UnderWarmer
My husband was able to eliminate two of his clothing layers on the days he wore The UnderWarmer. This would be especially helpful to hunters flying out somewhere for an expensive guided hunt. If space in the luggage is at a premium, packing all those layers can be a real dilemma. We suggest shipping a few of The UnderWarmers straight to your place of lodging if they will accept packages for you.
Extend the Life of Your UnderWarmer Heated Hunting Shirt
Though The UnderWarmer is only supposed to work for 10+ hours. My husband managed to make ours last for two days of hunting. If you aren't hunting continuously throughout the day, the manufacturer recommends you place your vest in a plastic zipper bag and push out all the air. The air is what activates the heat-creating properties.
My husband normally hunts in the mornings and then works all day before hunting for a bit in the evening. He placed his The UnderWarmer vest in a plastic zipper bag as directed on the first morning and used it again that evening. He decided to return the vest to the bag when he returned after shooting light just to see how long it would stay warm.
Amazingly, his vest was still warm the next morning, and he was able to wear it a second day without seeing a huge loss of effectiveness on the second day. These one-time-use vests are definitely not guaranteed to stay heated for two days, but we were pleasantly surprised by the added value. Your mileage may vary, of course, because The UnderWarmer is not intended to be for multi-day use.
The UnderWarmer Is Not Just for Hunting
Though hunters are likely some of the most common consumers of The UnderWarmer products, these heated vests can be used for a variety of outdoor functions. I really wish I had known about The UnderWarmer during track and baseball season last spring. I think it was snowing at half the meets and games.
Football fans, soccer moms, outdoor workers, and many others will find cozy comfort with The UnderWarmer. People who live in areas with unpredictable winter weather should really keep a couple of these heated undergarments in their vehicles in case of an emergency.
You can find out more about The UnderWarmer on their website. The UnderWarmer comes in both adult and child sizes and can be ordered here.
The UnderWarmer is a thoughtful gift idea for any loved ones who must spend time in harsh temperatures.
Pin this!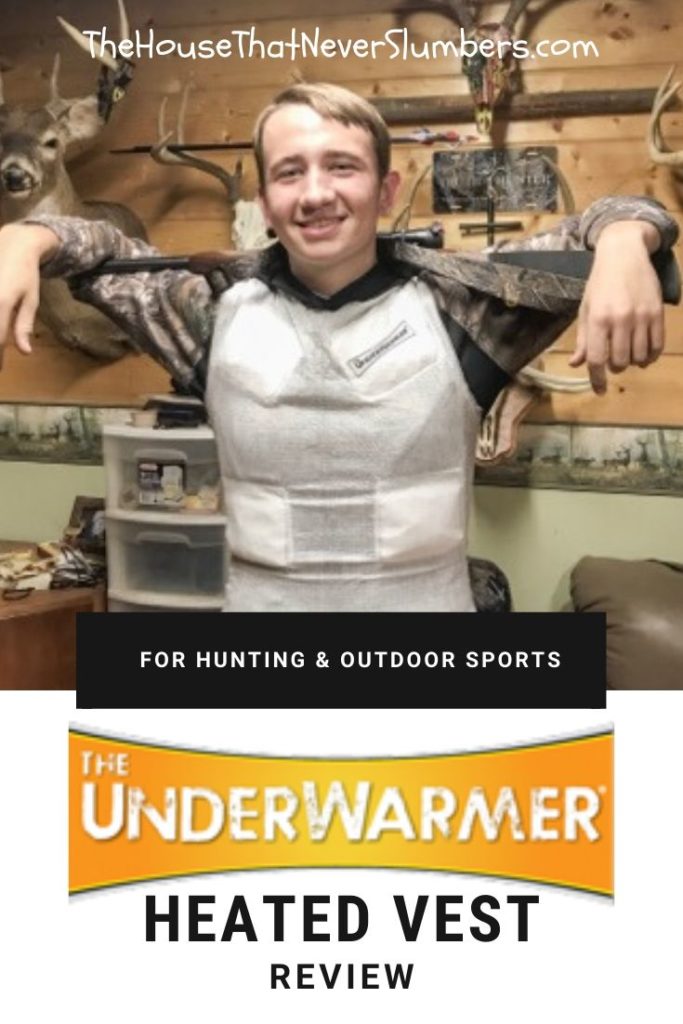 If you found this post helpful, please like, share, tweet, pin, follow, and subscribe to The House That Never Slumbers!