Wiivv Insoles Keep a Busy Mom on Her Feet –
This post is a brand partnership with Wiivv. I was gifted a pair of Wiivv insoles to try. This post also includes affiliate links. All opinions are my own.
These Wiivv Custom Insoles and Wiivv Custom Sandals are currently (11/23/18) discounted to Buy One Get One 70% Off for Black Friday! Buy HERE!
I'm no stranger to foot pain. I've had a bunion on my right foot since high school. It's incredibly uncool. My son can't look at my foot because it makes him gag. Anyone who has watched more than a few episodes of Duck Dynasty has seen Phil Robertson's now famous bunions. My foot doesn't look quite as bad as his, but it's enough to drive my son to puking.
I didn't even realize my bunion was so completely disgusting to the eye until my son informed me. I was unloading the dishwasher one day and dropped a heavy mug right on the top of my foot. The mug fell upside down so just the top rim of the mug bounced off the top of my foot.
The mug hitting the floor afterward made a lot of ruckus, and I screamed out in pain. My son was in the family room and jumped up to see what was happening. The pain in my foot was very sharp, so I was afraid it had broken my skin. I took off my sock to have a look.
My son started screaming, "Oh, oh, look at your foot! What's wrong with it? Gross! What IS WRONG with your foot?" Then he started gagging and had to run to the trashcan because he was about to puke.
I was also staring at my foot, but I couldn't see anything wrong with my foot. The impact of the mug had only made a thin blue line bruise. It hadn't broken the skin. I told my son there was nothing wrong with my foot. I lifted my foot closer to his face to let him see it was fine which caused more screaming and gagging.
He pointed at the side of my big toe while yelling, "That! THE SIDE OF YOUR FOOT! What is wrong with your toe?"
And then I realized he meant the bunion. The bunion was so repulsive it was making my son puke. He's a bit dramatic sometimes. He can't carry the table scraps out to the chickens because that also makes him gag. I told him I'd had that bunion his entire life, but apparently, he had never really looked at my feet until I dropped that mug. It was obviously a traumatic experience for him.
Personally, I'm not so worried that my foot looks grotesque. It's not like feet look so hot anyway. I care more about the fact that the bunion has been causing me foot pain for a couple of decades. That's why I was super excited to partner with Wiivv and have the opportunity to try these custom insoles.
Pin this!
Searching for Something to Relieve Foot Pain
Those of you who are local to me will probably remember the story from 1996 about the lady in Muncie, Indiana who drank a gallon of Vodka and then used a .410 shotgun to shoot her own foot because she was trying to remove a callus. The story made national news outlets, and it was even mentioned by David Letterman on the Late Night Show. Letterman often brought up Muncie on the show because he went to Ball State. You can read the news story here:
APNews: Woman Shoots Foot in Effort to Remove Callus
My favorite line from the AP's article about the lady who shot her own foot is:
"She told officers she had already tried to cut off the callus with a razor and it didn't work. She was afraid it was getting infected because it hurt real bad.″
She was "afraid it was getting infected," so she thought a good solution would be a gunshot wound?! No risk of infection there, I'm sure. Right? In what world is a big gaping hole in your foot less reason for bacterial concern than a callus?
Don't worry. I have not tried, nor do I intend to try, shooting my own foot to remove a bunion, but when I heard the story about Muncie Shotgun Lady, I did tell my family I bet she had a bunion causing that callus. I can totally see how someone who's not mentally stable could consider putting a bullet through their foot. You just want the pain to go away.
Since I'm unwilling (or maybe I'm just not as tough as Muncie Shotgun Lady) to engage in such explosive methods, I've had to resort to less exciting attempts to alleviate foot pain. I've tried lots of suggestions.
I've tried special bunion socks that separate the toes. I've tried these weird bunion foam wedges that reposition the big toe. I've tried some gel device that hooks over the big toe and cradles the bunion. I've tried foot baths and rolling my foot on a tennis ball. None of these have been helpful enough to be worth continuing.
Prior Limitations on Footwear
Possibly the worst part of having a huge bunion on one foot is my feet being two different shapes. This makes buying footwear that is comfortable for both my feet a nightmare. The bunion makes my right foot extremely wide (at least across the base of the toes). However, my other foot is fairly narrow.
Loose sandals would be comfortable for the foot width issue, but they don't offer any sort of arch support or heel cushioning which I desperately need for that same foot. Tennis shoes offer good support, but the correct size of tennis shoe squeezes the bunion like a boa constrictor choking out its prey.
I basically need a wide shoe for one foot but not the other. For a while, I was wearing old man, plain white leather tennis shoes because they were the only shoe wide enough to accommodate the bunion. You do know what I mean by old man plain white tennis shoes, right? They're the shoes my dad wears. My dad and I literally had the very same pair of shoes for an entire year.
We both bought our shoes at the outlet mall in Pigeon Forge on Spring Break at different points during the week. When I got back to the hotel to find my dad had already purchased the same pair of shoes, I was like, you have got to be kidding me?
Not only are old man shoes not what a 30-something, middle-aged woman really wants to be known for, but the old man white leather tennis shoes have zero traction on the outer sole. They just aren't made for the level of activity of a busy mom. I was constantly sliding around while trying to climb after kids or run after animals.
Continual Foot Pain while Chasing Kids to Activities
The bunion I have is probably not actually a horrible one as far as bunions go. My big toe is at a weird angle, but it's not the drastic 45° angle that you see on Phil Robertson's feet. My bunion is probably just a minor one, and it doesn't hurt at all if I never stand or walk.
If I have a day where I'm mostly sitting at the computer all day, I have virtually no foot pain. The reality is that I have very few days where I only sit at the computer all day. Many of my kids' activities keep me on my feet for several hours at a time.
Cross country and track meets are especially hard on my feet because they involve a lot of walking/jogging from one spot to another at a hurried pace and then even more time standing to watch the meet. At track meets I have a couple of throwers, a long jumper, and a distance runner. The throwing pits are often way far away from the running events now because of safety and space concerns. Cross county meets often involve the spectators moving swiftly from one point to another on the course to cheer for the runners.
And a full day of walking and standing, like touring an amusement park or visiting a local festival, can set both my feet on fire. Because of the pain from the bunion during a long day, I often overcompensate by supporting a disproportionate amount of my body weight on the left foot. This has create issues with both feet after long periods of being on them.
Because of my long struggle with foot pain, I was more than happy to give Wiivv Custom Insoles a try. I've been wearing them since mid-September.
Using the Wiivv App to Order Insoles
Ordering Wiivv Custom Insoles is a very cool process because you send your measurements by taking photographs of your bare feet using an app on your phone. Then your insoles are custom 3D-printed according to your needs. How awesome is that? It's like something out of the Jetsons. I'll be even more thrilled if we actually get those Rosie robots that clean the whole house someday too, but measuring for custom insoles using a phone app is so fun and high tech.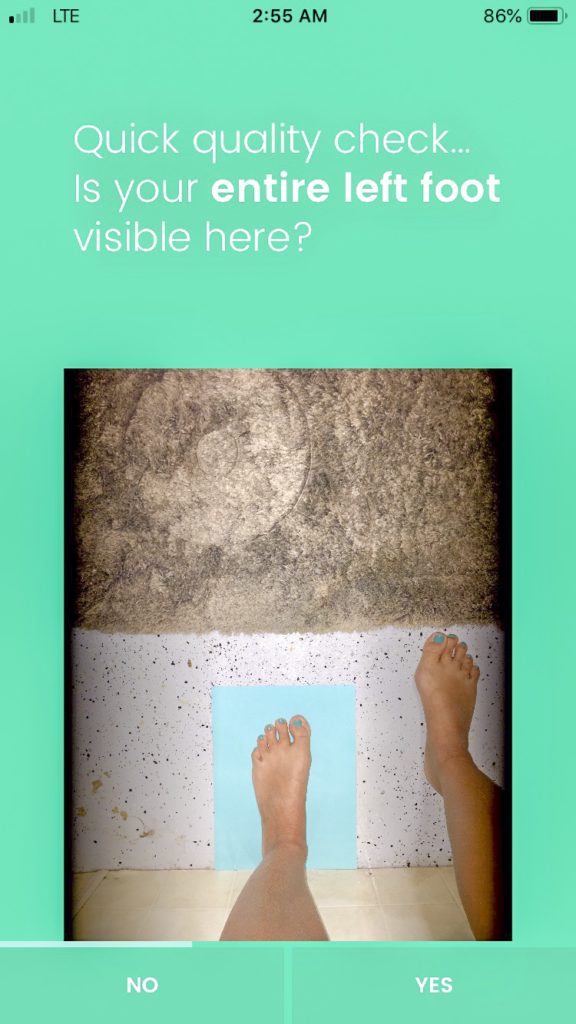 The app makes the process of measuring a cinch. The process of taking the pictures of your feet is extremely easy. However, my first two attempts at measurement photos failed, so I received an email from Wiivv customer service saying I needed to retake them. After having my photos rejected twice, I finally emailed the customer service representative to find out what I was doing wrong. The representative told me they weren't receiving any pictures from me at all.
At that point, I realized the issue wasn't with the app or with my photography skills. The issue was my crazy slow rural wifi. My connection speeds are never great. I realized I would have to use faster public wifi somewhere, so I made a third attempt at the school while dropping off kids for practices.
Taking the photos of my bare feet while standing in the front foyer at the school got me a lot of skeptical looks and several interesting questions. Everyone who asked what I was doing thought the concept of custom insoles you can order straight from your phone sounded awesome though.
I've been wearing these Wiivv custom insoles for two months now, and I can definitely feel a difference in my feet at the end of the day. It did take about two weeks for my feet to get used to the shape of them. At first, it feels like you have something in your shoe at all times. I knew to expect this because some of my kids have worn special insoles in their athletic shoes for various foot issues. It's no different than having to break in a new pair of shoes.
At first, they feel odd to your feet, because it's a different shape, but eventually, they feel normal and comfortable. I especially noticed a huge difference the week we spent in Florida in October. During the days, I would wear sandals down to the beach, and by the time we were headed out to shop and find food in the evenings, I was ready to get my feet back into my real shoes with the Wiivv Custom Insoles. Having no arch support at the beach that week was not doing my feet any favors.
Wiivv Versatility and Durability
The most exciting aspect of these Wiivv Custom Insoles is that I can wear shoes I could never imagine wearing (at least not very often) in the past. I purchased a pair of cheap slip-on sneakers for around $3 from a clearance rack at a major retailer during the summer. I really liked the way they look. The width was very comfortable for both my feet, but I knew when I picked them up they wouldn't be something I could wear a lot because the soles had no support at all.
Then along came Wiivv Custom Insoles, and those slip-ons are now my everyday shoe. I didn't even have to trim the Wiivv insoles to get them to fit. I put the memory foam soles that came with the slip-on sneakers back in the shoe on top of the Wiivv custom insoles. I love the way they feel.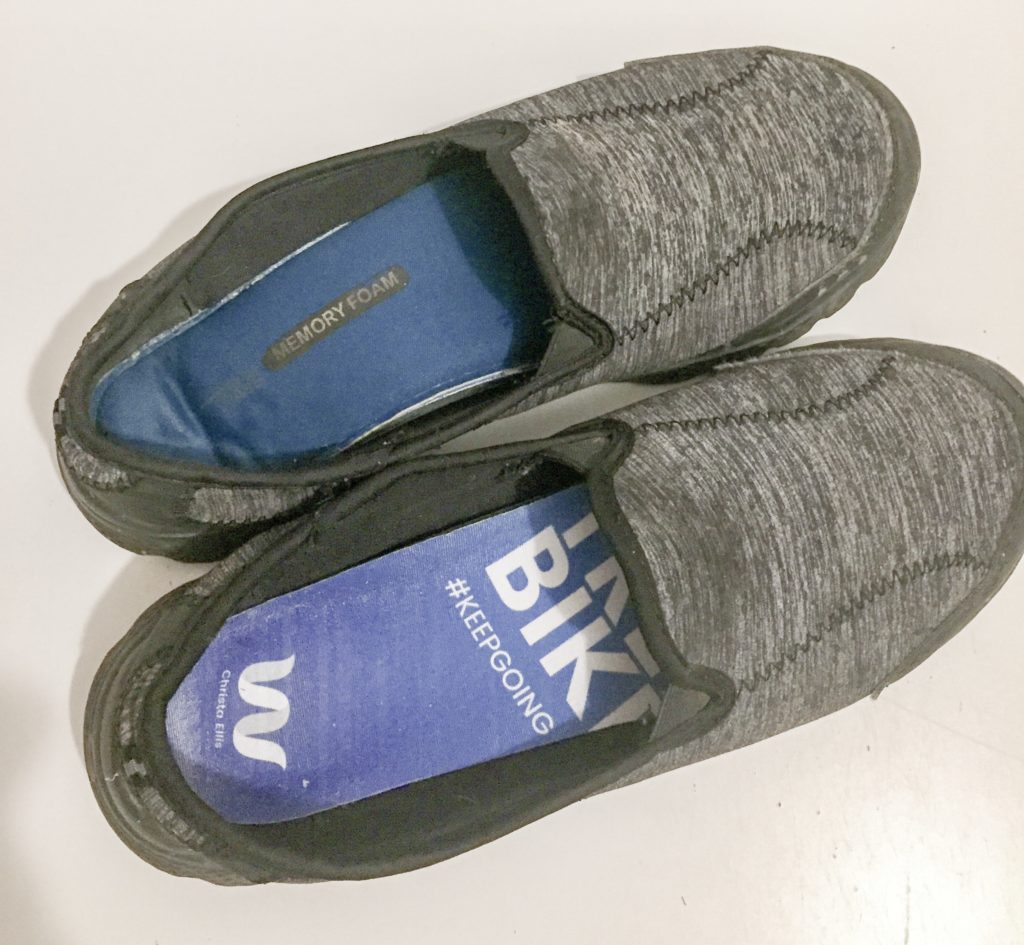 The weather here is starting to turn wintery, and I'm ecstatic that I'll be able to switch my Wiivv insoles into my boots. Winter has always been a conundrum forcing me to decide between warm feet in very flat boots or cold feet in shoes with more support. I usually opted for the warm boots, but my feet were sorry about that later. This year I will be able to have warm boots and support thanks to Wiivv.
Another Amazing Wiivv Product
Wiivv doesn't just make custom insoles you can add to your shoes. Wiivv makes CUSTOM FIT SANDALS as well. Using the same app that takes measurements for custom insoles, buyers can measure their feet for custom sandals which are 3D-printed with your own arch support, toe placement, and straps that adjust.
I think I'm even more excited about the prospect of these Wiivv custom sandals because I know what it means for my feet. I love sandals. I want to wear sandals, but I can barely tolerate any of my old flat sandals.
I'm hoping to try the Wiivv Custom Sandals once the weather is warm again. The custom sandals were actually back ordered at the time I ordered my custom insoles which is a good indication of the popularity of the sandals.
You can buy the Wiivv Custom sandals here.
I wish I could say Wiivv cured all my bunion woes, but that would not be entirely true. I wish I could say Wiivv reshaped my bunion foot so that it's not a disgusting sight that makes my son puke, but I know that would be expecting too much.
I still have pain around the bunion when I've been on my feet a lot but not nearly as bad. I still have a nasty looking toe, but Wiivv has given me more comfortable footwear. Wiivv has opened up additional options on what shoes I can wear day after day. Wiivv is keeping me on my feet longer and with less pain than I've had for many years.
At the end of the day, my feet feel better with Wiivv custom insoles!
These Wiivv Custom Insoles and Wiivv Custom Sandals are currently (11/23/18) discounted to Buy One Get One 70% Off for Black Friday! Buy HERE!