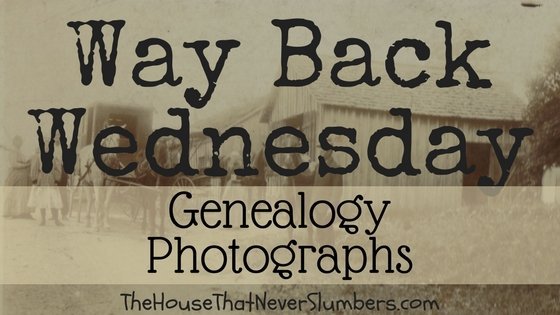 Way Back Wednesday: Ozro Bales Driving a Buggy Fast –
Ozro Bales was my great-great-grandfather. He was born in 1872 and lived his entire life in Randolph County, Indiana. At various times he lived in Bloomingport (Bloomingsport), Lynn, Snow Hill, and Carlos. His parents were John Henry and Martha Ann (Bachelor) Bales. He married Estella Sharp in 1892.
The couple had eight children total, but the first three died in infancy. Their living children were Royce, Ralph, Ethel "Blanche" (married Marshel Sickels), Walter, and Francis.
This photo came from a box of very old photos I was given by my grandpa's sister. You can find out more about why I want to share these photographs in Way Back Wednesday: Genealogy Photographs Coming Soon.
Oz appears to be driving very fast in the photo. Maybe it's an illusion created by the blur of an ancient camera. Maybe I just think that because the whip is pulled back in his hand. The picture feels so wild to me, so I've always found it intriguing. And don't you think Ozro is a really cool name? Remember how my son said he hated his name in the 3 Important Differences Between Men and Women post? I bet he wouldn't hate his name if I had named him Ozro instead.
There are notations on the back of the picture which was mailed as a postcard.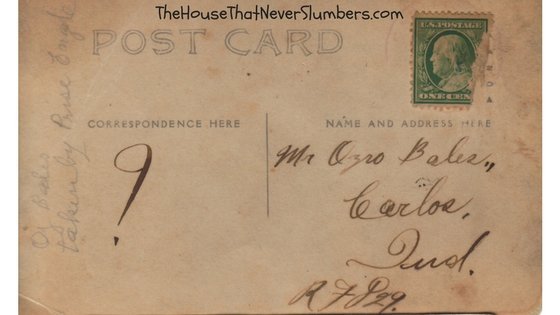 The postcard was mailed with a Carlos, Indiana address. Anyone who knows Carlos (pronounced Car-lus) today will likely find it shocking, or at least entertaining, that this tiny blip on the map could have supported a post office. Someone (we believe my gg-grandmother Stell) made a note that the picture was "taken by Prise [actually Price] Engle." Price Engle was the mail carrier for the Carlos area.
I often wonder why he chose to take this particular photo. Did he have a new camera and was just messing around? He obviously didn't have an iPhone, or this picture would have been posted straight to Instagram. Maybe he thought it was a cool scene? My favorite invented story is that he thought Oz was going too fast, and he took the photo as evidence. You know how they have those traffic cams in the lights of some cities that clock people and then send a photo with a speeding ticket? Maybe Price thought it was his duty as the rural mail carrier to slow down the speeders. I'm just kidding. I have no clue what was going through his head, but I bet he could never have imaged the world of social media that exists today.
When my kids were little, they were extremely confused by the buggies in these photos. We see buggies daily because we have Amish neighbors in every direction. I would often pull out my box of old photos to show my kids pictures from whatever time period we were studying for their history. I would tell them about the people in the photos and how they were related to us.
Every time my kids and I explored the photographs, the conversation would go something like this:
Child 1: So your great-great-grandpa was Amish?

Me: No. My great-great-grandparents were NOT Amish. The Amish choose to live a lifestyle without modern technology and modern conveniences. My great-great-grandparents did not have a choice in the matter. Cars had not been invented. Televisions had not been invented.

Child 2: So your great-great-grandparents didn't want to be Amish, but they were anyway?

Me: No. My great-great-grandparents weren't the only ones living that way. Everyone was. Nobody had cars. Nobody had televisions. Nobody had electrical lines running to their houses then.

Child 1: So everyone was Amish then?

Me: No. No. That's not how it worked. The Amish are a religious group. These people in the pictures were Quakers, and Methodists, and United Brethren.

Child 2: So the Methodists were Amish then?

Me: NO. As far as I know, NOBODY here in this part of Indiana was Amish then. The Amish have only moved here in my lifetime. When I was a little kid, there were not Amish here.

Both Children: Oh, I get it.

Me: Good. Finally!

Child 2 to Child 3 (who has just wandered in): Did you know Mom's great-great-great-great-great-grandpa was Amish?
For some reason, reading every single Little House on the Prairie book was not confusing at all, but seeing these pictures threw them for a loop every time. They understood people lived differently in a different time in the context of the Ingalls, but my great-great-grandparents just looked too Amish apparently. It's alright though. They all understand the difference now . . . I hope.
Feel free to share this photo with others interested in East Central Indiana family history and genealogy, but please link back, so they can find their way here. I would love to hear from others with connections to these ancestral lines. Drop me a line in the comments if you find a long lost cousin pictured.
You might also enjoy:
Way Back Wednesday: Bales and Others at Carlos, Indiana
Like, share, pin, and tweet using the share buttons.
If you want to be sure to catch our next segment of Way Back Wednesday, subscribe below.
You might also enjoy this post about a spectacularly cool part of Indiana history.