This Family Reunion Looks Sharp! –
Yes! The pun is intended. Josiah and Lydia (Neal) Sharp are the progenitors of this large brood of children and grandchildren. I might be personally biased, but I think they really do look sharp.
Josiah Steward Sharp was born in New Jersey in 1836. He came to Randolph County, Indiana with his parents Joshua Braddock and Mercy Ann (Steward) Sharp at the age of 3 years. Lydia Adeline Neal was born near Milton, Wayne County, Indiana in 1939. Her parents, Daniel Neal and Leticia (Perdue), were both born in North Carolina.
*This post contains affiliate links.
The Neals are a bit of a mystery. We've never been able to conclusively link Daniel to his parents, but circumstantial evidence points to William Neel/Neal and Lydia (Cook). Daniel's brother-in-law Nathan Thornburg was named the executor of this William Neal's will which would have made sense, considering Daniel had already passed in 1845. There will be more on the elusive parents of Daniel Neal in another post I'm sure.
Josiah and Lydia (Neal) Sharp had five children:
Daniel Thomas Sharp – b. 1862
William Oscar Sharp – b. 1863
Martha Belle Sharp – b. 1865
Henry Edgar "Ed" Sharp – b. 1870
Letitia Estella "Stell" Sharp – b. 1875
Daniel Thomas Sharp and William Oscar Sharp died as small children, so the many descendants you see in the photograph are the children and grandchildren of Martha, Ed, and Stell.
Martha Belle (Sharp) Engle
Martha Belle Sharp married Daniel H. Engle in 1880 in Randolph County, Indiana. Daniel Engle was one of the twelve Engle brothers. His parents were William and Lutitia (Cabe) Engle. Like the Sharps, this Engle line was also from Evesham Township, Burlington County, New Jersey. Daniel Engle and Martha Belle Sharp were actually distant cousins because the Sharp and Engle lines were intermarrying already in New Jersey.
Daniel and Martha Belle had a dozen children, so the majority of the individuals in this photograph are their children and grandchildren. One of their granddaughters helped me label several of the couples.
Henry Edgar Sharp
Henry Edgar Sharp married Luonna Emogen "Onna" Kinsey in 1890 in Randolph County, Indiana. They had four children. Of those four children, only Robert Earl had just one child.
Letitia Estella (Sharp) Bales
Letitia Estella or Estella Letitia (it shows up both ways depending on the record) Sharp married Ozro Francis Bales in 1892 in Randolph County, Indiana. These are my great-great grandparents. They had eight children, but three died in infancy. You've met Ozro's family in several other posts. If you read What Ethnicity Was Ozro Bales?, you will notice Ozro really stands out in this photograph of pale Sharps and Engles.
Suspected Date of Photo Approximately 1909-1910
This photo was very likely taken at a family reunion. Later Sharp family reunions were held at Glen Miller Park in Richmond, Indiana. I don't know the exact location for this photo, but I'm listing it as Randolph County, Indiana just because I know that's where most of these people were living.
At the time this photograph was taken, Lydia (Neal) Sharp had already passed. I know this because she passed away the year before my great-grandpa Ralph Bales was born, and Ralph is a small boy in this picture.
The granddaughter of Daniel and Martha who helped me identify some of the people recognized Charles and Ada "Eloe" Ballenger. For Charles and Eloe to have been married, the picture would have had to have been taken after December of 1907. By May of 1910, Eloe had given birth to Doris, so she likely would have been holding a baby. Using those clues, I suspect this photo was taken in 1909. That would mean my great-grandpa Ralph Bales would have been about 8 years old, and that looks about right.
There's a strong family predisposition to diabetes in the Josiah and Lydia Sharp line, especially the Engle branch. It might have affected them more because Daniel and Martha were distant cousins. The two oldest Engle daughters, Edna and Eva, died early leaving behind young children. I've been told that was due to complications of diabetes. I was also told by descendants that most of the children had diabetes, but the younger children were able to live long lives because we began to understand how to control diabetes by that time. One of Ed Sharp's daughters was blind from diabetes, and my great-great-grandmother Estella also suffered from the condition.
Pin this!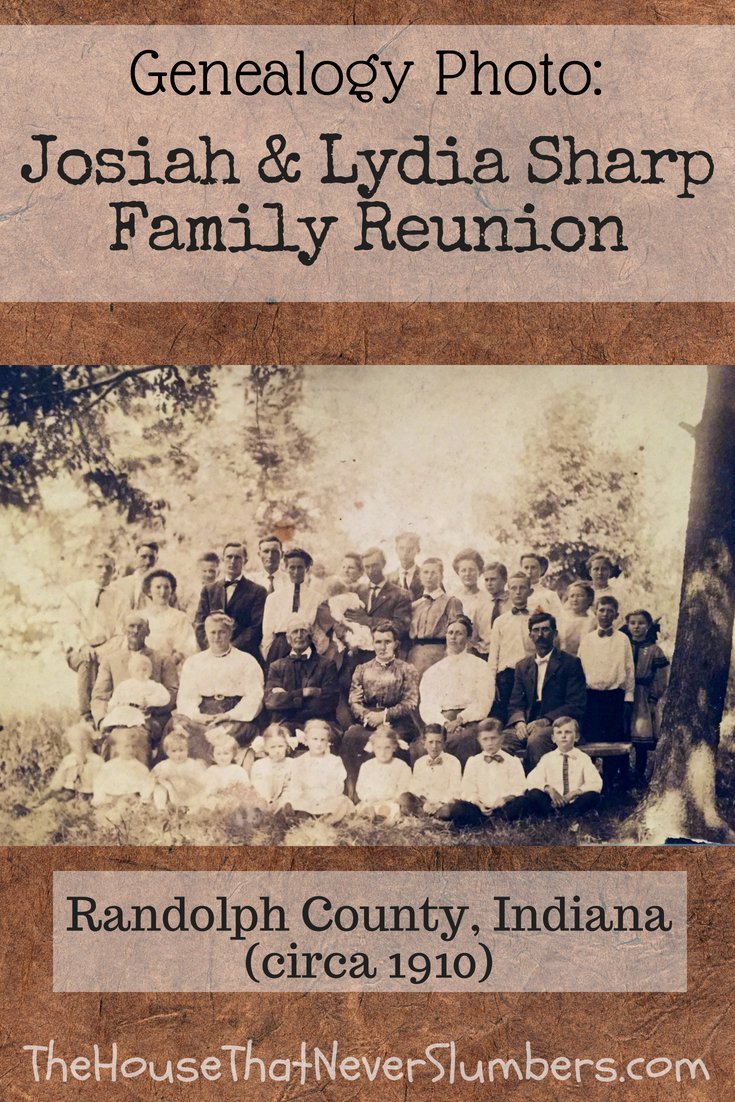 Josiah & Lydia (Neal) Sharp Family Reunion Photograph
Front Row – 4 children who are blurry [possibly some Albertsons], a girl I believe is Blanche Bales Sickels, 2 more girls [possibly Grace Engle and Gladys Albertson], Ralph Bales, Chester Sharp, a boy [maybe Bobby Engle]
Second Row – Daniel Engle [probably holding Charles], Martha Belle Sharp Engle, Josiah Sharp, an unknown lady, Estella Sharp Bales, Ozro Bales, Royce Bales
Third Row – Charles Ballenger, Eloe Engle Ballenger, Ed Sharp, Onna Kinsey Sharp, Will Hodson [holding probably Pearl], Bessie Engle Hodson, Robert Sharp, 2 girls [possibly Georgia Engle and Edith Miller]
Back Row – man, blurry person, man, a woman holding a baby, a young man, a young woman, a boy [perhaps Walter Engle], Idris Sharp, Alice Sharp.
I wish I knew the identity of the woman sitting between Josiah and my great-great-grandma Estella. Lydia was no longer living. All Josiah's living children are accounted for in the photo. I can only guess it might have been an aunt or another relative.
You can read a lot more on the Josiah and Lydia (Neal) Sharp family on my cousin's Sharp and Related Families tree on Rootsweb. The Sharps were Quakers in New Jersey but most found their way to other denominations in Indiana. Josiah and Lydia and his parents are buried at Union Chapel (aka Old Union Cemetery) just west of Carlos in Randolph County, Indiana. Many other families buried at Union Chapel came from the same part of New Jersey.
Please share this post with other descendants! I would love to connect with cousins. These individuals are the ancestors of many, many families still in Randolph County today. If you happen to recognize the people I haven't been able to label, please let me know.
Don't you think this family is looking Sharp?
Please like, share, pin, tweet, follow and subscribe!
Other posts related to this topic:
Bales and Others at Carlos, Indiana
Bloomingport Livery Stable and Carlos City to Carlos Mystery Solved
J. H. Bales Butter, Eggs, and Poultry Wagon
Other genealogy posts can be found under the Genealogy tab on the toolbar!