Self-Sufficiency: Why Every Child Needs a Toaster Oven –
I am a mean, mean mom sometimes. There are certain items of interest that I refuse to let my children own. Fortunately, a toaster oven is not one of them.
Some moms refuse to let their children own items because they are dangerous, but my kids have all the "dangerous" items they could ever want. My son wanted a machete for Christmas when he was eight. It was the only thing he requested. We let him have the machete, and he cleared the entire thicket that spring.
*This post contains affiliate links. We received a complimentary copy of 150 Best Toaster Oven Recipes for review.
Some people don't let their children own certain toys because they are super loud and annoying. My kids had an entire room full of loud and annoying toys when they were little. Some people don't let their kids have certain playthings because they are too messy. My kids have destroyed the carpet in one bedroom making five million batches of slime.
I don't really freak out if my kids want something others would consider dangerous. I don't get that upset about loud and annoying toys (even though noises really bother me and I've had to learn to live with constant noise) because loud toys are often the most fun. Anyone who has walked into my house can tell I don't get bent out of shape about the messes (unfortunately, the chaotic messes just don't bother me that much which is why it's always messy here).
The No Stuffed Animal Rule
But I will not hesitate to ban toys if they are stupid and pointless. Take stuffed animals, for instance. We have a no-new-stuffed-animals rule. The ones already here were grandfathered in, but stuffed animals are the most pointless product on the planet, and there's really no reason for anyone to own more than one.
I don't even know why I made that Stuffed Animal Rule though. My dad totally disregards the fact that I have the Stuffed Animal Rule. Every vacation, my kids would come home with more stuffed animals because Grandpa thinks he's above the law.
And then there was the time my daughter's boyfriend (now husband because she was married while still in high school) completely disregarded the Stuffed Animal Rule and got her, not just a stuffed animal, but a giant teddy bear. NOBODY needs a giant teddy bear! What are you supposed to do with that thing for the rest of your life? You want to know where that giant teddy bear is now? Vacuum sealed in a bag under their bed.
You can read the whole story of the giant teddy bear in It's Not About Valentine's Day. Seriously, he smuggled in this giant teddy bear that he knew she wasn't supposed to have at our house, and we still let her keep him (the bear and the boy). So I'm not really sure why I even bothered making the Stuffed Animal Rule.
The One Rule I've Kept
I did make one rule that I have actually kept. My girls wanted an Easy Bake Oven, and I absolutely refuse to let them have an Easy Bake Oven. They have begged, and they have pleaded, but I am a mean mom. Do you understand how an Easy Bake Oven is supposed to work? That plastic box is supposed to cook some kind of food with a small light bulb. Does this sound like a good idea to ANYONE? I'm guessing not because Monica's Easy Bake Oven is a longrunning joke on Friends.
My older two kids weren't supposed to have an Easy Bake Oven, but my in-laws bought my daughter the Easy Bake Chuck E Cheese Pizza Oven. Guess what? It was just the very same plastic Easy Bake Oven with different stickers. Calling it a "pizza oven" did not make that thing work any better.
You can't cook with a tiny light bulb! The only reason it even remotely seems to work is because the Easy Bake cake mixes only make about one teaspoon of cake. THAT'S NOT EVEN A BITE! They charge you like $5.99 for not even one bite of cake. You can buy an entire box of regular cake mix for 99 cents and make an entire cake.

Even if the economics of the food-to-cost ratio of Easy Bake Oven mixes weren't astounding enough, I can't even begin to imagine what person might think it's actually a feasible plan to expect a small child to wait the amount of time it takes to cook one dribble of cake mix with a lightbulb. No child ever waits until the lightbulb has cooked the mix. All children end up eating one lick of gooey batter instead.
Even though I'm a hoarder, I had actually managed to rid us of that Easy Bake Chuck E Cheese Pizza Oven in a yard sale long before my younger two girls were born. When they became old enough to watch commercials and want an Easy Bake Oven, I had already become a mean mom. I banned all Easy Bake products from my home, and this time I didn't waver.
I did not allow my younger girls to have an Easy Bake Oven despite their desperate pleas, but I did buy them something even better. I bought them an $8 toaster oven from Goodwill. It was brand new. The cord was still wrapped in plastic. The instruction manual was inside the oven along with a pan that had clearly never been used.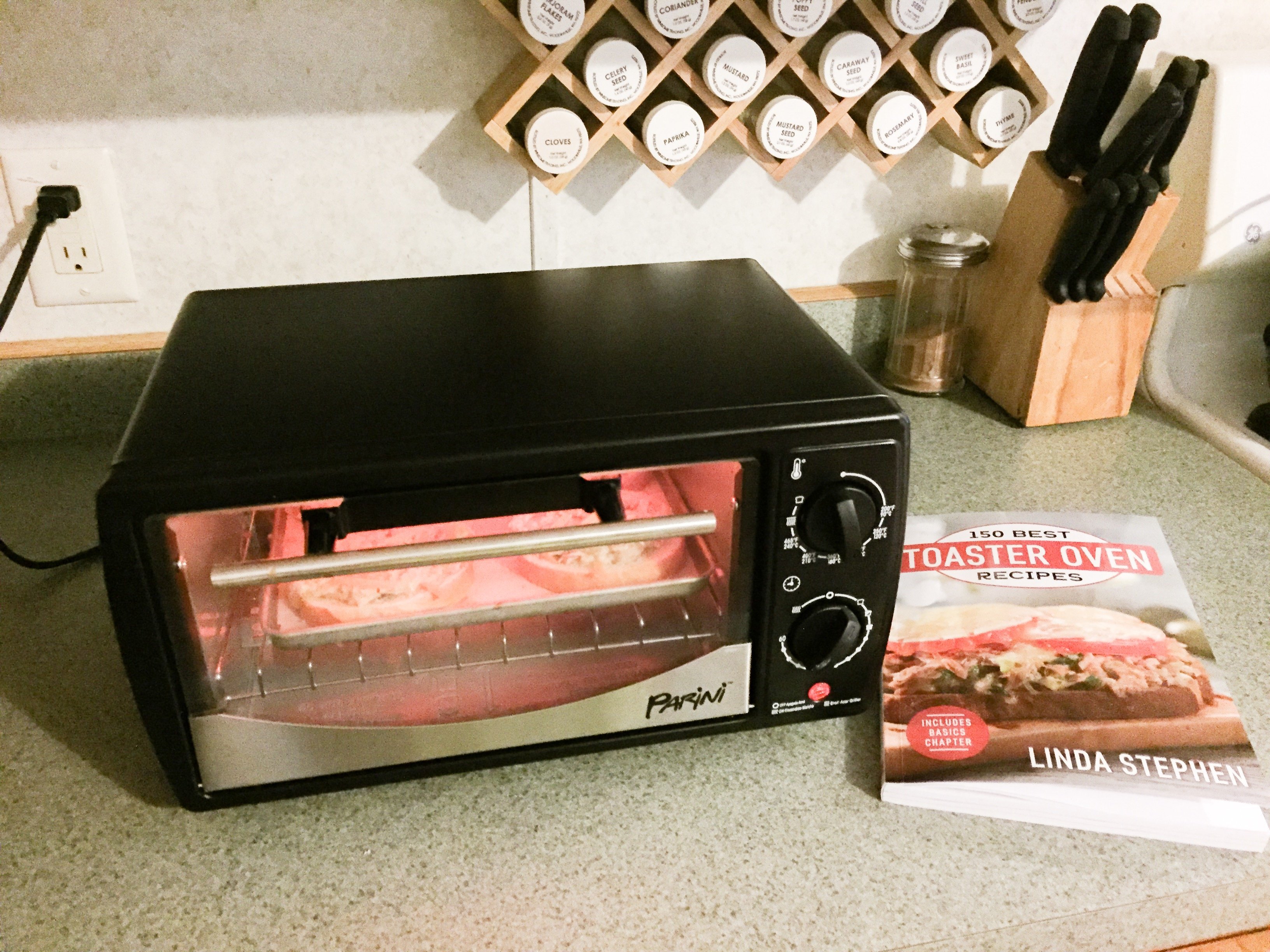 Toaster Oven Cooking for Kids
This toaster oven has been one of our very best purchases. The girls love it! I really like it because I feel much better about having them use the toaster oven when they are home alone. We have propane in our kitchen, so even once my kids are old enough to stay home alone, I haven't let them use the propane burners.
I have let them use the real oven, since it lights on its own without that poof, but then I have to worry they won't remember to turn it off after baking something. Fortunately, our toaster oven has a dial timer that automatically shuts off.
I've never really cared for the microwave. It nukes the nutrients right out of anything healthy you are heating. If I had my way, we would completely replace the microwave with the toaster oven. Having the toaster oven for my girls when they are home alone is just a way better option than any of the alternatives.
Even when I'm home, it's been such a benefit to have the toaster oven. Who wants to turn on the oven in the middle of the summer and heat up the entire house? The toaster oven is great for heating up leftover pizza (so much better than soggy microwave pizza).
The girls love trying their own creations in the toaster oven. They make toasted ham and cheese sandwiches a lot. We found some small pie pans, bread loaf pans, and other dishes at various yard sales and Goodwill stores, so they've been able to make all sorts of baked goods. The toaster oven has been a great tool for all their food experiments.
We keep several sheets of parchment paper cut to the size of the toaster oven tray to make most of the clean up a breeze.
Being able to cook for themselves is one of the most important skills your children can learn!
150 Best Toaster Oven Recipes – Cookbook Review
We recently received a complimentary copy of 150 Best Toaster Oven Recipes by Linda Stephen in return for an honest review.
My girls were extremely excited about this cookbook. As promised by the title, there really are 150 recipes to satisfy any toaster oven chef – from novice to well-seasoned.
This cookbook would be amazing for empty nesters, college students, or anyone cooking for just one or two people. If you are a couple traveling around living in a camper van (which is what I sort of want us to do when my husband retires), you definitely need to pick up a copy of 150 Best Toaster Oven Recipes.
These recipes are not junkfood. These are wholesome meals made with mostly fresh ingredients. They are a far cry from the TV dinners many resort to when having to feed only one person. Many of these recipes are bordering on gourmet but without such sophisticated ingredients that it would be complicated for the average person to find all of them.
All the ingredients we've seen listed can be found in the regular grocery store, and most are items we already have on hand. Recipes that include hard-to-find ingredients are a huge pet peeve for me, so I appreciate any cookbook that uses normal food staples.
All of the recipes we looked at closely are something even my 11-year-old can follow.
Toaster Oven Deli Tuna Melts
She decided to give the Deli Tuna Melts a try. You can download the entire recipe here.
We had to leave the green onions called for in the recipe out of the mixture because my daughter didn't want them on hers, but I added them as a garnish to mine.
These Deli Tuna Melts from 150 Best Toaster Oven Recipes were absolutely delicious. The only mistake we made was not doubling the recipes. The kids seriously scarfed them down in less than 5 minutes and wanted more. 
And there are still 149 other recipes in 150 Best Toaster Oven Recipes just waiting for us to try!
We'll be sharing the photos on Instagram, Facebook, and Twitter as we try additional recipes, so don't forget to follow along.
So what's the one toy you absolutely won't allow your kids to have? We all have that one toy, right?
Please Like, Share, Tweet, Pin, Follow, and Subscribe to The House That Never Slumbers!
Pin this!