Randolph County, Indiana Racially Integrated School Photo Circa 1910 – Josephine Gordon, Marshall Sickels, and Many Others –
This photo was among some items that were in the possession of my grandpa's Uncle Francis. His family allowed me to scan all their Bales albums. This particular school photo includes children who later married into the Bales line. Both Josephine Gordon and Marshall Sickels married children of Ozro and Estella (Sharp) Bales.
You've met Ozro and Estella many times in other posts, so I won't go into their biographical details again in this one.
Related Posts:
Does anyone know what school this would be?
I do not know which school these children attended. To my knowledge, the Sickels were always over near Snow Hill. The Gordons I know of were just north of Carlos, so my assumption would be this school was located in the area north of Bloomingport and Carlos.
*This post contains affiliate links.
The names included in the photo were labelled as:
Florence Baldwin, Dorothy Brouse, Willie Conner, Pauline Wysong, Carrie Goodman, Hubert Brown, Irene Chamness, Edith Sickels, Josephine Gordon, Roy Baldwin, Bessie Norton, Lawrence Baldwin, Thelma Jennings, Preston Jennings, ______ Brown, Elizabeth Lasley, Herschel Sickels
Nellie Swain, Herman Jennings, Grace Swain, Harlan Watkins, Marshall Sickels, Charlie Martin, George Pugh, Elsie Gordon, Orpha Brooks, Bernice Connor, Clarence Sickels, Guy Baxter, Goldie Connor, Olive Brooks, Emma Jones, Charlotte Moore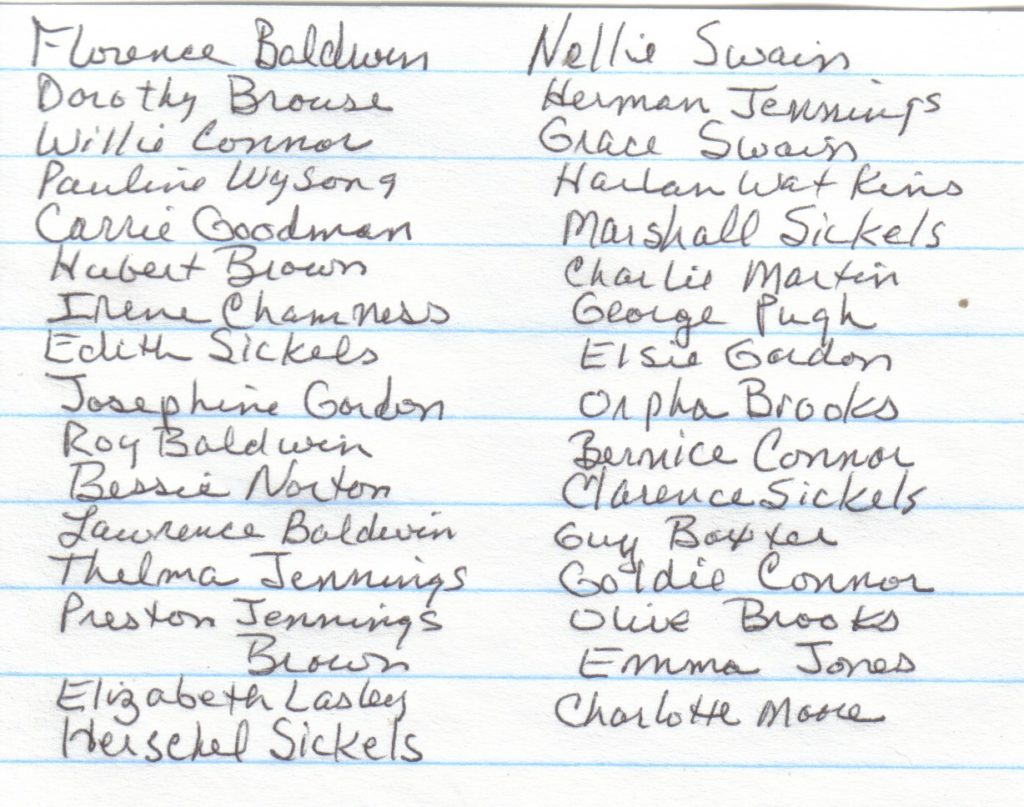 Unfortunately, the names were just in two columns, and I'm not really sure which name goes with each child. I'm hoping readers will recognize some of their relatives and fill me in on the identity.
Bessie Josephine Gordon
I believe this girl looks like Josephine Gordon, but I could be wrong.
Last week in my post Update on the Search for the Secret Uncle where I was trying to find my great-grandpa's secret lovechild, I included a picture of my great-grandpa Ralph Bales as an infant. The toddler in that photo was Ralph's older brother Royce Bales. That little toddler Royce grew up and married Josephine (actually Bessie Josephine) Gordon. Josephine was born about 1902 and was the daughter of Carlos and Mary Gordon. Based on the census linked below, the Elsie Gordon in this photo would be Josephine's older sister.
Marshall Sickels and Siblings
The Marshall (I've also seen Marschel, Marshel, and Marshal on other records) Sickels in this photo was the son of Dexter (sometimes called Deck) and Mary Sickels. Marshall was born in 1901. Marshall grew up and married my great-grandpa's sister Blanche (actually Ethel Blanche) Bales. Their descendants are still farming in Randolph County.
You've met Blanche (Bales) Sickels in many previous posts because I have tons of pictures of her.
Related Posts:
Clarence, Herschel, and Edith in this photo are all siblings of Marshall.
Others in the Photo
You can find many of the children listed in this census record for Washington Township, Randolph County, Indiana 1910. You can click to see the pages before and after in that census where you will find additional families from this photo. Obviously, many of the children are siblings. If you ever need old census records, many are available on Family Search for free.
Pin this!
Racial Integration Well Before It Was Mandated
I've looked at this picture dozens and times, and it never registered until I was editing it for this post that this picture indicates a racially integrated school. I, of course, knew the Union Literary Institute of Randolph County, Indiana was one of the first integrated schools in the nation.
Before it always struck me as perfectly normal that there would be an African American child in the school picture. But then my daughters were listening to the soundtrack from Hairspray in the van recently, and when I saw this photo tonight, it occurred to me that not all schools were integrated as early as 1910ish. Wayne County, Indiana was founded by Quakers who came to Indiana to flee the evils of slavery in the Carolinas and elsewhere. Those same Quaker families spilt into the area that was later split off from Wayne and became Randolph County.
The south may have still been segregated in the early 1900's. Randolph County, Indiana was apparently integrated in more schools than just the Union Literary Institute.
There is a family by the name of Watkins listed as "black" on that same census page linked above. There is not a child by the name of Harlan listed in that household, but children often went by middle names, so this may give us some clues as to which child is Harlan Watkins.
Let me know if you see relatives!
If you can put any of these names with the proper child, please let me know. I would love to do an update post eventually with a fully labelled photo.
Please like, share, tweet, pin, and subscribe to The House That Never Slumbers!