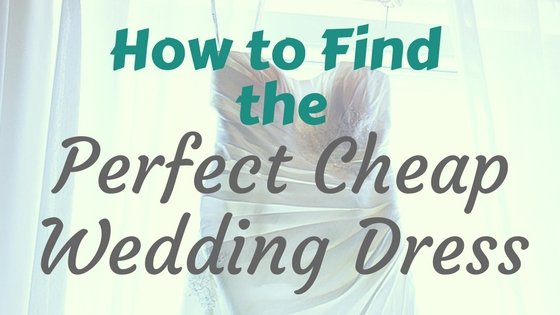 How to Find the Perfect Cheap Wedding Dress –
Finding the perfect cheap wedding dress for my daughter was so much simpler than I ever could have imagined. Finding her dress for the Junior Prom the year prior was a bit of a nightmare, so I was expecting it to be a much bigger task to find the perfect wedding dress at a price we were willing to pay. Thankfully, we found an amazing dress that was exactly the style she wanted for only $99. So what, if my husband had to fight a mom in the bridal shop to get it?
Most brides aren't shopping for a Prom dress and a wedding dress at the same time, but we were because My Daughter Was Married in High School. Since shopping for a Prom dress the prior year had been a tedious process, I wasn't entirely looking forward to this dress-finding mission. It turns out I had nothing to fear.
*This post contains affiliate links.
The engagement took place in early December for a wedding that was supposed to happen in late August of the following year. You can read about The Proposal. Who goes to Cracker Barrel for a pre-engagement dinner, right?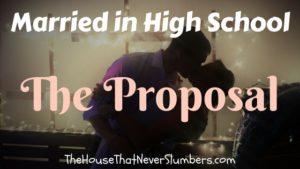 That was going to give us eight months to plan the wedding which is a perfectly reasonable time span to find a dress, get decorations, figure out food, and so on. Even though we thought we had a good amount of time to plan, we didn't want to miss any of the great sales that often happen right around the first of the year, so we started looking for dresses over Christmas Break.
1.) Start local, and take pictures of the gowns you like.
We live in a rural area, and there aren't exactly a lot of bridal stores near us. While shopping for the Prom dress the prior spring, we had visited most of the stores that carry formal dresses and wedding gowns. We knew the selection locally was not great, and that meant the prices were also fairly high. The chances of finding the perfect wedding dress at the right price close to home were not great, but we still checked a couple of local bridal/formal shops. This allowed the bride-to-be to get an idea of the style and shape of dress she preferred. Many of the dresses she tried on locally were way out of the price range, but I was able to get pictures of her in several different types of gowns. It was pretty clear after a quick trip to the shop closest to home that she really wanted a strapless dress that flared somewhat at the bottom.
Although that local dress shop had nothing in our price range in December, during the summer I had looked at their clearance dresses during a sidewalk sale, and there were some deeply-discounted dresses then that would have worked, so it's always worth checking.
2.) Once you know your preferred style, check out dresses online.
Once we had a better idea of my daughter's size and her preferred style, we took some time to peruse dresses online. Don't forget that retailers like JCPenney and Macy's carry some wedding dresses. Many of those are in an affordable price range, and some of those could be ordered online with the opportunity to try it on in the store before buying which makes it less risky than ordering a random dress from eBay that may or may not fit.
The prior spring after searching the entire world (okay, it was really mostly just Muncie, Indiana) and every new and used dress shop there for a Prom dress, it was actually at Macy's that we ended up finding a beautiful Prom dress for less than $100. Always search online for coupons and discounts for a particular retailer before making a large purchase.
3.) Don't limit your search to just wedding dresses.
You don't have to stick with a traditional wedding dress, and you aren't required to buy a dress specifically designed as a wedding dress. When searching online try using terms like "long white gown" or "white ballgown." Check out the white, sparkly formal dresses in the major retail stores. In bridal shops, ask to see the line of bridesmaid's dresses. Most of these dresses can be ordered in white, beige, or ivory and look very similar to dresses sold as wedding dresses, but they are often a fraction of the cost.

4.) Thrift shops and rummage sites may surprise you.
I've seen wedding dresses several times at Goodwill. Check out any resale and consignment shops in your area. Join any Facebook rummage sites that serve your geographic region.
5.) Pay attention to the sales at the big, bridal stores.
Follow the big bridal stores on social media, and sign up for their email newsletters, so you don't miss their sales. Even if you have to drive a couple of hours, it's likely worth the drive because the selection is so much bigger. If you go to one of the big bridal stores, make sure you call ahead for an appointment. We did not realize an appointment was necessary, and it was almost a wasted drive for us.
Buying the Perfect Cheap Wedding Dress at David's Bridal $99 Sale
We just happened to hear an ad on the radio for the David's Bridal $99 Dress Sale. That was in early January. It was the middle of basketball season which means my daughter had practices or games every single night. We knew taking the trip to David's Bridal would not be easy with scheduling, but we also knew it was something we couldn't pass either.
My daughter somehow begged her coach into letting them practice early on Saturday morning, so we could leave for Indy right after practice. Just like the night of her engagement, she barely had time to shower. Such is the life of a female athlete. You either go everywhere smelly and sweaty, or you go clean but with sopping wet hair.
Don't forget a strapless bra!
I did force her to bring a bra that wasn't a sports bra. This is important when trying on dresses if you actually want to see what they will really look like. I think she actually brought the stick on bra she had for her Prom dress and another strapless bra. Seriously, don't forget a bra similar to what you will wear for your wedding day.
Also, if you think you'll wear your hair up, you should try to have your hair up and vice versa because you want to be able to see the way the neckline and backline will look for you.
Make an appointment!
We had no clue we had to make an appointment. We had managed to work around the practice situation and drive over an hour to a David's Bridal, and they would not let us in the door. The place was packed. There was a line out the door. We asked if we could just get in to look without trying anything on, and we still couldn't get in the door.
The best they could do was put our name on the list and take our cell number in case there was a cancellation. We left extremely disappointed, knowing we likely wouldn't be able to make it back to Indy before the sale was over. We decided to try the other large bridal store nearby. It was something like Bridal Warehouse or Bridal Superstore. They wouldn't let us in the door either without an appointment, and they were extremely rude about it. There were exactly two customers in the very large store and 4-5 employees. I questioned them about it. I asked if I could just look around to see if I even wanted to make an appointment and drive an hour to return another day. David's Bridal had been apologetic, and it was easy to see that they were swamped. This other store was completely dead and empty, and the man at the counter was extremely RUDE.
Having been turned away from both large bridal shops, we decided to take a look in Ross. My daughter found a really nice black Prom dress for under $30. While she was in the dressing room at Ross, David's Bridal called. Fortunately, there was a cancellation, and they could give us an appointment if we could be back there within ten minutes. We quickly paid for the bargain Prom dress (which is not the one my daughter ended up wearing, but it's okay because I have two other girls), and darted back to David's.
The bridal shop was still swarming with people. We were introduced to our sales attendant. The sales attendant is the only one allowed to bring you dresses. You are not allowed to take the dresses from the racks by yourself. There are signs stating this everywhere. You're supposed to tell the sales associate what type of dress you want, and she will get it for you.
We let the sales associate know we were interested in the $99 dresses. She said there weren't many left, but she would see what she could find. She brought us a couple of dresses for $149 and $199 and one dress for $99. She let us know that if we found any we liked that weren't the right size, she could call the other store across town to see if they still had another size. She also told us she could bring us some bridesmaid's dresses in that price range that could be ordered in white if we didn't find anything suitable. Our associate left to find additional dresses in my daughter's size. I went to the dressing area with the bride-to-be, and my husband was left to wander.
I hated the one she liked.
The first three dresses are pictured below. I liked the third dress, especially with the silver belt added to it. My daughter liked the dress in the middle with the weird lace. I didn't mind the back of it, but I thought the front was hideous for anyone under the age of 80. It would have been perfect for one of those weddings where two people in a nursing home get married. I didn't like the short dress with the longer lace. I just wanted that dress to make up its mind. Was it a long dress? Or a short dress? Blah. I think she would have ended up with that hideous lace dress, but fortunately, my husband is super competitive, even competitive enough to fight some mom in a bridal shop for the perfect $99 wedding dress.
My husband had to fight a mom for the perfect cheap wedding dress.
While we were back in the dressing area, my husband was having his own adventure. He was left to wander around the store. Considering he thinks 15 minutes in Hobby Lobby "burns his eyes," I'm sure a lengthy stay in a bridal store was even more painful for him, but he's a good dad like that and often suffers through girly outings with only minimal complaining because that's just what you do to make your wife happy.
He noticed a mom standing in front of one rack kind of spreading her arms wide like she was guarding those dresses. She appeared to be in defensive slide position, for those of you who know basketball. Since my husband is a basketball player, he had no other choice but to view that as a challenge.
He could hear the mom trying to convince her daughter to come over and look at those particular dresses. Her daughter was not moving with any sense of urgency. The daughter was taking her sweet time browsing the other racks. The mom became more and more agitated. She finally whispered loudly to her daughter, "Get over here! These people are also looking for a 6-8!" She had apparently been eavesdropping on our conversation with the associate, or perhaps she just realized her daughter was the very same size as ours. When my husband heard that, he knew this mom had found the motherlode of cheap size 6-8 wedding dresses. The daughter was having none of that frugal stuff. She only wanted to browse the $1200-$1500 dresses, so she continued to ignore her mother's pleas.
After several minutes of eye-to-eye gridlock with this mom, suddenly, time slowed to a crawl. The theme to Rocky began playing in my husband's mind. The daughter's affinity for more expensive dresses finally brought her to a rack almost within reach of her mother. My husband started to turn like he was walking away, a pass fake of sorts. It was just enough to convince the mother he was throwing the ball in the other direction. The mother, seeing her daughter so near, made a slight movement to the side to grab her daughter by the arm and physically drag her to the rack of cheap dresses. My husband sensed that very tiny window of opportunity to move in on that dress rack. He whirled back to face the rack. He knew that he, as a man of 6′ 5″, could not physically fight a tiny mom for a $99 wedding dress. It just wouldn't be proper, so he did what any caring father would do. He sent our 12-year-old daughter to grab the dress.
Remember the scene in The Hunger Games at the opening of the games when all the contestants must dart to fight it out for the supplies in the cornucopia? Well, that was my middle daughter swooping in to get the perfect cheap, strapless, flared-bottom, lace-up back, size 6, $99 wedding dress. She executed her mission perfectly. Despite the signs posted everywhere reminding customers that only sales associates are allowed to take the dresses from the racks, my daughter skillfully grabbed the dress and hurried it over to the dressing area. As soon as our sales associated stepped away to help another customer, the bride-to-be began trying on what we already knew would be the perfect dress.
A Successful Shopping Excursion
We were fortunate to walk out of David's Bridal with a beautiful $99 wedding dress. The original price of this dress was over $800. I refuse to pay hundreds of dollars for a dress that will be worn one time, so we were thrilled and considered this a steal. Yeah, I know we pretty much did steal it from some lady, and I would feel horrible about that except for the fact that I see very little chance her daughter, with her complete lack of interest in that particular rack, was going to be happy with any dress that didn't set her parents back a grand or more. That girl probably ended up with a dress that cost more than my daughter's entire wedding.
We splurged and added the $10 waterproof dress bag to our purchase because we were not letting anything happen to that dress on the way home in Indiana winter (and the cleanliness of our van is always a little shady anyway). If only I knew what to do with the dress now that the wedding's long passed, and it's been obtrusively hanging in my bedroom inside the $10 waterproof bag for the last 10 months.
You can view our other frugal wedding posts on our Wedding page.
Don't let your friends pay more than they should for a wedding dress! Make sure they read our guide How to Find the Perfect Cheap Wedding Dress. Like, share, tweet, pin, and subscribe to The House That Never Slumbers!
You might also enjoy: