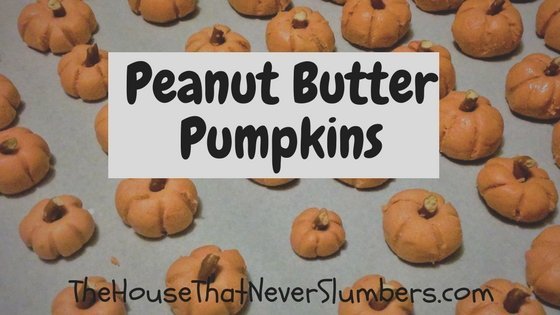 These Peanut Butter Pumpkins are adorable and so easy to make! They'll look impressive on the table at any autumn gathering. What recipe can be simpler than mixing common ingredients and adding food coloring? No cooking! No baking! This is a great recipe to add to your holiday favorites.
My 11-year-old was able to make these with virtually no assistance from an adult. I did end up helping her roll them at the end because that part is a bit more time consuming, but she could have completed the entire Peanut Butter Pumpkins recipe from beginning to end without any help.
*This post may contain affiliate links.
What you need:
1 cup of peanut butter

3-4 cups of powdered sugar

1 1/2 sticks of butter (slightly softened)

food coloring

pretzels sticks (optional stems)
If you've read our Team Snacks for Fall Sports post, you'll remember I let you in on a little secret that makes measuring peanut butter so much easier. DO NOT use a regular measuring cup with peanut butter! You will have to stand there scraping peanut butter off the sides of the cup with a spoon. Get one of these nifty adjustable measuring cups that push the peanut butter right out and barely even leaves any peanut butter on the sides to clean up when you do the dishes. It's well worth the cost. I hate cleaning up dishes that have peanut butter stuck to them! Don't you?
Mix the slightly softened butter and peanut butter together. Add 2 cups of the powdered sugar, and mix well. After that add the powdered sugar a bit at a time. We used a little over 3 cups of powdered sugar in this batch. The mixture should make a dough that holds together.
Add food coloring until you reach the desired color.
Some people add their food coloring in the first step when they are mixing just the peanut butter and butter. We think it's difficult to know what the final color will be, so we add ours at the end.
Now you just roll the dough into tiny pumpkins. After rolling, use a toothpick or the edge of a knife to make the pumpkin lines. We always start out making these Peanut Butter Pumpkins really small, but as we get tired of rolling them, we start making them bigger and bigger. That's okay because real pumpkins come in all different sizes too. Place each finished pumpkin on a sheet of wax or parchment paper.
If your dough gets too soft at any point, you may have to take a break and refrigerate it for a while. You can see from the pictures that some of ours that look sloppier than others were because we let the dough get too warm.
We like to add a pretzel stem. This is optional, but it makes them look more realistic. Some people use a mini chocolate chip instead. We think the pretzel looks better. These were just regular pretzels twists. You can break them into smaller bits. This time we decided to use scissors to cut them, and that was easier, but you need to hold them over a bowl because it makes a lot of crumbs.
These Peanut Butter Pumpkins are so much better than those little candy pumpkins that taste like candy corn!
If you need to put Peanut Butter Pumpkins in a container to transport, it's better to layer them with sheets of wax paper to keep them from sticking to each other. You can serve these Peanut Butter Pumpkins alone or use them as embellishments to other Fall dishes. I think they would be a great addition to the top of Dirt Pudding or a chocolate sheet cake. I've also added a couple of teaspoons of pumpkin pie spice to the recipe at times in the past to give them a distinctly Fall flavor, but my kids prefer them without the spicing.
Let us know in the comments if you have any ideas of your own about how these could be used to accent other recipes!
If you enjoyed this post, please share, like, follow, and/or subscribe!