Emergency preparedness is a major theme of this blog and a major priority for my family, so this Surviveware Survival First Aid Kit is one of the most important products we've had the pleasure to review. Many of the items included in this kit are similar to tools I've had in all our vehicles for a very long time, but they've always been scattered in different areas from the glove box to the cargo compartment to under the seats. Having all your survival supplies in one place and well-organized is invaluable if you urgently need access to them.
*This post is sponsored by Surviveware. Surviveware was kind enough to provide us with their Survival First Aid Kit. This post contains affiliate links.
Why Should I Carry Survival Supplies for Outdoor Preparedness?
There are just innumerable circumstances that can arise where basic survival gear, such as the tools found in this Surviveware Survival First Aid Kit, can become vital to both comfort and personal safety. I wrote the 10 Emergency Foods You Must Stock for a Power Outage Situation post after being evacuated from a condo in Florida one Fall Break. Most of my experiences with power outages until that point had been during ice storms in Indiana when we still have a way to keep foods cold by putting them out on the porch/deck and a way to cook on the woodstove. Hurricane preparedness requires a different type of food supplies because the weather may still be very hot, spoiling food easily, and you definitely wouldn't want to start a fire in a wood stove for cooking then.
One travel peril scenario that I hadn't put much thought into prior occurred for hundreds of people last winter. We've visited Pigeon Forge, Tennessee in the spring for decades, and hiking in the Smokies is one of our favorite activities there. I have several posts devoted to that topic.
You can read them all here:
Because we are frequent visitors to the Great Smoky Mountains, I follow a couple of Facebook groups on the topic. Over Christmas Break last winter, the Pigeon Forge/Gatlinburg area experienced a serious ice storm. I am fully prepared to weather an ice storm at home as you know from my winter preparedness series that begins with How to Avoid a Winter Power Outage by Being Prepared. Most of Indiana is well-prepared for all the obstacles that come along with ice storms.
The Great Smoky Mountains do not experience ice storms frequently enough to have the same emergency infrastructure for this particular natural disaster. Not only that, but even if individuals living in the mountains of Tennessee might be prepared for the occasional ice storm, most of the people staying in Pigeon Forge and Gatlinburg on any given week are not residents. They are travelers. Most travelers don't think about carrying survival items on vacation. They are traveling for fun and relaxation and don't expect a natural disaster. That can be a costly mistake.
Many of the travelers arriving at the Great Smoky Mountains that week between Christmas and the New Year of 2020-2021 found a dismal scene. The power was down. Most of the stores were closed because they had no way to process payments for sales. The stores that were opened had nearly nothing left on the shelves. Many travelers had gotten into town late the night before the storm, bringing no groceries with them. They woke up stranded in cabins up the mountains. They had no power. Although many cabins have fireplaces, guests had no way to light a fire. Some had no way to heat, no way to eat, and no way to get water.
There were hundreds stranded and not enough emergency vehicles to get to everyone. Even people who had supplies initially were running out of things like diapers. I'm sure it was not the vacation many expected.
Pin this!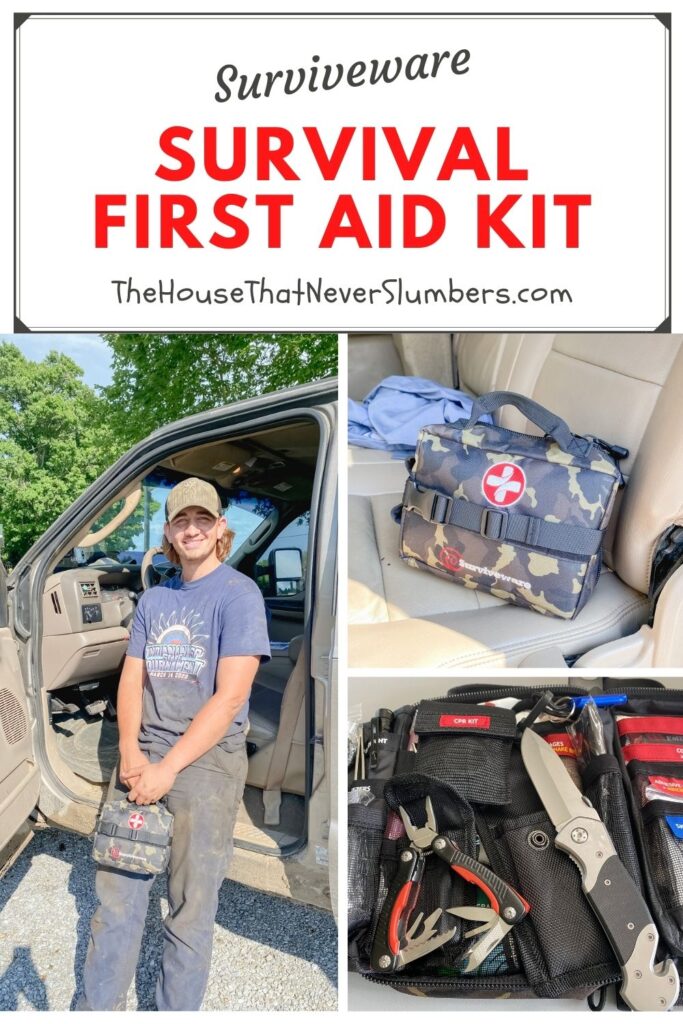 The simple flint fire starter in this emergency survival first aid kit from Surviveware would have drastically improved the conditions for most of these stranded travelers. A way to heat would have given most of them a way to use the fireplace. The wire saw would have also given them the means to cut some branches to burn if there wasn't already firewood on site.
The tools to build a fire not only provide the warmth needed to keep from freezing to death, but they make it possible to melt snow or ice and boil that water for drinking. A fire gives a way to heat any canned foods you may find or cook small animals you might be able to trap if you are handy. My kids once caught three birds in only an hour using nothing but a laundry basket, a stick, some yarn, and a few seeds. Don't worry, they released them because we didn't need them for food, but adults should be able to come up with a plan to trap and cook some kind of meat with the tools in this Surviveware Survival Kit if necessary.
If you prepare yourself in no other way, at least make sure every vehicle you own has a firestarter of some kind. Matches and lighters are useful only to an extent. They can get wet or leak, and then you are left with nothing. A flint firestarter does not damage easily.
Surviveware Rugged Tools for Rugged Work
The knife included in the Surviveware Survival First Aid Kit is of good quality. It has a nice blade. The smaller blade on the hooked end can cut a seatbelt or other types of cording. The sharp point opposite the knife blade is made for breaking through a glass window if trapped in a vehicle.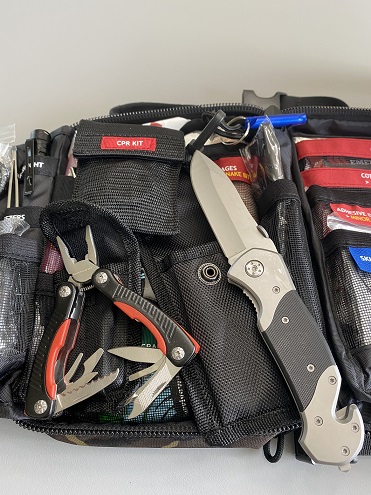 A knife is an invaluable tool if you need to protect yourself or feed yourself. You could easily harvest a squirrel with this knife. You could also whittle sticks to a sharp point for spearing fish or cooking food.
A decent knife is an important item to have in your vehicle, in general, just because it's a useful tool for nearly any type of rugged work. My son is a welder. He's in college now at Purdue Poly in the Mechanical Engineering Technology Bachelor's program, but during high school, he earned a welding degree through a partnership between the school's vocational co-op and Ivy Tech (which is an affordable community college system here in Indiana).
The night before my son was starting the welding vocational program I gave him a very long lecture about the pocket knife he carries wherever he goes. I used my best mom lecture voice to let him know it was absolutely vital that he not accidentally take his pocket knife to the vocational school with him. The vocational school is housed in a much larger high school in a larger city. I let him know that while our small, rural high school might be more inclined to give a warning to the young men who forget they have a knife in their jeans and instruct them to take it back to their vehicle the first time it happens without turning it into a huge issue, the high school in the larger city would likely not be as forgiving. I told him they may have metal detectors at the entrances, and there would be no mercy if he showed up with a pocket knife out of habit. I was sure a knife found on anyone at the city high school would mean automatic suspension or expulsion.
After my best mom lecture with the sternest voice of my entire mom career, I was feeling pretty confident I had gotten the point across. Then within the first five minutes of my son's first day in the welding program, the instructor went through the list of tools they would need every single day. After all my best mom lecturing, the instructor said, "You'll need a knife every day. Don't come to class without a knife." For a class involving rugged work, a knife is more vital than showing up with a pencil. Life is full of rugged and unexpected circumstances. Don't show up without a knife.
My son's current job, while he's in college, is welding and general farm maintenance for a large dairy operation. You can look at him and see his days are rugged. The durable construction and camo print on the Surviveware Survival First Aid Kit accessorize well with his fashionable attire and his truck.
The multi-tool is a nifty addition to the Surviveware kit as well. You really never know when you might need to remove or install various types of screws or extract something with pliers. Pliers are always helpful when fishing.
Surviveware Preparedness – First Aid Supplies
The Survieware Survival First Aid Kit has a sufficient smattering of first aid supplies on top of the basic survival items. If you haven't already read our earlier post Outdoor Preparedness: Surviveware Large First Aid Kit Review, now would be a good time to check that out for comparison. The Surviveware Survival Kit has many of the same medical supplies as the Surviveware Large First Aid Kit, only in smaller quantities. It still has the small CPR pouch. It has many of the bandages. Both kits have tweezers and sturdy scissors. Am I the only one always needing tweezers for something? Ticks, splinters, pesky knots . . .
All of the Surviveware kits are well-organized with clearly labeled pockets for each item. I won't go into every detail of the first aid supplies or why they are necessary because I discussed those at length in the other post about the Surviveware Large First Aid Kit. All of these kits have convenient straps that allow you to connect them to other bags, your belt, or an ATV. They can be stored behind the headrest of most vehicles.
If I could only carry one Surviveware kit, the Survival First Aid Kit would be my kit of choice. It has a wider range of functions, and the size is more manageable. It would definitely be important to replenish the first aid supplies regularly because they aren't as plentiful though.
What Would I Add to the Surviveware Survival Kit?
Overall, the Surviveware Survival First Aid Kit is very thorough. There's an empty pouch with small zipper bags for Personal Medication. These are meant for you to fill on your own because they will depend on your personal needs and preferences. I have filled those with some basic pain relievers, allergy medication, and vitamins. The only other pieces I've added to that pouch are fishing line, some fishing hooks, and the small weights.
You could fish with the safety pins included in the kit and the paracord in the bracelet. When I was a kid, we once fished in our creek for an entire day with my cousins using only safety pins and string. We really did surprisingly catch fish with the safety pins, but we caught A LOT more fish the next day after we talked my mom into taking us somewhere to get hooks and line. We couldn't find any fishing poles buried in the junk in my dad's garage, so we were just using branches both days. We also caught a dozen small crawdads that we roasted over an open fire. They turn red just like a tiny lobster, but you don't get much meat from them. (Yes, we were allowed to play unsupervised and build fires as small children. We're all very resourceful now because of it.)
So even though I do know you can catch fish with safety pins because I've done it, I also know you catch more with real hooks. Fishing hooks, line, and weights take up virtually NO SPACE at all. They are extremely cheap. I didn't need to buy them because we have several tackle boxes in the garage with more fishing supplies than we really need. I considered adding some type of rubber bait to the kit, but I'm fairly confident if I were in a situation where I needed to use the fishing gear, I could find insects or worms to use instead.
With the items already in the Surviveware Survival First Aid Kit and the simple addition of fishing line, hooks, and small weights, I feel most people with any reasonable survival skills could sustain themselves for many days.
What would you add to this survival kit?
Also check out: