Once Again Nut Butters –
We recently partnered with Moms Meet to try a variety of Once Again nut butters and seed butters. All Once Again butters are Certified Gluten-Free, Non-GMO Verified, Certified Organic, and vegan.
Pin this!
Once Again is an employee-owned business which has been manufacturing seed butters, nut butters, and honey in upstate New York since before I was born.
*I received this product for free from Moms Meet (momsmeet.com) to use and post my honest opinions. Compensation for this post was provided and this page may contain affiliate links.
We've taken a closer interest in more natural nut butters since my husbands switch to the Keto lifestyle in March because they don't usually have the added sugars, but we can discuss that a little more in a minute.
First, we need to cover the most amazing and delicious Once Again Amore Almond Spread with Cocoa & Milk because it was the favorite for our family.
Once Again Amore Almond Spread with Cocoa & Milk
We all wanted to eat the Once Again Cocoa Almond Spread right from the jar. It's just about like eating hot fudge from the jar. It's so chocolatey and so smooth.
It's a fantastic dip for fruits, especially strawberries. It's great on crackers or toast. It would taste amazing on almost anything, but mostly you will just want to eat it straight from the jar with a spoon.
I know Chrissy Teigen created a huge stir when she stated harsh truths about chocolate hazelnut spread a while back. Apparently, people didn't like to hear that it's more of a dessert than a health food. This Once Again Amore Spread is likely more of a dessert as well, but almonds are a great improvement over hazelnuts in my book any day.
And you just can't beat the spectacular taste of this organic almond spread!
Once Again Organic Amore Almond Spread with Milk Chocolate is Certified Gluten-Free, Non-GMO Verified, Certified Organic, and part of the brand's Honest In Trade program.
Once Again Seed and Nut Butters
Once Again does not limit its production to almond-based products. Once Again produces a variety of tasty, natural butters, engaging in sustainable and honest trade practices throughout the production process.
All Once Again butters are Certified Gluten-Free, Non-GMO Verified, Certified Organic, and vegan. I have been impressed with each type of butter we tried.
The 2-oz. sample jars they sent us were the perfect size for dipping celery. I actually wish Once Again would make the small jars available for the public to buy too because they are nice to pack in lunchboxes or send for snacks before athletic events. We think the 2-oz. jars are so cute that we're saving them for future craft and organizational projects. (Yes. I know I'm a hoarder.)
They do sell 1.15 oz. pouches of many of the nut butters. Though they're not quite as cute as the tiny jars, they would be a convenient option for hiking, camping, or keeping in your vehicle for emergencies.
You can purchase Once Again nut butters and seed butters at natural food stores throughout the United States and on Amazon, or the Once Again website (oanb.com). To find Once Again Organic Amore Almond Spread with Milk Chocolate or other Once Again butters in your area, visit the Once Again Store Locator for the full list of locations.
Nut Butters and the Keto Lifestyle
Many commercial nut butters have a lot of additives which include carbohydrates in the form of sweeteners. Although nuts are often high in protein, many have more naturally occurring carbohydrates than people realize.
With their own carbs and added carbs, one can never assume any type of nut butter is considered Keto. You must always read the labels carefully. Natural peanut butter usually has fewer carbs than other peanut butter.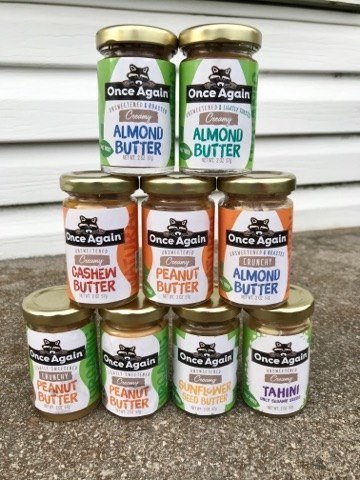 Although Once Again does produce a lightly sweetened version of several different nut butters, they also have an unsweetened option for each type of butter.
I've ranked several of the Once Again butters by Net Carb Count to help those of you living the Keto life in your purchasing decisions. If you are Keto, you know that Total Carbs – Fiber = Net Carbs.
Once Again Mascot Rocky the Raccoon
You may be wondering what a raccoon has to do with nut butter. Many years ago Once Again employees found four baby raccoons on their factory grounds. They raised the baby raccoons on organic nut butter until they were eventually released into the wild.
A raccoon became the Once Again logo, and he was named Rocky after a Beatles song. I'm personally not a huge fan of raccoons because they kill our chickens, ducks, and turkeys, but Rocky definitely makes an adorable mascot to complement these high-quality nut butter products.
Have you tried Once Again almond butter, peanut butter, cashew butter, sunflower seed butter, or tahini? Which is your favorite?
Pin this!