Nana's Quick and Easy No-Bake Banana Pudding –
This Banana Pudding recipe is so easy! It requires no time in the oven, no cooking on the stovetop, and really no effort at all. There's no skill involved. There's no possibility of botching this recipe. It turns out perfect EVERY time. Even the worst cook you know could make this Banana Pudding, and it would turn out fabulously.
I'm almost hesitant to put it on the World Wide Web. I feel like people I know in real life who have previously been super impressed with Nana's Banana Pudding will suddenly feel cheated somehow because I've put basically zero effort into this dish every time I've served it to them.
*This post contains affiliate links.
I have a few goto dishes that I make for any carry-in type of gathering. All of them are extremely simple. None of them require me to turn on the oven, since the vast majority of the gatherings I attend where I need to bring a dish occur in warm weather. If I have to bring a side, I bring pasta salad. If I need to bring a dessert, guess what I bring? Yep. Nana's Banana Pudding because it requires no effort. Shhhh . . . don't tell everyone I know and ruin my reputation.
Nana's Banana Pudding – The Rise to Local Fame
Nana's Banana Pudding used to be kind of famous, famous around here anyway. When my husband and I were leaders of our church youth group many years ago, we would meet at our house on Wednesday nights. We would feed around a dozen teenagers (mostly boys). My mom would often bring over some type of dessert.
Nana's Banana Pudding was one of the favorites. There was one particular boy who especially loved Nana's Banana Pudding. We'll call him Carl. He's not the same Carl from the story last week about how I heroically saved a puppy from certain death. I'm just not very creative at coming up with fake names, so this boy has to be Carl as well.
Carl LOVED Nana's Banana Pudding! He would go on and on about Nana's Banana Pudding. If there wasn't Banana Pudding on the kitchen island when he arrived at our house, he would ask if there was going to be Nana's Banana Pudding. There was just this one problem with Carl. He apparently didn't like whipped topping.
One day my mom's container that she usually put the Banana Pudding in each week was still in the fridge holding some other leftovers. She had to use a smaller container which meant some of the Banana Pudding didn't fit. She put the overflow of Banana Pudding back into the plastic whipped topping container that she had just emptied while making the Banana Pudding.
Tragically, Carl saw the plastic whipped topping container. He asked if there was whipped topping in the Banana Pudding. We told him there was. He was practically crying after that because he couldn't eat the Banana Pudding anymore. We asked him why, and he told us it was because he doesn't like whipped topping.
We tried to explain that he had been eating the Banana Pudding for months, and he obviously liked it. That logic did not work on Carl. He was too smart to be fooled by our reasoning. He no longer liked Nana's Banana Pudding because a container of whipped topping is one of the ingredients. It was a sad day for Carl. He never touched the Banana Pudding again.
Pin this!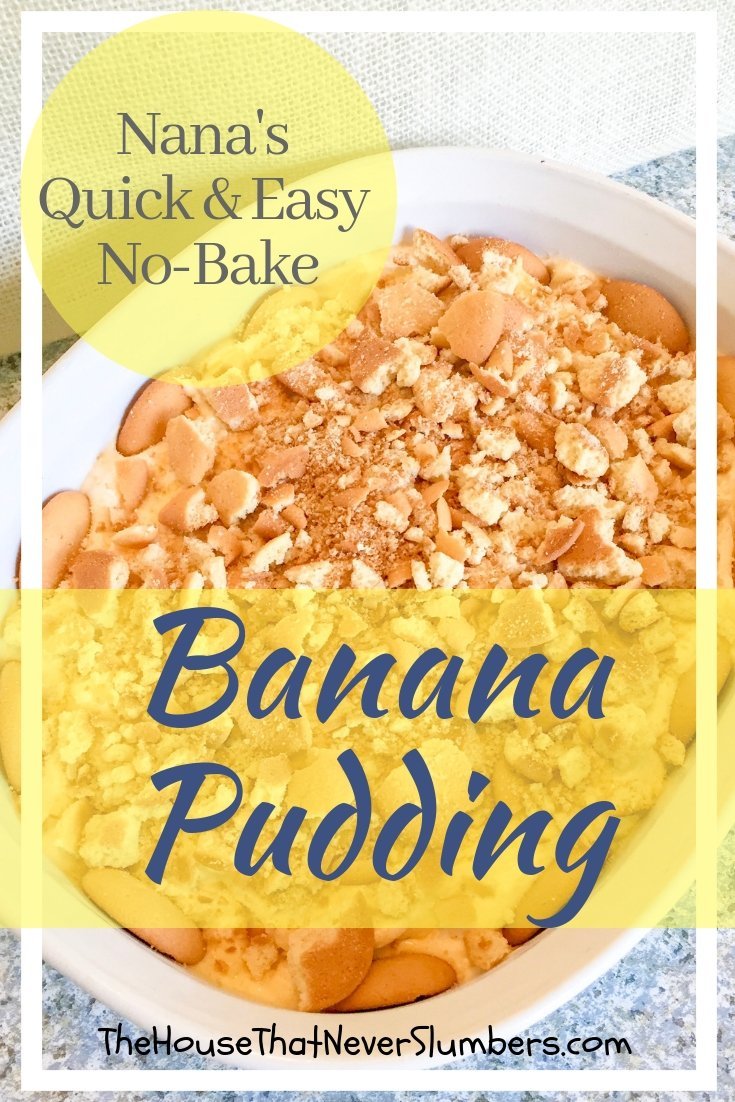 Nana's Banana Pudding Recipe
Ingredients:
2  4-oz. packages instant vanilla pudding mix
4  cups of milk (or whatever amount your pudding packages call for)
1  8-oz container of whipped topping
2-4  ripe bananas (sliced)
1  box vanilla wafers
Prepare pudding according to regular instructions using a mixer.
Add the container of whipped topping and mix well.
Stir in the sliced bananas with a spoon.
Place a layer of vanilla wafers over the bottom of your serving dish. (A flat-bottomed dish works much better than a bowl.)
Pour the pudding mixture into the dish.
Place additional vanilla wafers along the edges of the dish, so they make a scalloped looking edge along the side of the dish.
Crumble any remaining vanilla wafers over the top of the pudding.
Chill until time to serve. 
---
I told you it was so easy! It's almost like you're cheating. My grandma used to make this other type of Banana Pudding that was served warm. It had meringue on the top. It was good too, but it was also a million times more complicated to make. It was not foolproof because meringue is tricky. I'll just stick with this easy Banana Pudding!
This dish is a nice cool treat on a hot summer day. It can also be served in a kids' sand pail with the shovel for scooping for a fun twist at a gathering for children.
And can you consider this a serving of fruit and call it healthy? As far as desserts go, it's probably not the worst.
What's your goto dish for gatherings and carry-ins?
If you found this post helpful, please like, share, tweet, pin, follow, and subscribe to The House That Never Slumbers!