Mio's Pizzeria of Cincinnati – Dining Review –
We recently stayed at the Best Western Mariemont Inn in the greater Cincinnati area to celebrate our 21st wedding anniversary. Mio's Pizzeria is just across the street from the hotel. Be sure to check out our review of the Mariemont Inn as well. We considered a couple of other dining options within walking distance. There's a fancy restaurant in the Mariemont Inn, but we looked through the menu and decided against that. The prices were very high. We knew we would be dining at The Melting Pot the next evening, so we wanted something inexpensive for this meal.
We were both starving after touring the Chateau Laroche – Loveland Castle. If you have never visited Chateau Laroche, you need to remedy that. It's amazing. Click the photo to see all our pictures from the tour.
After returning from our castle tour, we started walking around Mariemont Village in search of food, we could smell the garlicky goodness of Mio's Pizzeria. There was a LaRosa's nearby, and we really like LaRosa's and normally eat there anytime we're in Ohio, but we decided to bypass LaRosa's and give Mio's a try instead this time because the smell was irresistible.
*This post may contain affiliate links.
RiflemanDad had read somewhere online that Mio's has the best calzones in town. We're huge fans of calzones and wanted to put that claim to the test. Mio's Pizzeria has exactly the atmosphere you would expect from a pizzeria – warm and inviting. We seated ourselves at a booth, and a server brought menus quickly and took our drink orders. We both ordered water as usual.
The tables are covered in plain white paper from those large rolls of paper that all schools have for bulletin boards. There are also crayons at each table for guests to decorate the table as well as a stack of Trivial Pursuit cards. This is a nice touch for the entertainment of visitors. Of course, as a mother of four, I greatly appreciate when restaurants make an effort to accommodate children.
We decided to share a large Florentine calzone (spinach, mushrooms, and onions) and the Four Cheese Pizza Bites appetizer. If RiflemanDad had not been sharing with me, I'm sure he would have selected one of the other calzones, definitely not one with only veggies. There wasn't a description on the menu for the Pizza Bites, so we didn't know what to expect. I think we both had pictured something like Totino's Pizza Rolls. You can't really go wrong with something called Pizza Bites though. What came out of the kitchen was so much better than pizza rolls. The Four Cheese Pizza Bites are actually what some refer to as old-fashioned breadsticks. It's the pizza crust with no sauce and just a blend of melted cheeses served with marinara sauce for dipping. The Pizza Bites were baked to just the right amount of browning of the cheeses. The marinara was excellent. We had actually ordered the small Four Cheese Pizza Bites, but the restaurant mistakenly gave us the large, so we got the large at the price of the small. More food at less cost. We hit the food lottery!
Best Calzone in Cincinnati
The Florentine calzone was huge. It fed both of us with probably half left which some of the kids and I ate for lunch the next day. This calzone was just the right combination of flavors. The strong garlic is the perfect complement to the mushrooms, spinach, and garlic. The calzone was served with both marinara for dipping and a white sauce that looked like ranch dressing. This white dipping sauce which they call Cream Garlic Sauce is so much more than ranch. It's like ranch on steroids. I asked the server what was in it, and she answered, "Heaven!" She didn't actually know the ingredients, but she told me she dips everything she eats there in it, and I can definitely see why. I asked for another cup of it to take with my leftovers, and she happily obliged.
Our service was excellent. The food came out in a timely manner and exceeded our expectations. This calzone was definitely the best I've had, so I don't doubt that it's the best in town. Our total bill came to $22 and some change plus the tip. There were plenty of leftovers too. This is definitely a place that we will pay a return visit. We want to bring the kids next time because they really enjoyed the leftovers, and we know they would appreciate this establishment even more in person. This is a great place for families or couples. I was excited to see this isn't the only location for Mio's Pizzeria.There are six others throughout the greater Cincinnati area. The Mariemont location is a little off the beaten path in regards to the reasons that might normally bring us to Cincinnati. I'm sure one of the seven will be near a Costco, the Bass Pro, or IKEA. I actually want to go back to Mio's right now just for that creamy garlic sauce.
Subscribe to The House That Never Slumbers, so you won't miss our future travel and dining reviews. Please like, share, tweet, pin, and follow us on social media.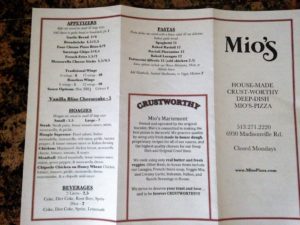 Check out the other posts from our anniversary trip to Cincy!