Make Your Own Inexpensive Easy Cheesy Fondue –
This easy cheese fondue is becoming one of our favorite suppers. It comes together really quickly if you start your wine base on the stove top until it's boiling and then move it to the fondue pot flame. My kids love it, and they're even eating vegetables!
*This post contains affiliate links.
This works great for us when everyone gets in late from a track meet or other sporting event. Most of the items to be dipped can be prepared in advance and left in the refrigerator. The sausages cook quickly on the grill, and the cheese melts in no time at all.
I've been cheating the last few times we've eaten this by buying the bagged vegetables from the grocery. I buy the pack that has cauliflower, broccoli, and carrots. It saves so much time and effort on clean up over cutting them ourselves. I know it's probably not as healthy because they probably spray the veggies with something toxic. Just don't tell me! I don't want to know. Sometimes real life gets in the way, and I have to buy the precut vegetables.
I love The Melting Pot, but it's so expensive. We only get a chance to go there if they offer a good Groupon. If you haven't already signed up for Groupon, you need to do it now! You're missing great dining and attraction deals.
Making this easy cheese fondue recipe at home is a nice alternative to spending a small fortune on a night out at The Melting Pot. A night out is a great way to splurge every once in a while as a special treat though. You can check out our review of The Melting Pot.
Easy Cheese Fondue Recipe
The cheese fondue recipe we used came from The Coupon Project's post How to Host a Frugal Fondue Party.
Ingredients:
1 1/4 cup white cooking wine
2 cups shredded sharp cheddar
2 cups shredded swiss
1/4 cup flour
a dash of garlic powder (We prefer a lot more than a dash!)
For dipping, we like bakery loaf bread, sausages, vegetables, Granny Smith apples, and mushrooms. And by the way, cooking wine can be found near the vinegar, in case you have no idea where to find it. I had to ask.
Pin this!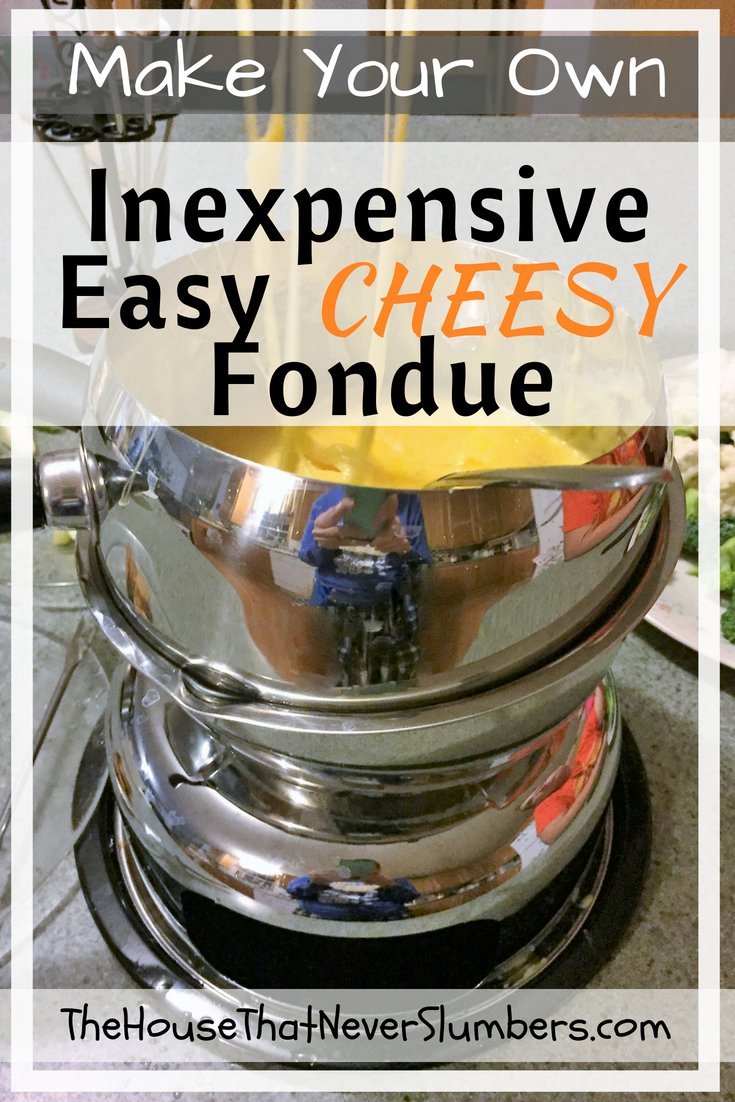 Fondue Instructions
We have several of the fuel cans left from the disposable serving sets we used for the wedding and graduation party last year (Yes, both in the same few months because My Daughter Was Married in High School), so we used those leftover cans to keep our fondue pot warm instead of the burner that came with it. You could probably use a regular saucepan on the stove, but it would be difficult to keep the cheese warm while you're eating without something like a fondue pot.
Our fondue pot is pretty old. This is the most similar one to our fondue pot that I could find online. Also, check at yard sales and thrift stores. Fondue pots show up a lot when people start decluttering.
Watch our video to see how easily this recipe comes together!
We're hoping to try some other cheese combinations soon! What's your favorite type of cheese fondue?
Please like, share, pin, tweet, follow, and subscribe to The House That Never Slumbers!