These low-carb pinwheels are an easy and refreshing option for packed lunches or a simple meal at home. The majority of our household is now staying Keto for most of the week, so we've been experimenting with different combinations of low-carb pinwheels. No one would guess these are low carb.
We were provided a jar of Barilla® Creamy Genovese Pesto as part of a sampling program with Moms Meet to use and post my honest opinions. As soon as the package arrived, I knew I wanted to try this pesto on pinwheels. I love the rich flavor of pesto. It's such a great addition to pasta, but since we're no longer eating pasta, I've found other ways to experience this sophisticated sauce.
*Compensation for this post was provided, and this post contains affiliate links.
What is Pesto?
I was well into adulthood before I tried pesto for the first time. If you are a child and reading, you should not make that same mistake. But let's face it, pesto looks very green. I thought it would taste like grass. It DOES NOT taste like grass. It has a very herby flavor because it consists largely of fresh basil leaves. The normal ingredients for pesto are basil leaves, pine nuts (or walnuts), garlic, olive oil, and parmesan cheese (real parmesan cheese that comes in a block, not that powdery stuff in the cylinder canister). I can't explain the taste, but you must try it!
Barilla® Creamy Genovese Pesto
Barilla began in Parma, Italy in 1877. Since that time, four generations of the Barilla family have been handing down the family secrets. This pesto is made with fragrant Italian basil and freshly grated Italian cheese. To preserve the natural color of the basil and the fresh aroma of the Italian cheese, Barilla minimizes the handling of ingredients. Barilla Pesto is prepared rapidly with as little as three hours from the start of the ingredient preparation to the tightening of the lid. Barilla Pesto can be used to bring a burst of Italian flavor to many different dishes – pasta, pizza, sandwiches, fish, chicken, vegetables, and many other delicious favorites. It's a wonderful addition to any charcuterie board because it pairs perfectly with salami and smoked provolone.
This Barilla Creamy Genovese Pesto Sauce has a smooth, creamy texture that is packed full of flavor. It's a convenient pantry staple. It can be used straight from the jar and does not need to be heated, but you should store the opened jar in the refrigerator and use any opened product within 5 days. Although the Creamy Genovese Pesto is not exceptionally low carb itself, The 8 net carbs in a 1/4 cup serving mean you are adding very few carbs to each tortilla shell. A little bit of pesto goes a long way!
I'm not kidding. A tiny bit of pesto has a very strong amount of flavor, so it doesn't take much. However, if you want the lower carb version, the Barilla Rustic Basil Pesto does have fewer carbs and also tastes great.
It only takes one 6.2-ounce jar of pesto to thoroughly flavor 16 ounces of pasta, so a tiny bit on a sandwich offers plenty of taste. The 6.2-ounce jar of Barilla's Creamy Genovese Pesto retails for around $3.29.
Turkey Pesto Pinwheel Ingredients
For these turkey pinwheels, you will need:
cream cheese (softened)

sliced turkey

sliced smoked provolone (or another favorite)

low carb tortilla shells

zipper bags or plastic wrap
Low Carb Turkey Pesto Pinwheel Instructions
To prepare these spectacular Turkey Pesto Pinwheels:
Soften a block of cream cheese.
Lay out your low carb tortilla shells on plates or a pan. (Aldi now carries a great low carb tortilla shell.)
Spread a thin layer of softened cream cheese on each low carb tortilla shell.
Use a spoon to drizzle a bit of pesto over the cream cheese. Then swirl it a bit with the spoon to cover each shell.
Place 2-3 slices of turkey on each shell.
Add 1 1/2 slices of smoked provolone across each shell as shown below.
Roll up each tortilla shell, working slowly to keep all the toppings from sliding out.
Either wrap the tortillas together into plastic wrap to help them keep their form, or place them in a zipper bag.
Refrigerate for a couple of hours.
Slice into pinwheels.
Serve.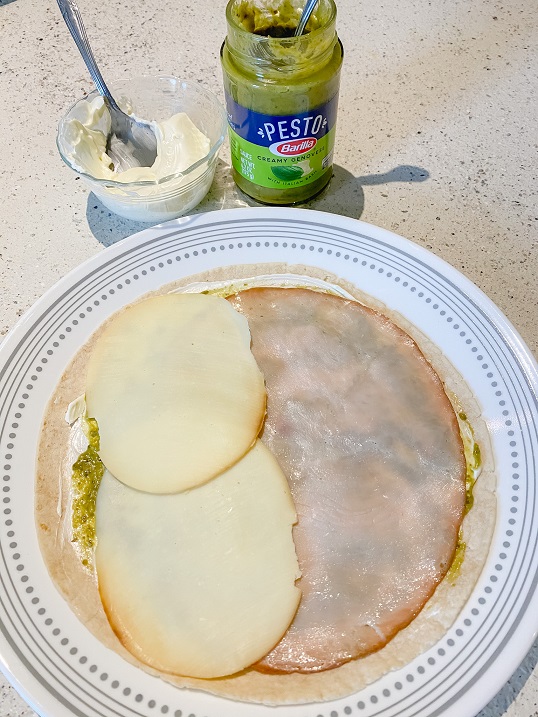 Low Carb Turkey Pesto Pinwheels Wrap-Up
These Low Carb Turkey Pesto Pinwheels made with Barilla Creamy Genovese Pesto Sauce are a great snack to take along to any activity. When you are Keto, you get used to bringing along your own food because Keto options can be hard to find when you're on the go. These turkey pinwheels can be made in advance, so they are perfect to throw in a cooler bag. They also make an amazing simple lunch or dinner when paired with some vegetables or cottage cheese.
Pin this!
Uses for the Rest of the Jar of Barilla Pesto
Pesto needs to be refrigerated and used within about five days after opening. Since this Barilla Creamy Genovese Pesto Sauce has amazing flavor, you definitely don't want to waste even a spoonful. Use this pesto as a dip for string cheese. Put it on your next charcuterie tray. It's a nice addition to pepperoni and salami. Add a bit to an omelet.
I used the rest of the jar to make this Caprese Pesto Dip with just cream cheese, pesto, sliced cherry tomatoes, and shredded mozzarella heated in the air fryer. It tastes great on Keto crackers or pork rinds.
You can purchase Barilla Pesto at Target, Publix, Stop & Shop, Meijer, ShopRite, Hy-Vee, Albertsons, Safeway, Vons, and more. To find a store near you here.
What are your favorite ways to use pesto?