Lloyd Whitehead on Autumn Leaves in Indiana –
I'm sure it may come as a surprise to many of the younger generation, but the town of Modoc has its very own author and poet. Modoc is not a large metropolis. I'm not even sure if Modoc has enough residents to be formally classified as a town, but Modoc's history has been recorded by Lloyd Whitehead. Lloyd has since moved on to heaven, but he was still living when I was a child, and he was quite the local celebrity.
*This post contains affiliate links.
I mentioned Mr. Whitehead briefly in Grandpa James Clark Climbed Out the Window on His Wedding Night and Never Returned which was published a few weeks ago. My Great-Grandpa Clark was a ruffian, and he tried to kill Lloyd Whitehead once over a property dispute. I remember reading the story in one of Lloyd's books, but I haven't been able to find it again because I don't think I have a copy of that particular book.
I own all of Lloyd Whitehead's poetry books because my dad has managed to pick those up at auctions through the years, but the prose books are much harder to come by. I haven't had a chance to stop in at one of the libraries that still has a copy to find the story, but I eventually will.
Books by Lloyd Whitehead – Author and Poet
Lloyd Whitehead published at least five books. They were:
The Modoc book was very popular when I was in elementary school. The school library had a copy, and everyone wanted that book because there were pictures and stories of people we actually knew, and it isn't very often that the people of Modoc make their way into books. It was very exciting. Lloyd was even the Grand Marshal of the Modoc 4th of July Parade one year.
Autumn in Indiana
Lloyd had a lot to say about normal stuff that happened in rural Indiana. One aspect of Indiana he penned quite beautifully was the seasonal changes. The nights are getting colder here. The corn is dry and golden. There are mums EVERYWHERE!
Lloyd Whitehead says, "Snow Soon Will Come," and though I'm dreading icy temperatures, I know his words are true. Some concepts are timeless, and Mr. Whitehead's words in Snow Soon Will Come which can be found on page 75 of Autumn Leaves could just as easily have been written today.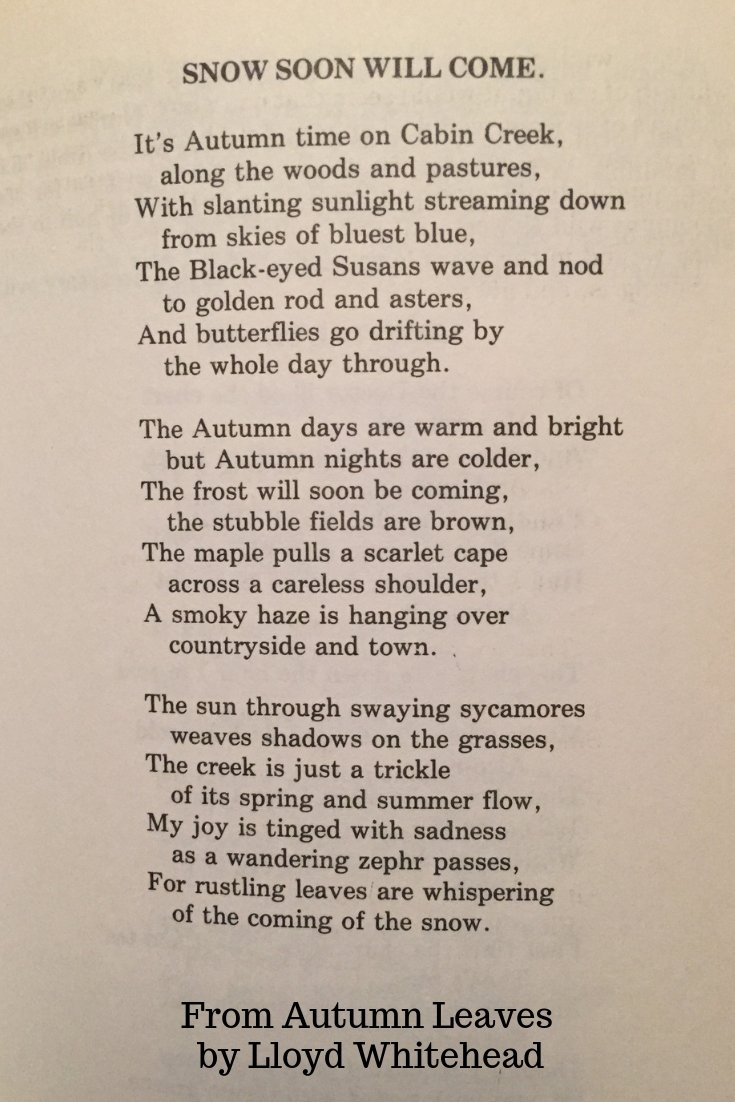 On the Life and Work of Lloyd A. Whitehead
I remember one of Lloyd's daughters because she helped with Vacation Bible School when I was a child. I think she was also my mom's Sunday School teacher at one time. I don't believe I ever met his youngest daughter, but she offers great insight into her father's writing in the introduction of Autumn Leaves.
His words paint pictures of wonderful Indiana people, the land of his home, and a daily walk with God.
You can find Lloyd Whitehead's obituary here, but his legacy lives on in his writing where he captures the heart and spirit of rural Indiana in days past and present.
Pin this!