Is Laurel Falls the best hike for kids in the Smokies? Definitely NOT!
I DO NOT consider Laurel Falls one of the most kid-friendly hikes in the Gatlinburg area despite making it to the top of most kid-friendly lists I've seen online.
We have hiked many trails in the Great Smoky Mountains in our decades of traveling to Pigeon Forge for Spring Break, and most have been great for kids. However, there are several features of the Laurel Falls trail that concern me when hiking with children of any age, and I will discuss those below.
* This post may contain affiliate links.
Best Free Activity in the Smoky Mountains National Park – Hiking
As I mentioned, we've been vacationing in the Smokies for decades. One reason we've returned so many times is because there are so many free or cheap activities. You can read my post 10 FREE THINGS TO DO WITH YOUR KIDS IN THE GREAT SMOKY MOUNTAINS.
Hiking is our favorite free activity in the Smokies! The Smoky Mountains have ample opportunities for hiking as a family, and there is no fee to enter the Great Smoky Mountains National Park. There are trails for every level of hiking experience. Through the years, we have hiked several different trails around Pigeon Forge and Gatlinburg with our family.
In fact, we hiked in the Smokies for about 20 years of Spring Breaks in a row. Then the reservations we had scheduled for March of 2020 were canceled when the entire world shut down. We didn't get to travel to Pigeon Forge in 2021 either, but it was for the best reason possible. We were awaiting the arrival of our first granddaughter!
Remember our oldest daughter who was MARRIED IN HIGH SCHOOL? They finished college in 2020, started building a pole barn house shortly after (mostly with their own hands), and welcomed a baby in 2021. Our second granddaughter arrived 13 months later!
You Can Vacation in the Smoky Mountains While Pregnant!
Despite my daughter being 8 months pregnant for Spring Break of 2022, we all decided we were making our annual trip to the Great Smoky Mountains. Although the kids complained about hiking while planning every vacation through their childhood (but then really enjoyed every hike once we were there), all four kids wanted to hike in for this vacation.
Evidently, a couple of years away made them appreciate hiking a little more. The pregnant daughter was the most adamant that we would fit in a hike. They had been hiking the trails in many of the Indiana state parks with their infant in a carrier throughout the past year, so she knew she was capable.
The kids wanted to hike a trail we hadn't seen before, and it needed to be friendly for a very pregnant lady and an infant. Obviously, I started researching well ahead of our trip.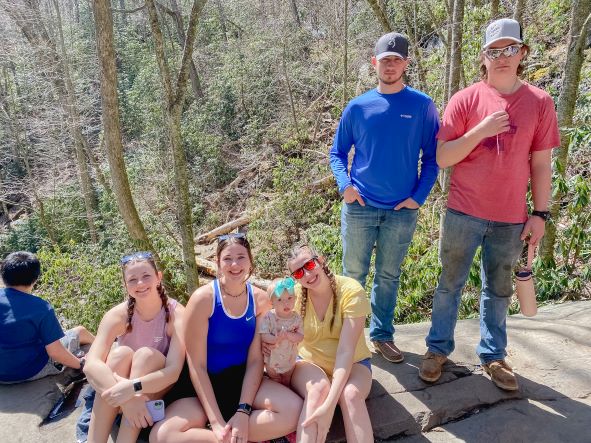 Every List of Kid-Friendly Hikes in the Smokies Included the Laurel Falls Hike
All my research pointed to the Laurel Falls hike as a good hike for our family. It showed up on all the lists for kid-friendly hikes. The articles mentioned a paved trail and a moderate grade. A few of the lists did hint at steep drop-offs, but we expected these to be more similar to the steep sides on the many other hikes we've enjoyed through the years.
We knew the 2.6 miles would be a doable distance for our family, but we did not expect the hike to be so stressful and dangerous. I would definitely not want to hike this trail with small children who are walking on their own! I'm so glad we never attempted it when our kids were little.
No Other Hikes in the Smokies Have Scared Me
We have taken our kids on several hikes in the Smokies. We've hiked to Grotto Falls many different times with small children. The kids would run ahead on that trail, and we would only call for them to stop and wait for us if they got out of our sight. We never kept our kids from active pursuits while they were growing up. Activities other parents might have considered too dangerous were activities our kids engaged in regularly.
They climbed trees, played in the creek behind our house, cleared our thicket with a machete, messed around in the fence with cows, goats, and pigs, built their own forts with real tools, drove the gator all around, played with fire, and had tons of fun outside. We have never stopped our kids from doing something that could get them pretty scuffed up.
These are all normal activities for kids in rural areas. We are not parents who see any active pursuit as "dangerous." We probably have a much higher tolerance for activities many parents would consider too risky for children. I don't think our opinions of this particular hike are an overreaction.
We were never stressed by any of our other hikes in the Smoky Mountains. We never felt like our children were in danger with any of those other hikes.
The Laurel Falls hike was different, but the problem is you don't realize you're in danger until you've already reached the top.
Major Safety Concerns with the Laurel Falls Hike
I'm sure you're all wondering what about this hike was so scary. Were we scared by bears? No. Bears are a potential risk on any of the hikes in the Smokies. We've never let that stop us from hiking. We've seen bears from a distance a few different times in the mountains. We once had cubs very near us but across a ravine. We were not frightened by bears.
Did we consider the hike itself too strenuous? No. Laurel Falls is not a difficult hike. That part of the information we found online was absolutely true. It was not too difficult for a very pregnant woman. It wasn't too hard for someone carrying an 11-month-old in a front pack. Regarding the level of difficulty to climb the trail, I would agree with all the sources that called Laurel Falls a "kid-friendly" hike. We had no problems at all going up the mountain. There are roots in some places, so you have to watch your footing, but that is true of nearly every hike in the Great Smoky Mountains.
The hazardous and alarming trail conditions were on the route back down the mountain. You don't realize this while climbing. As you are going up the mountain, you are walking on the right side with walls of stone on your right side. You are not close to the ledge, and we did not feel unsafe at all walking up the trail. Walking back down the Laurel Falls trail is a different matter.
The Walk Back Down the Laurel Falls Trail is Terrifying!
When walking back down the trail, you are on the outer edge with a very steep drop-off. It is very alarming any time you meet others moving up the path because there is no way to get over. There is nowhere to step off the path and still be on solid ground. The drop is straight down. I'm not talking about the steep slopes I've seen on other trails where if you stumble, you might roll a few feet before being caught by a tree or boulder.
I'm talking about an actual drop, like straight down for who even knows how long. I wish I had taken some pictures, but I wasn't considering writing a post about that path at that time. I was only thinking I would never want to do this particular hike again.
There's really not enough room for two people to be passing on many parts of this trail. Since most of the people walking up don't realize they will be in danger walking back down, they don't even try to give the people they meet extra space to pass. Many don't even bother going single file to give you some additional space.
There is no shoulder in many places. The person on the inside is blocked from getting off the path by the wall of stone. The person on the outside cannot safely step off the trail without risking death. This is why it's so important for the people moving up the trail to stay single-file and hug the rock wall while meeting others. If you do hike this trail, please be considerate of the other people walking back down the mountain. You will soon be the one walking down and in danger every time those you meet try to stay in the center of the trail instead of giving you room to pass.
One Misstep on the Laurel Falls Hike Could be Hazardous
As I mentioned previously about the walk up the mountain, there are also roots in places. There are loose rocks. There are uneven patches in the ground. There's no rail, and there are no trees in most places to catch hold of if you fall. One stumble, one turned ankle, or one bump into someone else's shoulder, could send you hurling off the edge. This was very alarming.
Both my husband and I thought the Laurel Falls trail was a terrifying walk down the mountain, and all our kids were teens or adults. The children with us were in utero and in a front carrier. They were not trying to navigate the trail. This hike would have been absolutely horrifying with small children who were walking on their own or tweens who wanted to be independent and run ahead.
Again, this hike was not hard as far as being physically challenging. This hike was excruciating mentally. If one person were to stumble and another tried to grab them, it's very likely both would go plunging downward. In the top left corner of this photo, you can see the way the edge is a straight drop if you step off the path at all. That drop is an accurate representation of most of the trail back down the mountain.
Could the Laurel Falls Hike Be Safer with Proper Planning?
There are a couple of ways this hike could be a bit safer.
1. DO NOT GO AT A BUSY TIME! If you could make it down the entire trail without meeting any other people, you would be able to hug the stone wall side of the trail and not be anywhere near the straight drop-off edge. This would be significantly safer. The trails are often less busy in the very early mornings or later in the evenings. You probably have a greater chance of running into bears if the trail is mostly empty though if that's something you're trying to avoid.
2. DO NOT TAKE CHILDREN OF ANY AGE! The only way this hike may be safe for children would be if you go at a time when you will meet no one else as you are descending the mountain, and you have one adult for every child to carefully supervise that child the entire time. I'm so glad we never took our four children on this particular hike in the Smoky Mountains while they were small. They would not have wanted to hold someone's hand or be carried the entire walk, and it would have been nearly impossible to keep all four right by us.
Which Hikes in the Great Smoky Mountains Are Safe for Children?
There are many different hikes in the Smokies that are fine for children. Our family has enjoyed the Grotto Falls hike many times without ever feeling unsafe. The Grotto Falls hike is the same distance as the Laurel Falls hike, but the hike to Grotto is much steeper. That was one of the reasons we thought Laurel Falls would be a better hike for our pregnant daughter. We were wrong! We should have just hiked to Grotto Falls with rest breaks as needed.
If you are looking for a very easy hike for children, there are a couple of easy trails at the Sugarlands Visitors Center. The Cataract Falls trail is barely a hike. The Fighting Creek Nature Trail hike is a 1.2 mile loop. You can see a cabin on that short hike. I took my kids and several of their cousins on the Fighting Creek hike once by myself while the rest of our party explored inside the visitors' center.
We've hiked many other trails on our annual spring trips to the Smoky Mountains. Grotto Falls and the hikes at the Sugarlands Center are just the few we've hiked several different times, so I remember them better.
If you found this post helpful, please like, share, tweet, pin, follow, and subscribe to The House That Never Slumbers!
You might also enjoy: