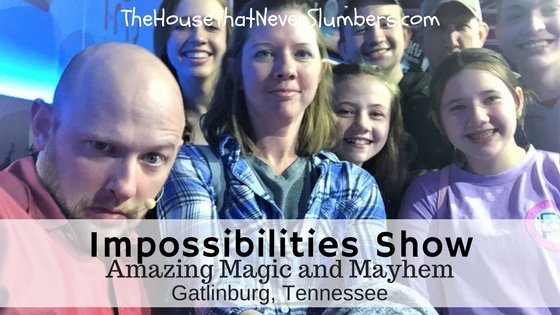 Impossibilities Show: Amazing Magic and Mayhem in Gatlinburg, Tennessee –
Master Mentalist Erik Dobell wows the audience with Magic, Mindreading, and Mayhem at the Impossibilities Show in Gatlinburg, Tennessee. This crowd-pleasing act is full of fun for all ages.
The theater is located below the Gatlinburg Space Needle. You can purchase tickets to the Impossibilities Show on the Iris Theater website.
** The House That Never Slumbers was hosted by the Impossibilities Show, but as always, the opinions expressed on this blog are our own.

The Iris Theater – Downtown Gatlinburg, Tennessee
This show is housed in the small Iris Theater. I think he said the theater holds around 80 people, so there are no bad seats. Every person in the room is within close proximity of the stage. If you've visited other shows in the Gatlinburg or Pigeon Forge area, you have likely experienced huge theaters.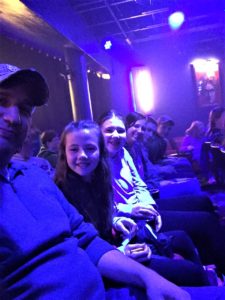 At the Impossibilities Show, you are literally right in the middle of the show. Erik Dobell repeatedly leaves the stage to interact with guests. His engagement with the audience is top notch.
Fun for All Ages
Perhaps the most remarkable feature of the Impossibilities Show is Dobell's ability to skillfully entertain guests of any age. The very littlest kids in the theater were just as thrilled to be watching the show as the oldest adults.
Though the years of my own children being toddlers are long past, I am distinctly aware of the apprehension any mother faces bringing a small child into any show. I've paid for a number of tickets in my day only to find myself missing large portions of the movie/show to walk around outside with an active toddler.
After seeing the reactions of really young children during this show, I would not have reservations about bringing young ones to the Impossibilities Show. Every kid in the place was loving it!
Unbelievable
I can't even begin to tell you how crazy amazing some of these tricks are. I'm posting a video below, so you can see a few for yourself. How in the world does he do it?
I just have no clue how he was able to know what wishes all these people wrote on the paper before the show. Not to mention actually being able to cut a paper snowflake of Frank Sinatra's silhouette. How on earth? I can't even get a regular paper snowflake to work out half the time.
Pin this!
Like a Street Magician on Steroids
My kids will watch those street magicians on YouTube for hours and hours. The Impossibilities Show is like that only very up close and personal. It's like a street magician on steroids because the tricks are right before your own eyes, and it completely blows your mind that what you are seeing is actually what you are seeing.
I think Erik Dobell might actually be able to read people's minds because I don't have any other way to explain how he does what he does. He is a Master Mentalist after all.
My youngest daughter is still trying to figure out how he managed to fold one specific playing cart that was in his mouth into fourths while also holding an entire deck of cards between his teeth. I'm slightly afraid she's going to try that trick at home, likely with not-so-pleasant results, but she's tough. I'm sure she'll be fine. As long as my daughter with the expensive braces doesn't try it, I think we're good.
Expect the Unexpected
The trick you think Mr. Dobell is about to do is never the trick that he's really doing, and this unexpectedness keeps you on the edge of your seat. Every trick consists of equal parts hilarity and magic. You never know what's coming next, and he's in the process of two or three tricks at all times. There's a little bit of magic show ADHD going on all around you, but that's what makes it so fun and humorous and incredibly shocking all at the same time!
You will laugh and laugh while shaking your head in disbelief because there's just no possible way for this man to do what he does. I suppose that's why they call it the Impossibilities Show.
An Enjoyable Evening for the Entire Family
We thoroughly enjoyed our visit to the Impossibilities Show. The promotional materials promise Magic, Mindreading, and Mayhem, and the Impossibilities Show certainly does deliver all three.
Erik Dobell interacts with guests after the show. He is available for pictures and autographs at the conclusion of his act. You can follow the Impossibilities Show on Twitter, and you should really subscribe to their YouTube Channel. They have several videos covering dining options and other attractions in the area, as well as clips from the Impossibilities Show. Definitely, go check out the video of the engagement ring magic trick. It's so sweet!
There are some magic items for sale after the show as well. We purchased the trick coloring book. I won't go into details because it would give away the secret, but it's very impressive and so simple to manipulate that even my 11-year-old can stealthily perform the magic trick with ease.
Check out our video of excerpts from the show! I didn't even get the best tricks on video because I was too wrapped up in watching the show, but these are still really awesome! Don't forget to hit subscribe when you're over on our YouTube Channel to watch this video. I'll be posting a video walk-through of our hotel room in the near future.
Please like, share, tweet, pin, follow, and subscribe!
You might also enjoy some of our other travel articles! Watch for more travel articles from this recent trip coming soon.