How to Boil Sap into Maple Syrup without Special Maple Syrup Boiling Equipment –
In our prior post, we taught you How To Easily Tap Maple Trees for Splendid Natural Syrup. We're back to teach you how to boil that sap into maple syrup without buying any special equipment. We put together a video of the process involved from collecting the sap all the way to the trickiest part which is the finishing boil.
*This post contains affiliate links.
MAPLE SAP TO SYRUP RATIO = 50:1
Boiling sap into maple syrup takes a really long time. The conversion of sap to syrup is a 50:1 ratio. That means it takes approximately 50 gallons of sap to yield one gallon of syrup. That's a lot of sap!
These are the inexpensive maple syrup taps we use to tap our maple trees. I promise you don't need fancy maple sap equipment for collecting sap or maple syrup boiling.
Boiling Sap for Maple Syrup Is Simple!
Boiling 50 gallons of sap at once would take special equipment, but you can boil maple syrup in small batches with items you likely already own. I boil about 5 gallons of sap at a time. I use a very large stock pot for boiling maple sap at home, but you could potentially use several small pots.
The stockpots I own were very inexpensive. I bought them many years ago at Harbor Freight. They came as a set of four for around $25, and I had a 20% off coupon. The largest is a 5-gallon stainless steel pot, and the smallest is a 1-gallon pot. I normally use the 5-gallon stock pot to boil my sap, but that one is also the pot my husband uses to boil the deer skulls when he's making a European mount.
You can check out our DIY Dipped Skull Mount Video Tutorial if that's something of interest to you. (Ladies, let me tell you a secret. It's way cheaper than getting a professional head and shoulders mount from a taxidermist. I don't even care if my husband uses this sap pot to boil a deer skull. Show your husband the dipped skull video!)
Since the 5-gallon stockpot is still sitting in the basement and hasn't been completely washed, I decided to use the 3-gallon pot this time. I just add the additional jugs of sap as the first part boils down until I'm at 5-gallons.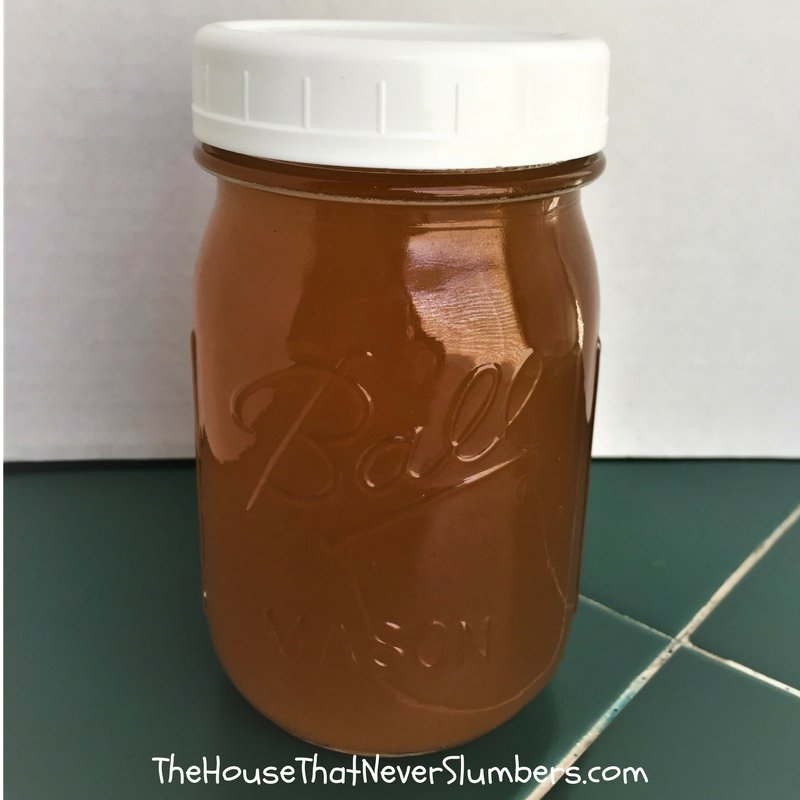 How to Boil Maple Sap for Syrup at Home
It can take nearly 24 hours to boil away five gallons of sap. If I have to leave the house or need to sleep, I just turn off the burner and cover the pot with a lid. When I'm back I start the burner again. I have a propane range. I'm not sure I would attempt boiling sap at home on an electric range because of the cost of running an electric burner for 24 hours at a time.
As also noted in the video, it's not a great idea to boil too many batches of sap inside your house because of the humidity. I would like to go larger scale next year, and I will have to switch to boiling outside with our turkey fryer that hooks to a propane tank. We don't actually cook turkeys with it anyway. We just have it to boil those deer skulls.
You could probably use any kind of outside propane burner for maple syrup. I know many people already have a burner set up for canning the produce from their gardens. That would work as well for heating your maple syrup pot.
Fortunately, you don't have to pay attention to the sap the entire time that it's evaporating away in your maple syrup boiling pot. You really only have to keep a close eye on it when it gets down to the last couple of inches. It starts to get foamy bubbles when it's getting closer, so you know to watch.
Check out the video on how to boil sap into syrup!
Many aspects of boiling sap are just easier to show you instead of trying to tell you, so we put together a video of the process. In the video, I used a thermometer for your benefit. I don't actually need the thermometer anymore because I've boiled enough batches of maple syrup now to tell when it's ready by the way the bubbles look.
Finishing maple syrup without a thermometer really isn't difficult. Once you've made a few batches of DIY maple syrup you will just know how to tell if maple syrup is done without a thermometer. The bubbles look a certain way.
There's a fine line between getting the syrup just right and burning it, so you really need to watch the video to see that tricky part of knowing how to boil sap for maple syrup.
In How To Easily Tap Maple Trees for Splendid Natural Syrup, we discussed some of the health benefits of syrup. You can go back and check those out if you would like, but the only motivation you should really need to consume real maple syrup is the taste. It tastes amazing.
We had to make French Toast for supper immediately after finishing our first batch of maple syrup the other day. Now you know how to boil maple syrup too, so get out there and do it!
Pin this for future reference: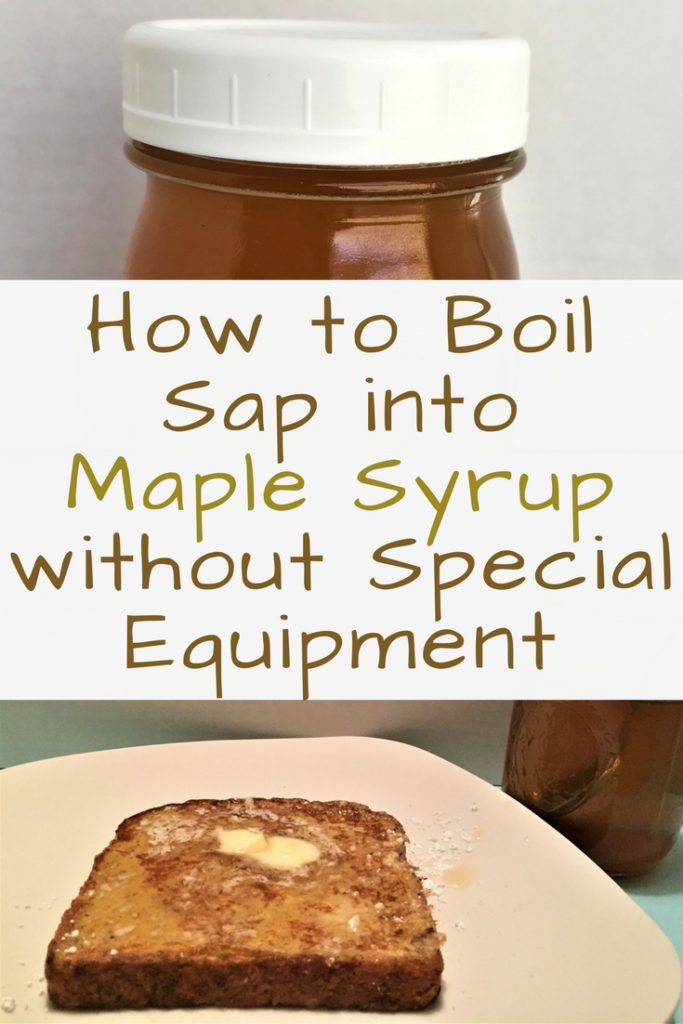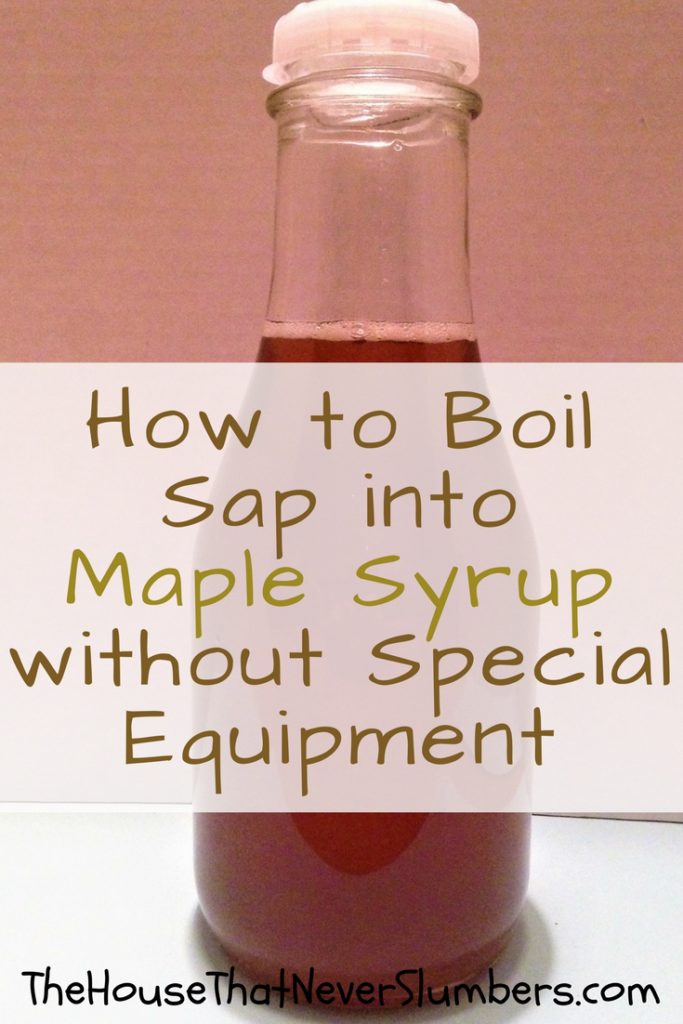 Most large stainless steel pots will work well as sap pots.