GhostPillow by Nature's Sleep – Personal Testimonial –
"My neck has never felt better!"
*This post is sponsored by GhostPillow, but all opinions are my own.
Because I spend a lot of time in front of the computer, I've grown accustomed to continual neck and shoulder pain. Until recently, I've just considered neck and shoulder pain an occupational hazard of blogging. A large portion of my day (or more accurately night) is spent hunched over the laptop with poor posture. The nagging neck and shoulder pain was something I thought I would just always have.
Then I was offered the opportunity to try GhostPillow by Nature's Sleep. I've never been a fan of pillows. I've tried various pillows in a range of prices and firmness. Most pillows make my neck hurt even more. Most feel too high and strain my neck. I've tried my husband's expensive memory foam pillow (which I purchased once when they were deeply discounted), and it holds my head higher than I can stand.
Because every pillow I've ever tried until now has made my neck even more uncomfortable, I've been using the cheapest pillow I could find for many years now. The cheap ones are usually thinner, so they don't hurt my neck quite as badly. I generally ditch even the thin, flimsy pillows at some point anyway. I would always start with a pillow every night, but after tossing and turning for hours, the pillow would end up next to me or on the floor before morning. Sometimes I couldn't even remember ditching the pillow. I must have been doing it in my sleep.
GhostPillow Night #1 – I kept this pillow under my head the entire time!
Last week I tagged along when my husband traveled to an insurance seminar in Southern Indiana. This meant I had several hours to waste in a hotel after our checkout time. That day I spent a few hours at the pool, but then I needed to get some work finished on the computer. The only seat I could find in the hotel lobby next to a power outlet was a bench with no backrest.
I typed while sitting on that no backrest bench for a few hours. Then I had a three-hour ride in the van to return home. The GhostPillow had arrived while we were on the business trip. My neck and shoulders were in extreme pain by the time my head hit the GhostPillow for the first time.
I woke up that morning and was surprised to find the GhostPillow still under my head. I chalked this up to being extremely tired from the traveling. Normally, if I go to bed with neck and shoulder pain, I wake up with worse neck and shoulder pain, but that morning my neck didn't hurt at all. I don't consider one night evidence of anything, but throughout that day my neck continued to feel great.
By the end of that first day, I was starting to wonder what it is that makes this memory foam pillow with cooling gel work differently than any others I've tried.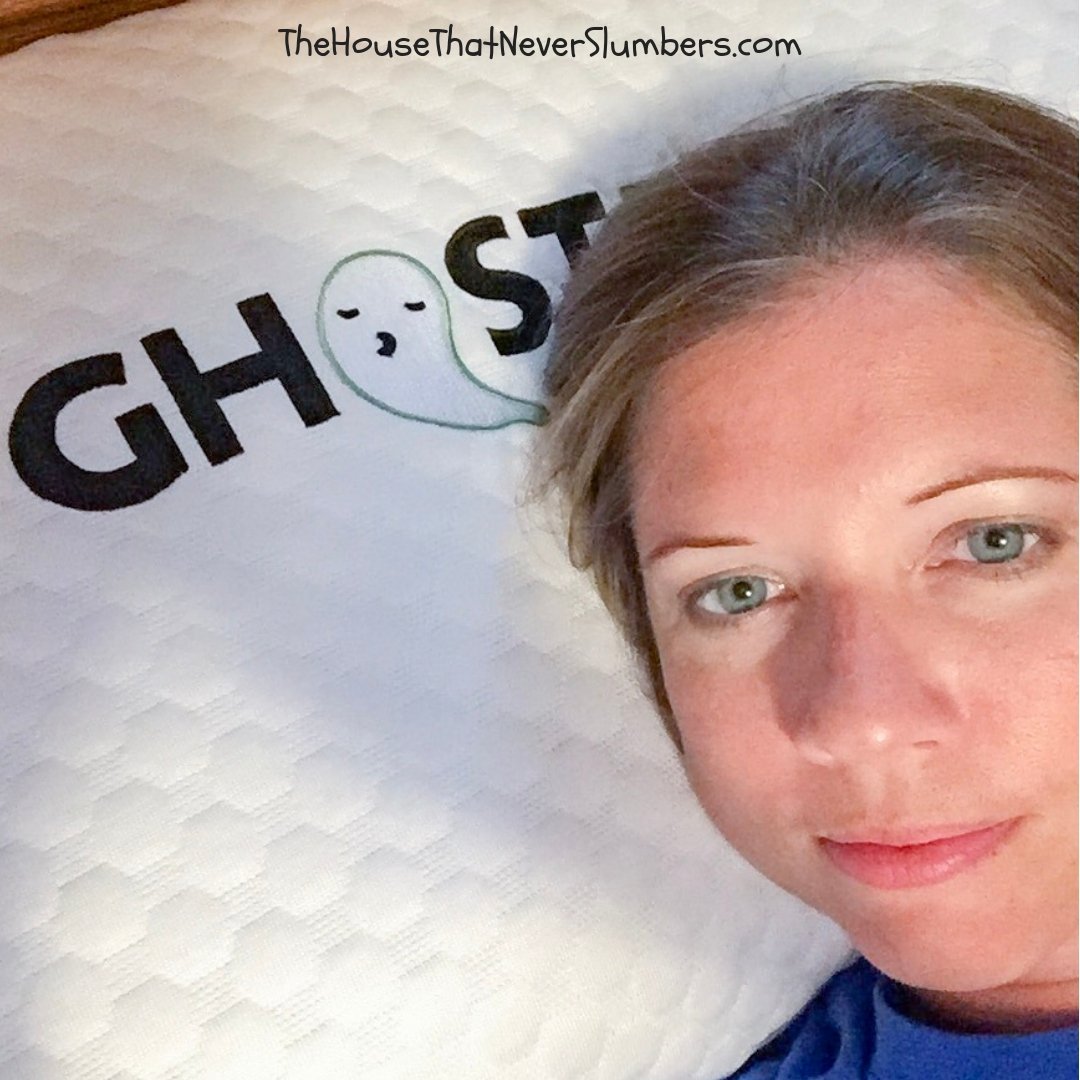 GhostPillow Technology
The pillow is ergonomically designed to adjust to your neck and head to achieve ideal spinal alignment. GhostPillow is supportive, yet plush, and molded of solid pure gel memory foam.
Phase Change Material – GhostPillow's thermo sensitive technology senses heat and adjusts to keep the sleeping environment temperature neutral.
Performance Fabric – This keeps GhostPillow cool to the touch and wicks away moisture on the Phase Change side.
Aerated Gel Memory Foam – This creates a plusher, more responsive feel and allows air to circulate.
Air Flow Mesh Scrim – An inner mesh scrim allows air to flow through the pillow keeping it cool while protecting the pillow's shape and function.
Embroidered "Ice" Fabric Cover – Ice fabric is cool to the touch, ultra plush and kind to your skin. This cover is removable for easy care.
GhostPillow Night #2
The second night was a bit cooler than the first, and I wondered if I would even like a "cool" pillow. I'm ALWAYS cold. I wear long sleeves if I'm in air conditioning even when it's 90 degrees outside. I was a little concerned that I wouldn't want a pillow making me colder. This has turned out to be an unrealistic concern.
The pillow does stay cool. I have no idea how it does that. Even if the rest of my bed is warm, I can slide my hand under the pillow, and that area is still cool. The GhostPillow is cool to the touch on every side, but using it doesn't make me cold. I know it sounds contradictory, but it's almost like it stays a nice even temperature depending on what's needed more.
On the second night, the pillow was once again still under my head when I woke up, and I had no neck or shoulder pain.
GhostPillow After Several Nights
I've now been sleeping on the GhostPillow for a number of nights. I am still free of neck and shoulder pain. I've also noticed I can now turn my head all the way to one side or the other without pain. This is something I haven't been able to do for many years. I can touch my chin to my chest without pain as well, and that's something I couldn't do in the past. I'm completely amazed this is possible just by switching pillows.
Unlike other firm pillows I've tried, this GhostPillow somehow fills in just the right places under my head and neck. I have no idea how it works or how it knows to hold my head just right (like it molds to just the right places under me), but I'm definitely grateful it does.
Additional Favorite Features of GhostPillow
Other than making my neck feel absolutely great, the GhostPillow also has a nifty removable cover. The cover is made of a very durable material – more like the quilted, slick fabric that normally covers a mattress. The cover unzips and can be removed for washing.
I absolutely hate that most pillows let drool soak right into the filling making it nearly impossible to clean them completely. Washing them in the washing machine just bunches up the shape of the pillow. Trying to spot clean them doesn't get the nasty stuff out of the center. This cover should keep any drool from soaking through.
Of course, I would never drool. It's only my husband and the kids who drool here.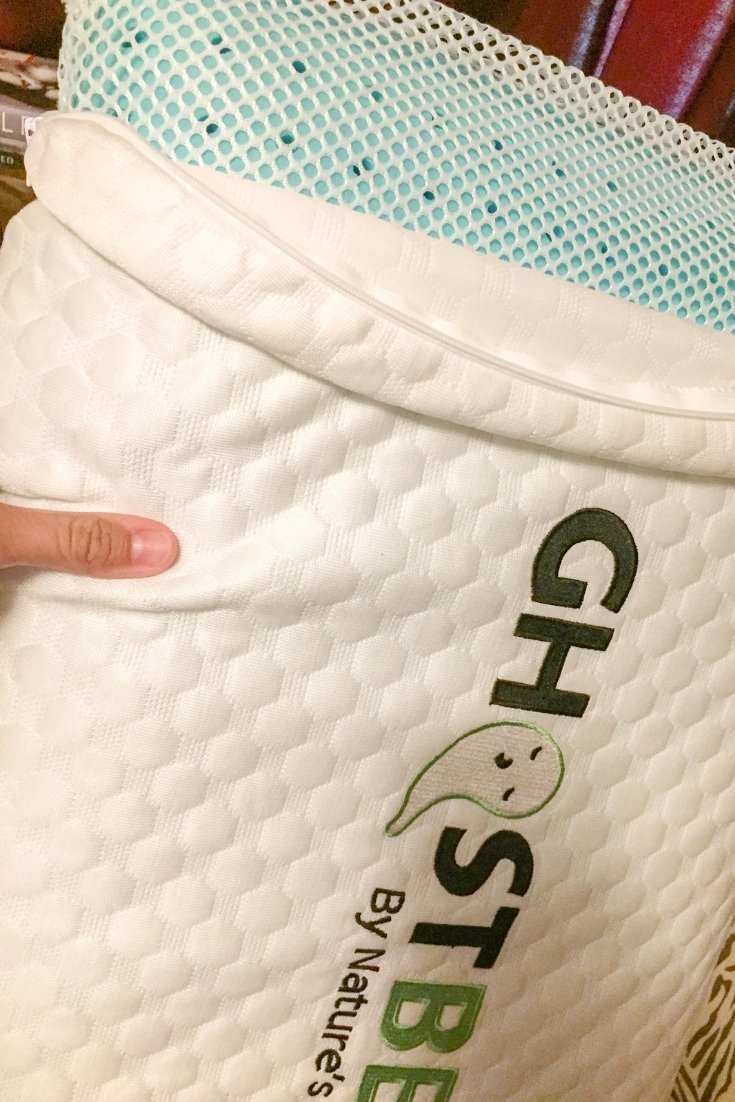 My Only Reservations about GhostPillow
I have just a few reservations about the GhostPillow. First of all, I'm suffering from some serious mom guilt over the fact that I now have this amazing pillow, and my husband and all the kids are still sleeping on subpar pillows.
Secondly, this pillow is very well constructed, and I expect it to last a really long time, but I'm already having a little bit of an identity crisis at the thought that I will eventually have to pay to replace this pillow. I definitely can't go back to having constant neck and shoulder pain, but my shamelessly frugal self will have a hard time paying more than $5 for a new pillow when the time comes even though I know it's worth every penny.
Lastly, I'm already faced with a major dilemma over trying to decide whether I should take this pillow with me when we travel. I dread the thought of leaving it home and waking up each day of a trip in pain, but I'm not sure I want to risk accidentally leaving it in a hotel room. One time many years ago, my pillow got left behind in a hotel room.
Leaving that pillow behind wasn't such a big deal because it was a cheap one, but it just happened to have one of the pillowcases that matched our bedding on it. We had a mismatched pillow for a long time after that vacation, and now if I take a pillow when we travel, I always put an old pillowcase on it. It would be traumatic to lose this GhostPillow, so I'm leaning toward suffering through a week of pain to keep the pillow safe and sound at home.
What's Included with Each GhostPillow
GhostPillow is the World's Most Advanced Real-Time Cooling Pillow and is a product of GhostBed by Nature's Sleep.
Every GhostPillow includes:
101-Night Sleep Trial
Free Shipping
Industry Leading 5-Year Limited Warranty
You can take GhostPillow for a full 100-night test drive. I'm sure they offer this risk-free trial because they're so confident you'll love GhostPillow and know most people will never want to go back to their old pillow after they've tried it.
Final Thoughts on GhostPillow
I keep thinking I should go a night with a regular pillow just to see the difference – just to make sure the GhostPillow really is responsible for my newfound comfort. Then every night when I climb into my bed, I realize I don't want to wake up in pain the next morning, so I keep the GhostPillow under my head instead.
I don't even want to think about using another pillow, even for one night! My neck has never felt better, and I want to keep it that way.
The makers of GhostPillow also offer GhostBed gel memory foam mattresses with the same cooling technology and the breathable, light-weight and airy GhostBed Luxury Sheets.
You can find out more by visiting GhostBed!