Top 7 – Fun, Quirky, & Novelty Family Dining on the Florida/Alabama Gulf Coast –
We've been staying at Perdido Key, Florida during Fall Break for a number of years, and we've discovered several venues that are a great choice for fun family dining. When we stay at the beach, we have breakfast in the condo before going down to the beach or pools for most of the day.
For lunch, we either bring a cooler of sandwiches out with us, or we go back up to the condo to enjoy fresh shrimp and our leftovers from the previous night's meal. We spend most of our time at the condo enjoying the sun and usually only leave each night for supper.
*This post may contain affiliate links.
Pin this!
We travel to the gulf coast as a large multi-generational group. Just our family of 7 is large, but my parents, siblings, and their families are with us as well. My sister and her family missed this trip because of football, but they have been with us in all the past years. It's not always easy to find restaurants that work well for large parties with such a wide age gap. We look for fun and quirky restaurants where fidgety small children and rowdy teens aren't seen as a nuisance.
We rarely go to restaurants with a quiet atmosphere because that just doesn't work well for our large, talkative party. We never feel like we compromise on the quality of the food by avoiding the fancier dining venues though.
You might also want to check out:
The following are our 7 favorite fun, quirky, and novelty dining experiences around Perdido Key. They are listed in no particular order of ranking. Each has its own merits, and I couldn't pick an overall favorite even if I tried.
1.) Moe's Original BBQ
We've dined at Moe's Original BBQ most of the years we've visited the Gulf Coast, and it does not disappoint. When asked the one place they definitely wanted to eat on this last trip, two of my four kids said Moe's. They love the outside seating in the sand. There's a play area for children which is especially nice for my brother's four young children. There's also an outdoor stage that sometimes has live music.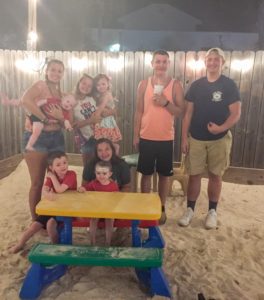 You can buy family packs at Moe's to feed a large family for a very reasonable price. These include BBQ pork, a couple of sides, and cornbread or buns. We always have way too much food, but it's nice to have leftovers in the condo.
On this trip, we decided to order a Moe Nachos to share along with our family pack of pulled pork, and that was spectacular. Instead of tortilla chips, it was a dish of Moe's house-fried potato chips piled with baked beans, nacho cheese, shredded pork, tangy BBQ sauce, jalapenos, onions, and some kind of spicy white sauce.
2.) Pedro's Tacos & Tequila Bar
We love tex-mex! We dine at our local Mexican restaurant weekly, and NOBODY beats the salsa at our local place, but Pedro's has great food and a casual atmosphere. Pedro's is also conveniently located within walking distance of our condo, so that's nice if we don't even want to get everyone in the van.
We were at Pedro's on a weekend during the supper rush this trip. We were seated quickly which is surprising for a party of 15, but it did take a very long time for our food to arrive because they were so busy. That has not been our experience in past years when we've visited on a weekday.
On Mondays the combos A-L are only $6.75, so that's really when we should have visited Pedro's. The white queso at Pedro's is excellent. My husband and I shared a fajita skillet with steak, chicken, and shrimp. The fajita had great flavor. The kids had various combos which they all enjoyed.
3.) Tuscan Oven Pizzeria
We discovered Tuscan Oven on our last trip. This is a wood-fired pizza joint. We have not dined in at Tuscan Oven, but we like to get the Seafood Pizza whenever we're in the area. The Seafood Pizza has shrimp, clams, and calamari. It's a novelty that we can't really find elsewhere. There's nothing like having a baby octopus right there on your slice of pizza.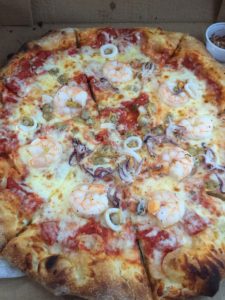 Some of the kids are not big on the whole baby octopus looking at them while they eat deal, so we also grabbed another type of pizza from Mellow Mushroom which is right around the corner.
4.) Mellow Mushroom
We first tried Mellow Mushroom at Pigeon Forge, Tennessee. They have one of my favorite pizzas ever – the Holy Shiitake Pie. The description from their menu is better than any explanation I could give:
Olive oil and garlic base with shiitake, button and portobello mushrooms, caramelized onions, mozzarella, and MontAmoré®. Finished with a garlic aioli swirl and a spritz of black truffle oil. Garnished with fresh chives and shaved parmesan
The caramelized onions with the mushrooms are a perfect blend of flavors. We had to trash the last slice of this pizza when we were evacuated two days early for Hurricane Michael this past trip. I just didn't have the room to make it fit in the cooler, and that was very sad for me. Mellow Mushroom also has great calzones and salads.
5.) McGuire's Irish Pub
We always go to McGuire's Irish Pub the day we check in at the condo. It's become a bit of a tradition. McGuire's is known for having over a million signed dollar bills stapled to the ceiling and walls. That's expensive wallpaper! My husband is an insurance agent, and he hopes they have that scheduled separately on their property policy so it's adequately covered if anything would happen to the building.
The food at McGuire's is good, but the appetizers are top notch! My kids love the Boxtys which are a traditional Irish favorite. Boxtys are basically fried and breaded globs of garlic mashed potatoes served with a variety of dips. Apparently, Boxty is a high-stakes cuisine in Ireland, considering the menu states:
Boxty on the griddle, boxty in the pan; if you can't make boxty, you'll never get a man.
The nacho at McGuire's is huge. The potato skins are excellent. The Paddy's Spinach, Artichoke & Cream Cheese Dip is the best spinach and artichoke dip we've had ANYWHERE! The Reuben Eggrolls are great if you like Reubens. They also serve a very impressive Jumbo Bavarian Pretzel.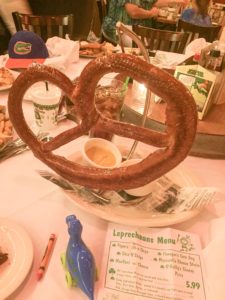 You could easily fill up on appetizers at McGuire's without ever ordering meals. If you want the Chicken Salad Plate, which is very tasty by the way and gives you leftovers that can be taken down to the beach for lunch during the rest of the week, make sure you go at lunchtime.
McGuire's has an additional location in Destin, but we've only been to the Pensacola restaurant.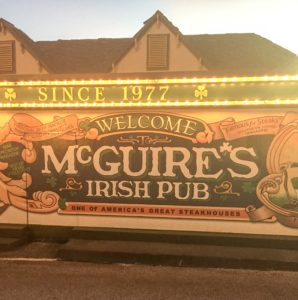 6.) Perdido Bay Seafood
This fresh seafood market gets our business the most frequently of all food businesses while we are in the Perdido Key area. We stop by Perdido Bay Seafood about every other day to pick up more fresh shrimp. Be sure to have them steam it with the Cajun seasoning! You can get all kinds of fish, shrimp, crab, and so on fresh off the boat. We mostly buy the peel-and-eat shrimp. The Royal Reds are amazing!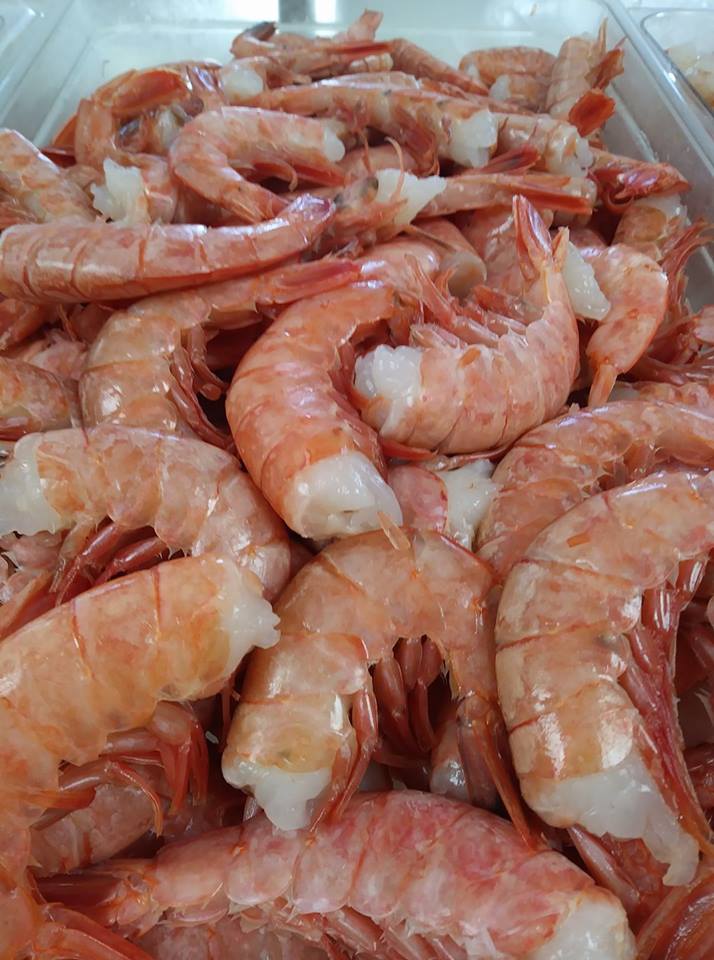 This is the best shrimp you will find ANYWHERE! My sister-in-law makes a fantastic cocktail sauce with a touch of wasabi, and we have shrimp everyday when we go back up to the condo for lunch.
We've tried several of the dips and spreads they make on-site at Perdido Bay Seafood and have never been disappointed. The spicy crab dip is great on crackers. The gumbo is good.
One really neat feature of this establishment is the leave-a-book/take-a-book corner where you can swap out a book you've finished for a different one someone else has left. This is perfect for those of us who like to read at the beach/pool while on vacation.
You can often watch the shrimp boats unloading near the shrimp market. This is an activity amusing to children. Recreational boating is also an activity many enjoy when visiting Perdido Key. If you would like to rent a boat in the area, you can check out GETMYBOAT.
7.) Tacky Jacks Seafood & Tavern
Tacky Jacks gets our vote for the most fun atmosphere, and the food is surprisingly good too. Often with these fun atmosphere restaurants, I find the food to be mediocre. We tried Tacky Jacks for the first time this year, and I was actually prepared for the food to be so-so because that's been my past experience with restaurants like Lambert's or Dick's Last Resort. That is not the case at all with Tacky Jack's.
Tacky Jacks-Gulf Shores is covered in duct tape. If you bring duct tape, you can leave your mark on the building.
My kids want to know if we can do this to a wall in our house. We used to let them use chalk to graffiti on the bare concrete basement walls, and I'm seriously considering letting them duct tape one of the partially finished walls in the basement.
Everything we tried at Tacky Jacks was superb. I had the fried fish tacos which were some of the best fish tacos I've had anywhere. The Mexican Garbage nacho is HUGE. The fried pickles appetizer is a much larger portion than most restaurants serve. We ordered two baskets because there were 9 of us at that meal, and it was way too much. One basket would have been plenty. Our party also tried the crab cakes, crab legs, fried seaside trio, and the gumbo. My son says the gumbo was awesome.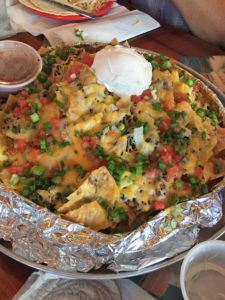 Be sure to visit the Gulf Shores location of Tacky Jacks. My parents and the newlyweds arrived at the beach a day earlier than we did. After driving all night, the Tacky Jacks at Orange Beach was the only place they could find open for breakfast, and they were not impressed. They said the breakfast prices were high, and the food was nothing worth noting. They did not see any duct tape on the walls at Orange Beach (but they dined outside, so there might be some inside). We almost didn't give this location a try, but I'm so glad we did. It ended up being my favorite restaurant on this trip.
Tacky Jacks-Gulf Shores has a cute little playground and sand play area down by the water too. My brother's kids would have loved it, but they had already returned home when we visited Tacky Jacks.
A Couple of Honorable Mentions in the Dining Category
Some additional restaurants we have enjoyed through the years have been Lambert's (where they throw the rolls at you), the Shrimp Basket (seafood at a fairly reasonable price), and King Neptune's.
I also wanted to make note of the Flora-Bama Lounge, Package, & Oyster Bar. We have never actually dined at the Flora-Bama, but we always attend the Sunday morning church service there. We love going to "the church in a bar."
Parting Thoughts on Dining in the Perdido Key Area
All of the restaurants mentioned above are a laidback atmosphere where casual vacation attire is the norm. Each venue is suitable for children of any age.
Unfortunately, our most recent trip was cut a couple of days short when we were evacuated for Hurricane Michael, so we weren't able to try some of the restaurants we had in mind. You can view some video I took of the high waves the day before the evacuation here on our Facebook page. Be sure to like our page while you're there!
Have you been to the Perdido Key area on the Florida and Alabama gulf coast? What is your favorite dining choice? Let us know in the comments.
Stay tuned for a post on our favorite Dollar Store Beach Hacks coming soon!
Pin this!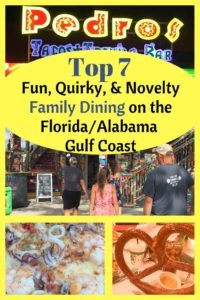 You may also enjoy: