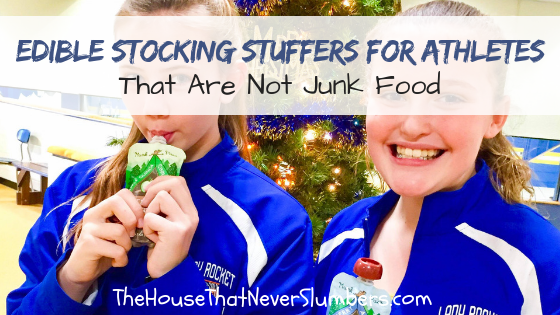 Edible Stocking Stuffers for Athletes That Are Not Junk Food – 
Parents, if you're trying to keep your kids from eating nothing but junk food around the holidays, now would be a good time to put the word out to Santa that you would prefer something with a little more nutritional substance in the stockings this year. 
My kids spend a lot of time at practices and games, so it's always nice to have a good stockpile of snacks on hand that they can grab on the way out the door to fuel up before or after athletic activities. We wanted to share a few of our favorite healthier edible stocking stuffers just in case you need to send suggestions to Santa this year.
*This post contains affiliate links. We received complimentary products from Slammers and Munk Pack to sample. All opinions are our own.
Healthier Edible Stocking Stuffers
Fresh Fruit
Obviously, fresh fruit is the healthiest option of all for edible stocking stuffers. Do you remember how excited Laura and Mary were to get those oranges in their stockings one year in the Little House on the Prairie books? We have fresh fruit here everyday, so I'm sure my kids wouldn't be quite as thrilled, but it can be fun to get more exotic fruits that we don't normally buy every week. Starfruit, a whole coconut, and mangos aren't as plentiful here in the midwest, so those would be more exciting.
Perishable items could be problematic for Santa with all the logistics of transportation and not letting them get smashed by presents and so on though. Apples, pears, oranges, Cuties, and kiwis would all be fairly durable treats.
Why is everything more fun from a pouch? My kids go crazy for fruit pouches. Slammers are a great snack option for athletes. These tasty, superfood snacks are designed to fuel kids with organic fruits and vegetables such as mangos, acai, sweet potato, and yumberries.  Not only are they a healthy alternative to sugar-laden candies and convenience store snacks, Slammers are crumb-free, easily digestible, and serve as a great source of essential vitamins. The convenient packaging makes Slammers perfect for throwing in a gym bag. No spoon necessary.
Nuts and Nut Butters
Single-serve packages of peanuts and peanut butter are a filling option with lots of protein. I buy bulk cases of peanuts and cashews at Sam's Club throughout the year.
Jif To Go cups are great to take along to events with crackers or pretzels for dipping. The chocolate silk Jif To Go is our favorite, but it's much harder to find. Some Dollar Tree stores still carry it. Hopefully, Santa has a good supplier. I'm sure the man in the red suit has better connections than I do.
If you've ever made overnight refrigerator oats, these pouches taste similar to overnight oats. Oatmeal Fruit Squeezes ready-to-eat pouches of oatmeal, packed with grains and fruit bites are gluten-free, non-GMO, vegan and high in fiber. These are a nice on-the-go breakfast if you have to get out the door early for a morning tournament.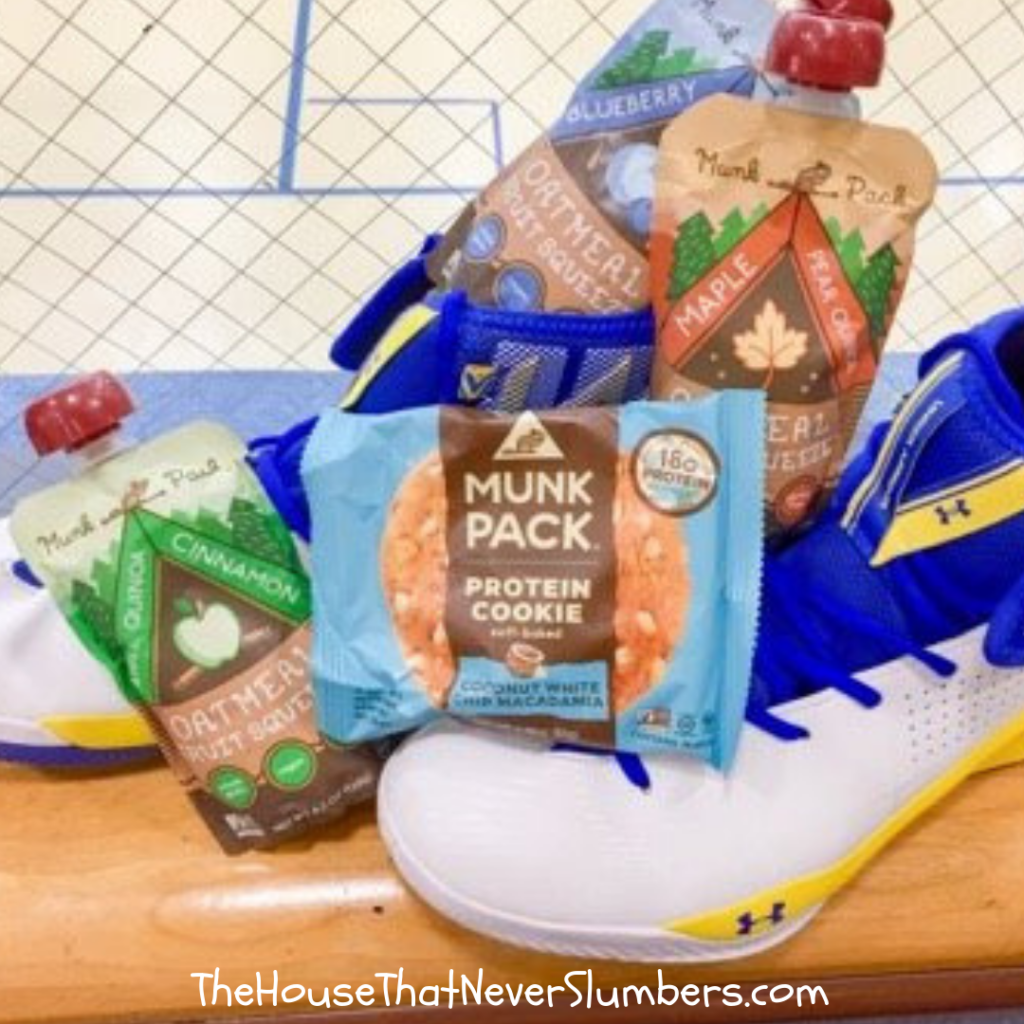 These have 18 grams of plant-protein per cookie. They're soft-baked, vegan, gluten-free and filled with fiber. I was skeptical about how Munk Pack Protein Cookies were going to taste. After reading the packaging, I thought there was no way they would taste like a cookie, but they actually do. I was pleasantly surprised.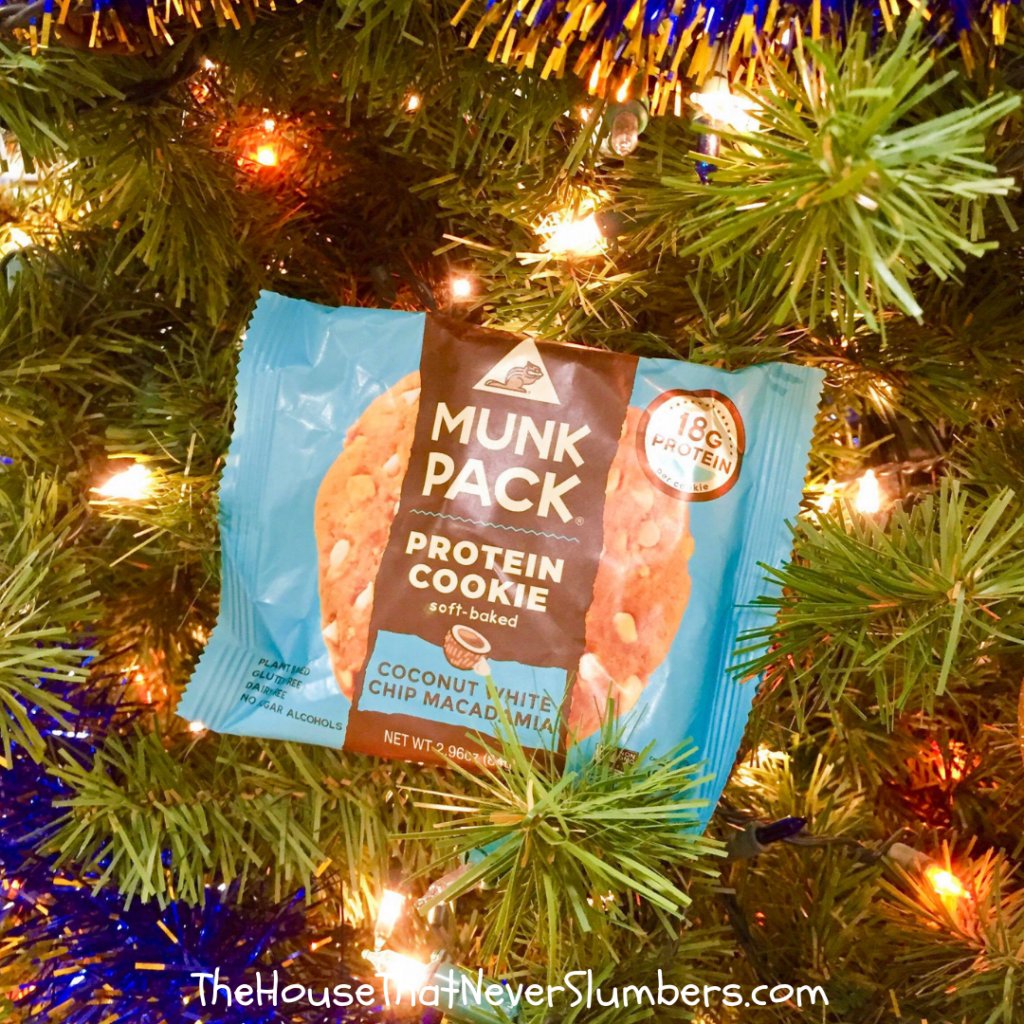 Have you tried these? I love them. They do have a bit of sugar in them. Each packet has 1g of sugar. They are sweetened with a combination of cane sugar and stevia. These True Lemon drink mix packets are great for situations where you only have access to water that doesn't taste great. I've always taken them to Disney World with us because the food counters will give you free ice water, but my kids sometimes want something other than water. This True Lemon lemonade is a good compromise there. It's much better than paying $4-$5 for a beverage in a theme park. The raspberry lemonade is my favorite.
Pin this!
Additional Edible Stocking Stuffers That Are Not Just Junk Food
I'm sure there are many other potential stocking stuffers that are edible but aren't just junk food. Each family will have different tastes and preferences.
What are favorite picks at your house? Can you think of any I've missed? What would you put on your list for Santa?
You may also enjoy: