If you've always wanted crisp white marble countertops but can't afford the hefty price tag of real marble and are afraid refinishing your own cabinets will be too difficult, I have great news for you! You can DIY your own white "marble" counters, and it's super easy. If I can do, you can do!
*Giani Granite gifted a Marble Countertop Paint Kit for us to try, but all opinions are our own. This post may contain affiliate links.
[Important Update: While this product held up really well in one of our bathrooms. It had significant wear after two years in the bathroom featured in this post. I ended up having to refinish the countertop in this bathroom with a product that can withstand heat from my daughters' hair straightener. You can read the details of that project in this post – Daich Spreadstone Countertop Kit in New Bright White to the Rescue.]
Update: I've had a lot of people ask about the paint used on the cabinets and how I achieved the woodgrain look. That cabinet refinishing was accomplished with Heirloom Traditions Paint in Cobblestone with Heirloom Traditions White Wash Antiquing Gel applied over it. This paint is so easy to use. It's self-leveling and took only two coats to cover well.
Self Doubts about DIY Countertop Refinishing
I know countertop refinishing seems intimidating. Or am I the only one who felt that way? I thought there was no way I could paint my own countertops and have them turn out even halfway okay. I was so wrong!
I accidentally ended up in a sticky position where I had no other choice but to do something about my counters. Last spring, I decided I could no longer tolerate the honey oak that is everywhere throughout my house. I loved it when I chose this home. It seemed so new and modern. Now it's blah giving off its orange glow all the time.
I had to do something about the honey oak cabinets. There is just so much honey oak going on in my house. Ugh!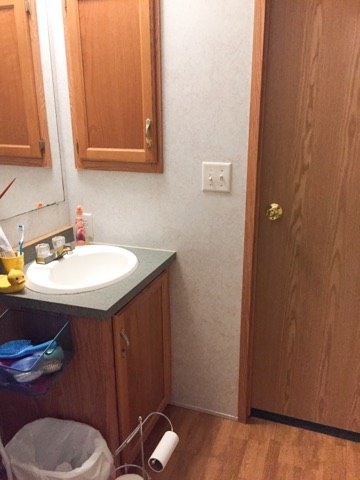 I started researching my options. After weeks and weeks scouring the web and watching YouTube videos of people painting their cabinets. I finally ordered paint and got brave enough to try it, first in our smallest bathroom.
I assumed my existing countertops would be fine because I was painting the cabinets a light grey, and the countertops were moss green with grey flecks. I was horribly mistaken. The moss green countertops looked awful with the fresh grey cabinets. It was a total clash.
I knew I could not afford new countertops, and there was nothing suitable at the Habitat ReStore. Fortunately, around that time an email came through my inbox from Giani Granite with a video of their new Marble Countertop Paint Kit.
The results in the video looked AMAZING, and it even seemed simple enough to do on my own. I emailed the company and asked if they would send a kit for review, and it arrived on my doorstep within days.
The Giani Marble Countertop Paint Kit came with everything I needed to complete the job. The countertop refinishing kit included:
White Base Primer
Grey Veining
White Highlight
Gloss Topcoat
Brushes
Small Roller
Sponge
Spray Bottle
Cardboard for Practice
I already had painters tape, plastic drop clothes, paint stirrers, and a screwdriver (used to open lids) leftover from painting the cabinets.
I spent quite a bit of time watching the videos on Giani's website. Because the Giani Marble Countertop Paint Kit comes with great step-by-step instructions, and the Giani website provides videos, I won't rehash each step in this post. They do a better job of explaining. You can watch Giani's video here.
I did a Facebook Live while I was marbling the countertop in my son's bathroom. You can view that here. The video quality is horrible because the lighting was poor and my signal is horrendous here, but you can get a decent idea of how easy the marble refinishing process really is. Go ahead and Like our Facebook page while you're there!
White Marble Countertop DIY Results
We absolutely love the results we got with the Giani Marble Countertop Paint Kit! It's beautiful. The countertop is now so clean and bright.
My new white "marble" countertops were actually so bright, I had to find new-to-me sinks at the Habitat Restore because the sinks I had didn't look white compared to my sparkly new white marble counters.
And the DIY marbling process was unbelievably simple. If I can do it, you can do it! I'm horrible at painting.
The project actually spiraled a bit because once I had refinished the cabinets and counters and replaced the sink, the mirror looked too plain. I had to frame the mirror.
I also wasn't happy with the over-the-toilet shelf that was holding all my girls' hair care and makeup items, so we installed some cheap shelves on brackets.
I thought it was finally time for a new shower curtain as well, and the girls, of course, chose this cool Stranger Things shower curtain. We have to watch any show that features Indiana, right?!
The shower curtain cost a bit more than I would normally pay for a home decorating item, but I had Amazon credit from affiliate sales through my links. So thank you, loyal link clickers, for supporting this bathroom update!
Additional Countertop Refinishing Kits from Giani Granite
If white marble countertops aren't your preference, you don't need to worry. Giani makes a variety of countertop refinishing kits. You can find a kit to create just about any countertop finish.
Check out these other Giani DIY Paint Kits!
A Brand New Bathroom with Giani Marble Countertop Kit
Our updated bathroom looks like an entirely different space with newly painted cabinets and countertops! It's the most modern room in our house now. We're starting on the kitchen cabinets next.
Pin this!
Considering it took us all summer to complete a small bathroom, how long do you think the kitchen will take us???