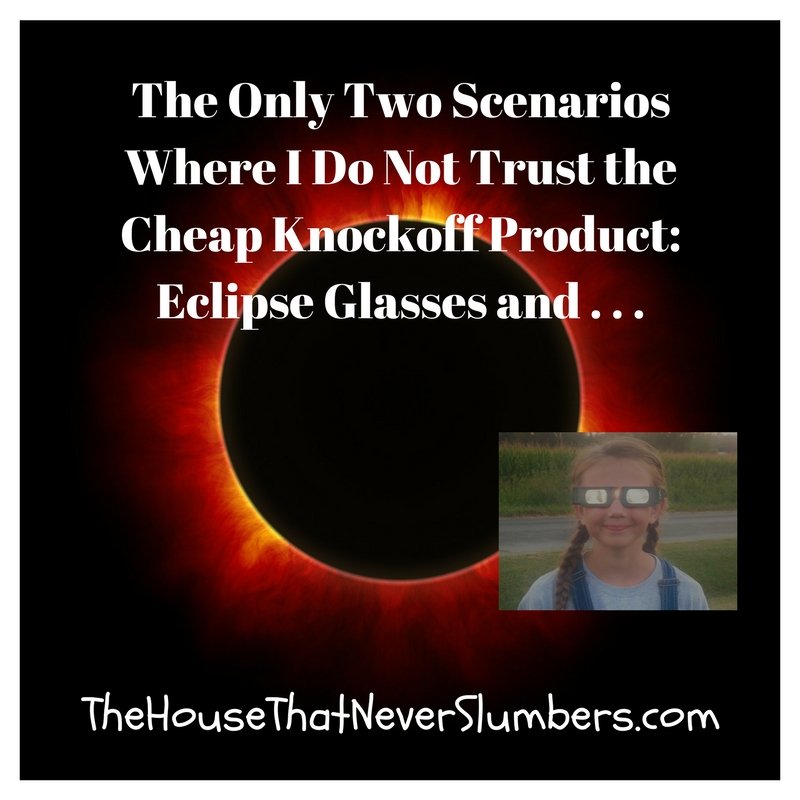 I rarely pay full price for anything I buy. I don't hesitate to try generic off-brand items. I'm not afraid to order cheap products online. If I can get a good deal, it's often worth the gamble. This gal put the G-A-L in frugal, but there are at least two scenarios where I've decided it might not be a good time to trust the knockoff. I'm not taking any chances with potentially fake eclipse viewing glasses. I rather enjoy having the use of my eyes.
*This post may contain affiliate links.
I order all kinds of items on Amazon, and I'm normally satisfied with the goods. I initially thought I would find some cheap eclipse glasses for my family on Amazon. Why should shopping for eclipse
glasses be different than shopping for anything else? Then NASA started putting out warnings. In fact, NASA only listed these four safe manufacturers: Rainbow Symphony, American Paper Optics, Thousand Oaks Optical and TSE 17. You can visit NASA's guidelines for safely viewing the eclipse. I normally think these types of warnings about only using "certified" products are just scare tactics from a company to intimidate people into buying their product. Sometimes "certifications" are just the government's way of picking the winners or losers in industry. If you don't understand what I mean by this, you need to read anything by Ayn Rand (especially Atlas Shrugged). The non-approved glasses are likely perfectly safe, but since the potential danger was blindness, I decided not to take any chances this time. I tried to find glasses on Amazon that were made by one of the safe manufactures, but all of those seemed to be either sold out or a lot more expensive. I also kept seeing warnings about fake glasses being sold by sellers on Amazon. Amazon even proactively issued warnings and refunds to some customers who had purchased from sellers who were not able to offer proof of a safe product. You can read about Amazon's proactive measures to ensure customer safety. I finally gave up on finding ones I could feel completely comfortable with on Amazon at a price I was willing to pay.
After visiting the websites of each of the four NASA approved manufacturers and getting to dead ends there as well because they were all either out-of-stock, wanted too much, or required an order of 500, I had nearly given up on getting any. In a last-ditch effort, I checked the American Astrological Society's list of reputable vendors. Fortunately, I was able to get 50 pairs of glasses for just $25. My options were to buy the pack of 50 for $25 or pay $2.50 a pair for them individually. I needed at least seven pairs, so it made sense to buy the bulk pack. Since I had so many extras, I was going to send enough for Bullseye Bubba's entire class to view, but to guarantee safety, the school will not be allowing any students outside during the event. (Parents may sign their own children out with an excused absence if they want them to view.) Bub doesn't want me to pick him up because he's going to watch the live feed with his friends. The newlyweds will be at their first day of class, and the college is having a viewing party, so it will just be the younger two girls at home viewing with us.
I know there are people online warning that parents should not let their children view at all (one apparently by an eye doctor). I've
thoroughly researched the risks, and I feel like my children are old enough to properly follow the precautions issued by NASA. We're going to be in about the 90% coverage zone, so it should be pretty cool, and it's a historic event that I don't want them to miss. I bought our glasses from one of the approved vendors, and I've inspected them carefully. They seem to be in perfect order. You can see NOTHING through them. If you go outside, you can vaguely see the sun, but otherwise, you see total darkness. I'm sure that's why I keep seeing warnings that people should not drive while wearing them. You should definitely not try to drive while wearing glasses that put you in complete darkness! I realize some consider seeing the eclipse not worth the risks no matter how many safety precautions are taken. Those who don't want to view with the special glasses might want to make a Cereal Box Solar Eclipse Viewer like this one somebody else made on YouTube.
Whether or not to view the eclipse is a very personal decision. Whether or not to allow your children to view the eclipse is a very personal decision. Decisions like this are the responsibility of individual parents. No one else can or should make that parental decision for you. Where parenting is concerned, it's always important to do your research while also trusting your instincts. How are you handling the eclipse with your children? I'm interested to know what others will be doing.
I've listed links for a couple of fun solar eclipse resources below. And as for the other product I won't trust buying as a cheap knockoff?? I'll leave that to your imagination.
Solar Eclipse Resources
American Eclipse USA: Seeing the Eclipse from Home – This site shows a nice map of the path of the eclipse and shows what percentage of obscurity each location will experience.
See How the Solar Eclipse Will Look From Anywhere in the U.S. – You can enter your zip code here to see a simulation of what the eclipse will look like from your own location.