Daich SpreadStone Mineral Select Countertop Makeover –
Countertop refinishing may seem like a daunting task, but I can assure you ANYONE can update their own ugly laminate countertops with this SpreadStone Mineral Select countertop kit from Daich.
*Daich Coatings provided the two kits needed for this project. This post may contain affiliate links.
Pin this!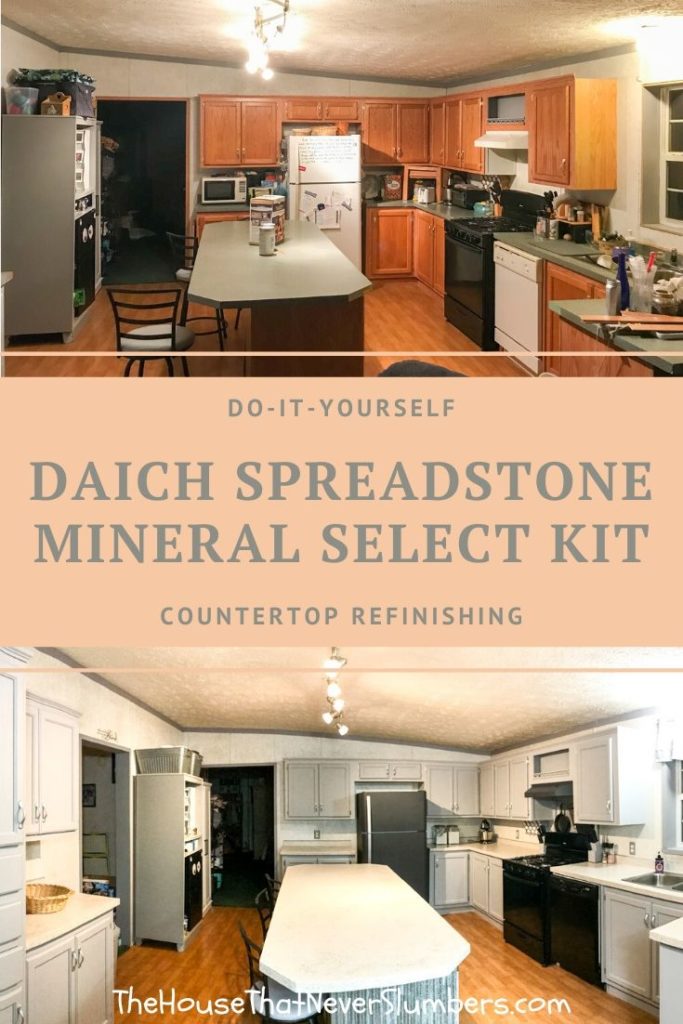 What Can I Do About My Ugly Laminate Countertops?
As many of you who follow our social media know already, I'm on a mission to rid my house of all the dreaded honey oak. It's everywhere in my house. The trim is honey oak. The cabinets are honey oak. The floors are honey oak.
See all the HONEY OAK!
I liked the honey oak twenty years ago when I selected this home (which is a manufactured/modular home). It was the "in" thing in 1999, but I'm no longer digging the orange glow of honey oak.
I started painting bathroom cabinets over the summer to see what color I wanted to use on the cabinets in the kitchen. I will eventually have a full post on the process of painting cabinets.
I thought my existing countertops would be okay with gray cabinets. The former countertops were a moss green with flecks of gray. I thought that would not clash so much with gray cabinets, but I was wrong.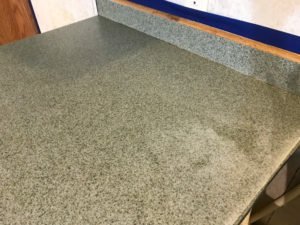 My kitchen has about 59 square feet of countertop space because of a large island in the center, so replacing all my countertops was not an affordable option. I researched several DIY countertop refinishing kits before deciding Daich Coatings was the best option for my kitchen countertop needs.
My kitchen is a heavy traffic area in a home where seven real people live. After scouring the web, reading about other people's experiences with Daich products, and watching videos, I knew the SpreadStone kit would be able to hold up under the heat and traffic demands of my kitchen.
The color I chose was Natural White because I wanted something very light since my kitchen does not have good natural lighting. The SpreadStone Mineral Select kit comes in several other great options.
What Do I Need to Refinish Countertops with Daich?
The Daich SpreadStone Kit comes with all the products (base coat, stone coat, and clear coat) as well as everything you need to apply the product (paintbrush and roller, sandpaper, mask, paint tray, etc.). However, there are some additional products that will make the job easier.
You should have painter's tape, paint stirrers (buy this huge pack of paint stirrers on Amazon), and drop cloths on hand. Dollar Tree has $1 clear plastic drop cloths that work very well. While I was completing this project, I wasn't so worried about protecting my floors perfectly because I hope to be replacing the flooring within a few months.
I did cover the newly painted upper cabinets with plastic while I was sanding because I did not want to have to wipe all the dust off of them later. My son said all the plastic made our house look like "they found E.T. living here." Aren't you impressed with his knowledge of movies from the '80s?
The Daich countertop kit comes with one sheet of 80 grit sandpaper to scuff up your old countertops a bit and to sand the stone coat. Whether sanding by hand or with a sander, you will likely want more sandpaper than one sheet.
I highly recommend you use an orbital sander. I purchased a cheap orbital sander from Walmart for this project. It was under $20, and it saves a ton of time and effort.
You can refinish your countertops with a Daich Spreadstone Mineral Select Countertop kit without the use of an electric sander, but I think you will be far happier if you use a sander.
How Do I Apply Daich SpreadStone to My Countertops?
I'm not going to rehash every detail of applying the SpreadStone kit to your countertops. The kit comes with a detailed list of instructions. There are also instructions on the Daich website and lots of videos of the process online. I will be posting my own video to our YouTube channel once I make edits. Be sure to subscribe, so you don't miss this video and others.
The basic process for refinishing your countertops with Daich are as follows:
Clean and prep your surfaces. Patch any damaged spots on your laminate. Sand all surfaces with 60-80 grit sandpaper. Tape off edges to protect nearby surfaces. Wipe away dust or debris.
Roll on two coats of base coat, waiting the recommended length of time in between coats.
Roll on two coats of stone coat, waiting the recommended length of time in between coats.
After the stone coat has been left for 24 hours, sand the stone coat to desired smoothness.
Sweep up all dust and wipe all surfaces with a damp cloth.
Apply two coats of clear coat, waiting the recommended length of time in between coats.
Allow clear coat to dry for at least 24 hours.
Important Update: I wanted to mention something because it came up as a question in the comments. After the initial sanding of my old countertops, they felt slicker to the touch. I knew my sander was working because it was making dust, but the counters felt so smooth, I was afraid the stone coating would not adhere. I called the company, and it was the owner who answered. He assured me the stone coating would stick just fine because some people use this over marble even with no issues. He was right!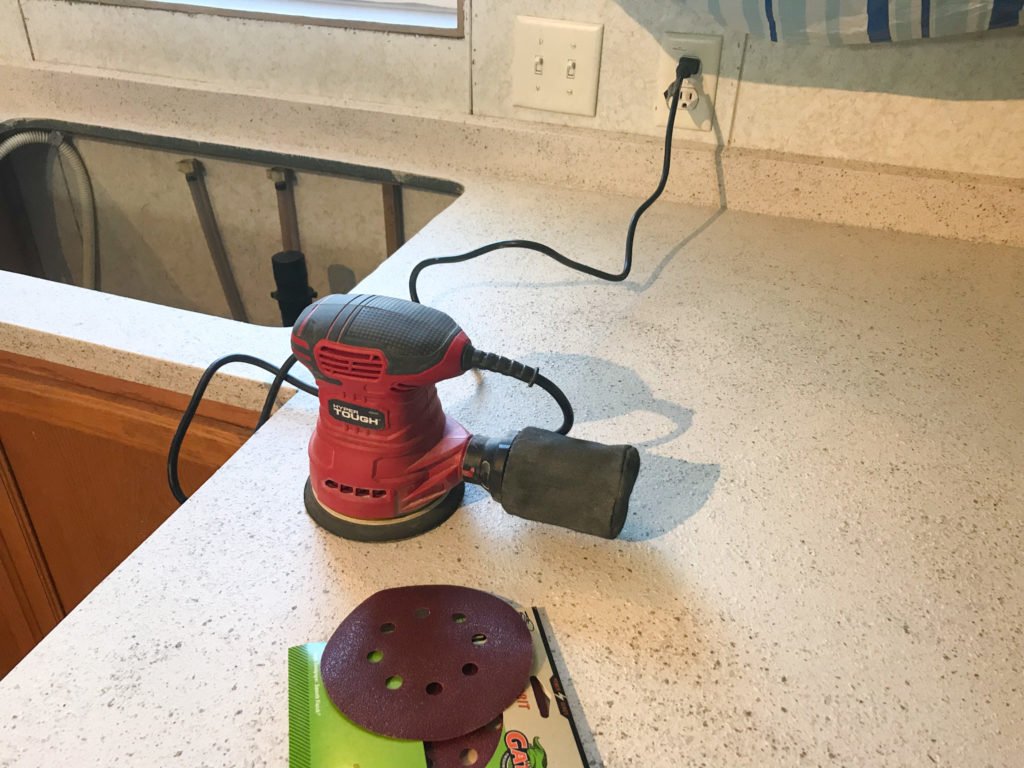 While I don't feel the need to cover every minor step of the process when the included instructions are quite thorough, I will go over a couple of tips from my personal experience with this product and share some aspects of the project that were unique to our home.
These are just a few things I learned:
Don't be alarmed if the base coat barely covers at all on the first coat. It's not meant to cover completely. It's like a primer.
Also, don't be alarmed if the base coat is not the color you want for your countertops. The base coat was a very yellowy beige on my countertop. That made me a little worried. Just remember, it's only meant to be a primer. It's not the final color.
You should also plan ahead for feeding yourself and your family during the time you will be completing this process. We did our countertops in two sections, so we could use half the kitchen while completing the work on the other half.
When covering the second section of countertops, we were without a stove and a sink in our kitchen for nearly 48 hours. We have an additional small kitchen in our basement (because my daughter and her husband who were married in high school live there), so we were not completely without a kitchen at any point, but you need to plan ahead for the time you will not be able to use your counters.
In hindsight, doing this project a few days before Christmas might not have been the most opportune time, but I'm extremely glad to have it finished going into the new year. And I LOVE IT! It was definitely worth any kitchen inconvenience.
Applying Daich SpreadStone to Countertop Trim
If the trim on your countertops is in good shape, you will just apply directly to your trim. You can repair any damaged spots according to the instructions included in the kit.
Our trim had so much damage that we decided to remove all the trim entirely rather than patching the damaged places. This product can be applied directly to unfinished wood, so I knew it would work.
We've had ongoing issues with the trim in this kitchen. The laminate trim was always just slightly larger than the surface it covered, so that extra bit of overhanging laminate would get caught on people's clothing and tear away. This caused bits of the trim, especially on the island, to break off while the house was very new.
I was afraid this would continue to happen if I covered the existing trim, so we just removed it all. You can remove it fairly easily if you heat it with an iron. I used a piece of parchment paper between the iron and the surface.
After removing the trim, I cleaned the glue away with rubbing alcohol and sandpaper. I filled the small gap between the boards with Bondo and sanded that a bit once dry.
I used the sander to round out the sharp corner between my trim and my countertops before applying any product. I learned this from other YouTubers who said the stone coat is easier to work with if your corners are not so sharp because it becomes difficult to sand a very sharp corner without removing too much of the coating.
I love the way the product worked on my trim. I can already tell it's drastically more sturdy than our prior trim situation. There's no longer overhanging laminate to get caught and rip away.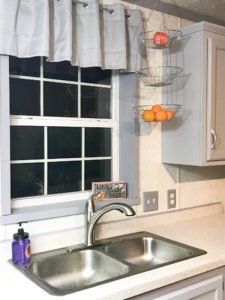 Should I Remove My Sink While Refinishing My Countertops?
Removing your sink is really a matter of personal preference. I wanted the most professional look I could achieve, and I believe removing the sink gives you better results because you aren't messing with taping around the sink and trying to get a smooth edge with that.
Even though it's a bit of extra hassle to remove your sink, I believe you will be more satisfied with your overall longterm results if you take the extra trouble to remove your sink, but that's just my personal opinion.
How Many People Does This Countertop Refinishing Project Require?
ONE! I am a female of average height (though much shorter than my daughters) and probably slightly below average physical strength. I completed the entire application of this Daich SpreadStone Mineral Select kit on my own!
My husband did remove the sink for me, but I could have taken care of that too after watching a couple of YouTube videos.
All of the steps required for this Daich countertop kit are very simple. They do not require any special skills or prior knowledge. If I can do it, you can definitely do it!
We absolutely love these countertop resurfacing before and after final results. I think the photographs really speak for themselves.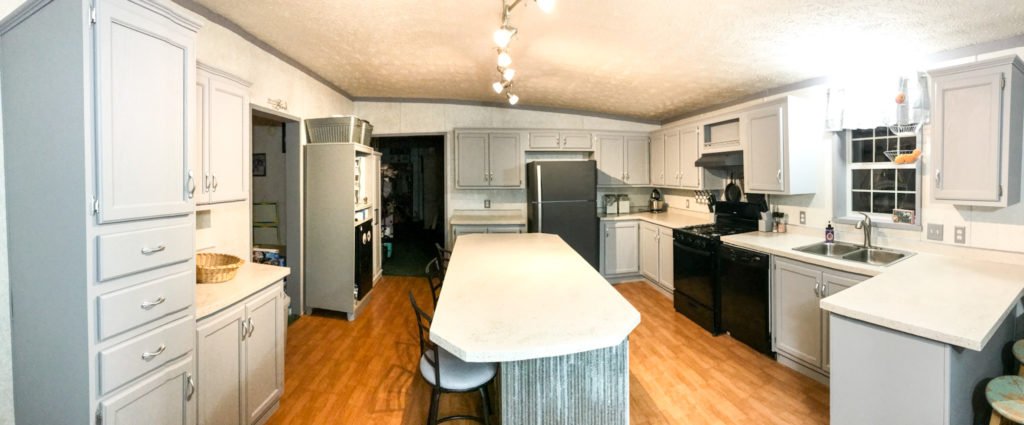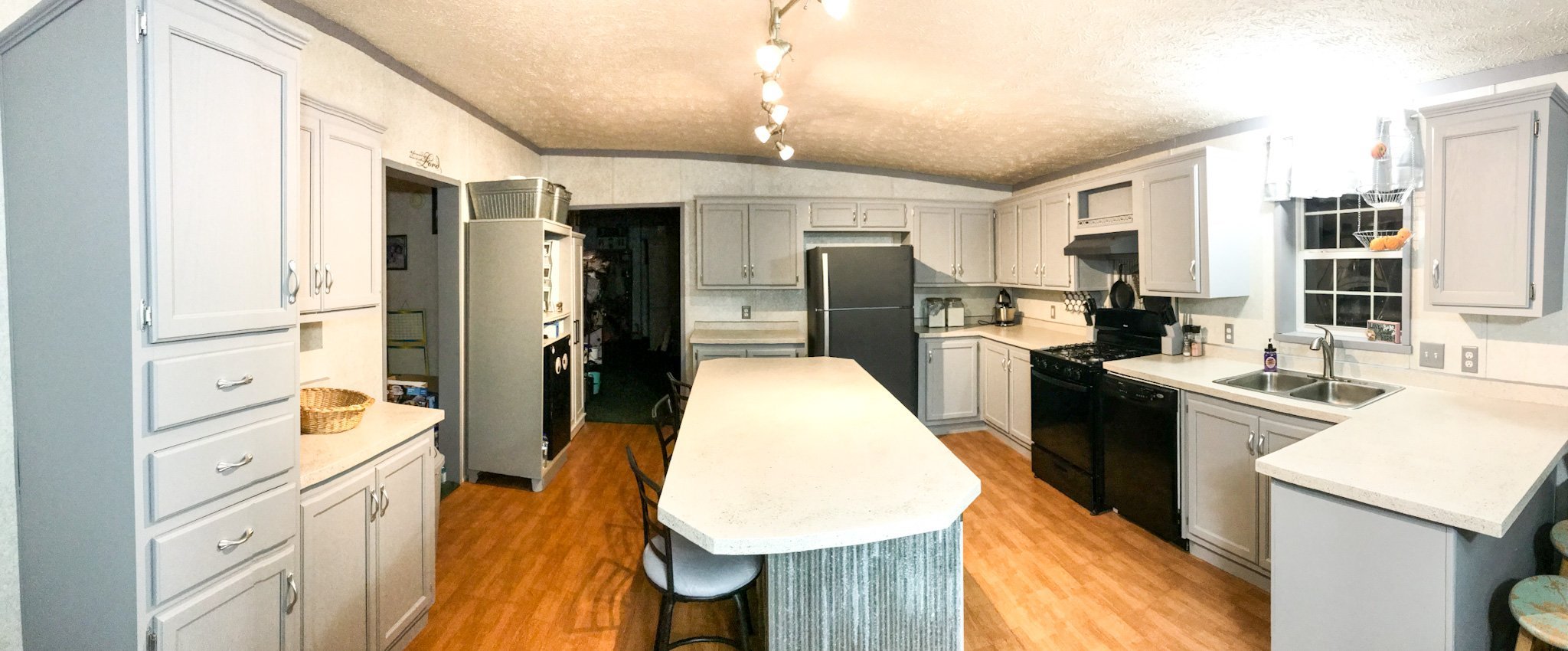 Though we originally believed we would need to update the flooring to match the cabinets and countertops as soon as possible, we are now reconsidering that. These countertops have somehow made us like the floors.
I think it's all the different colored flecks in the stone coating. Because there are coppers and tans along with the grays, whites, and blacks, it somehow ties in the flooring with the rest of the kitchen, and the honey oak floor is actually growing on us again.
We also love the way the flecks of copper complement the weathered, rusty patches on the galvanized barn metal we used to cover three sides of the island and the backsplash behind the stove.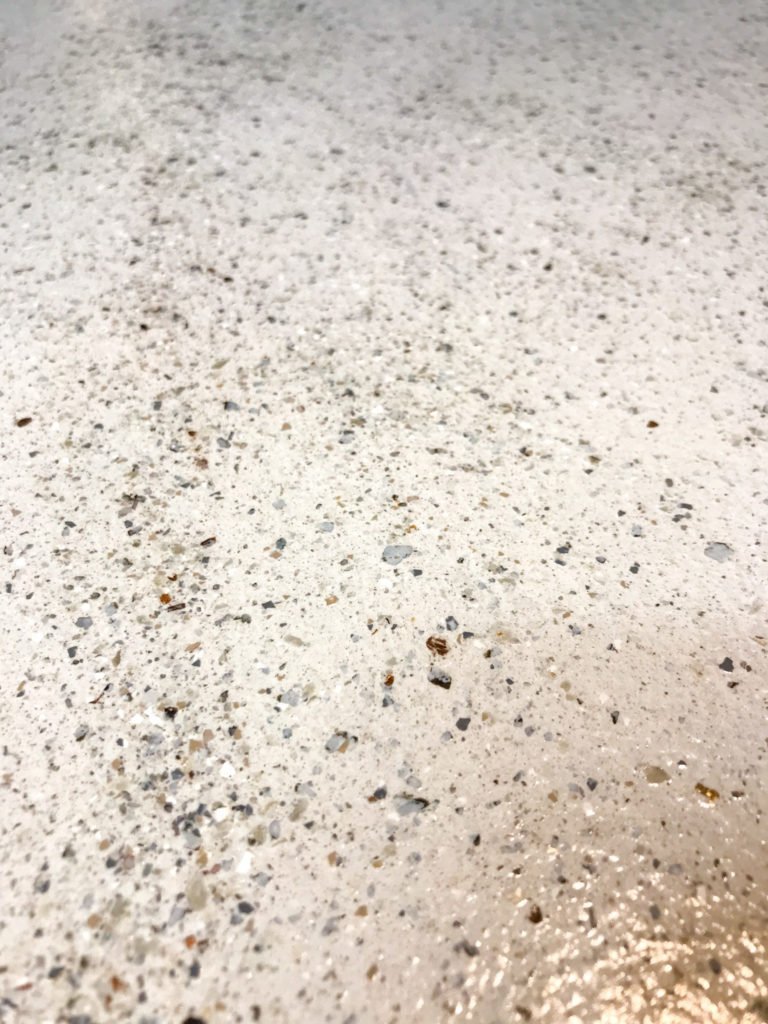 We may still update the flooring in a few months, but I'm thrilled that it looks better than expected during the interim.
The Daich countertops clean up very well. We made a huge mess while making gingerbread houses, and all the green and red icing wiped right off the countertops. I also love that the variations in the flecks of color seem to camouflage the crumbs that are always hanging out around the toaster.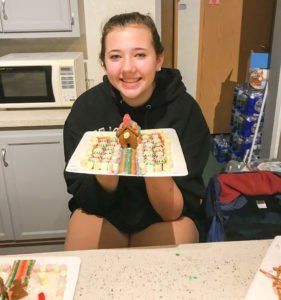 I used my Instant Pot the other day without any issues, and I had my crockpot sitting on the counter for 3 days while I was making bone broth, and the prolonged heat had zero effect on the new countertops.
We are extremely happy with our "new" kitchen!
Please don't hesitate to comment below with any questions that I might not have answered about this entire process. Stay tuned for our post on painting the cabinets!
If you found this post helpful, please like, share, tweet, pin, follow, and subscribe to The House That Never Slumbers!