Coat Closet to Pantry Conversion DIY –
Adding pantry shelving to an existing coat closet made the space much more serviceable for our family's needs. This simple DIY closet makeover was a timely upgrade because we needed the storage for groceries and supplies during the COVID-19 quarantine.
*This post contains affiliate links.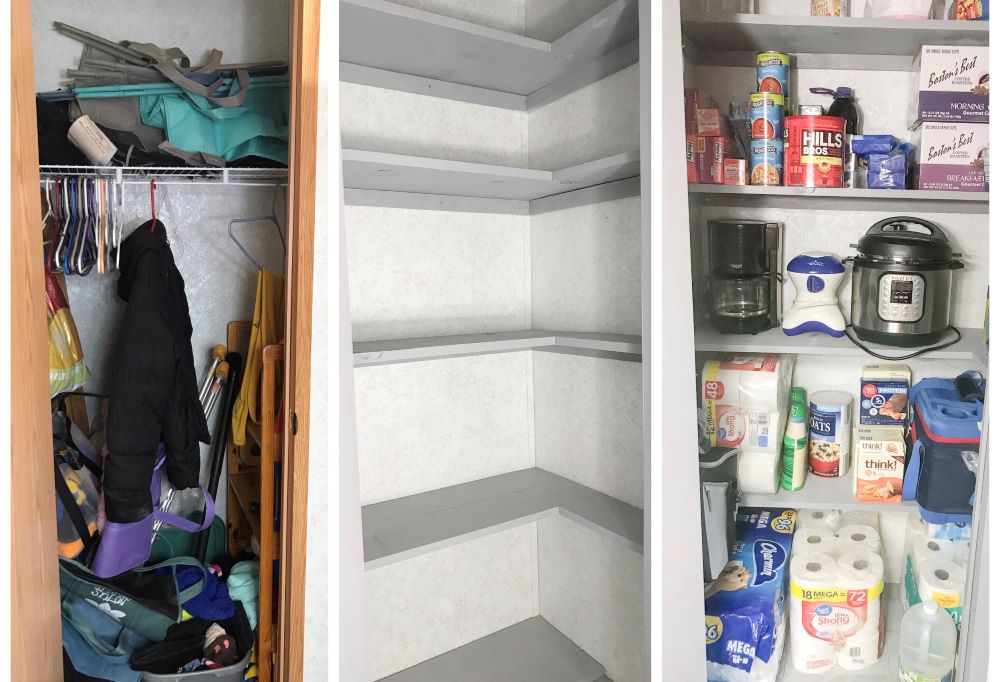 The Unused Coat Closet Before Updates
Our house which is a Dutch manufactured home has A LOT of closets. Closets are a feature that modular and manufactured homes do well. I'm definitely not complaining about the closets. We all know I'm a hoarder, right?!
The coat closet in our living room has never been used effectively. We do not enter through the front door in that living room. We enter through the back door in the laundry room. When the kids were little I stored all the snow pants and winter coats in this closet during the summer.
As the kids grew, I started throwing random items in this closet. As you can see, most of the vertical space was wasted.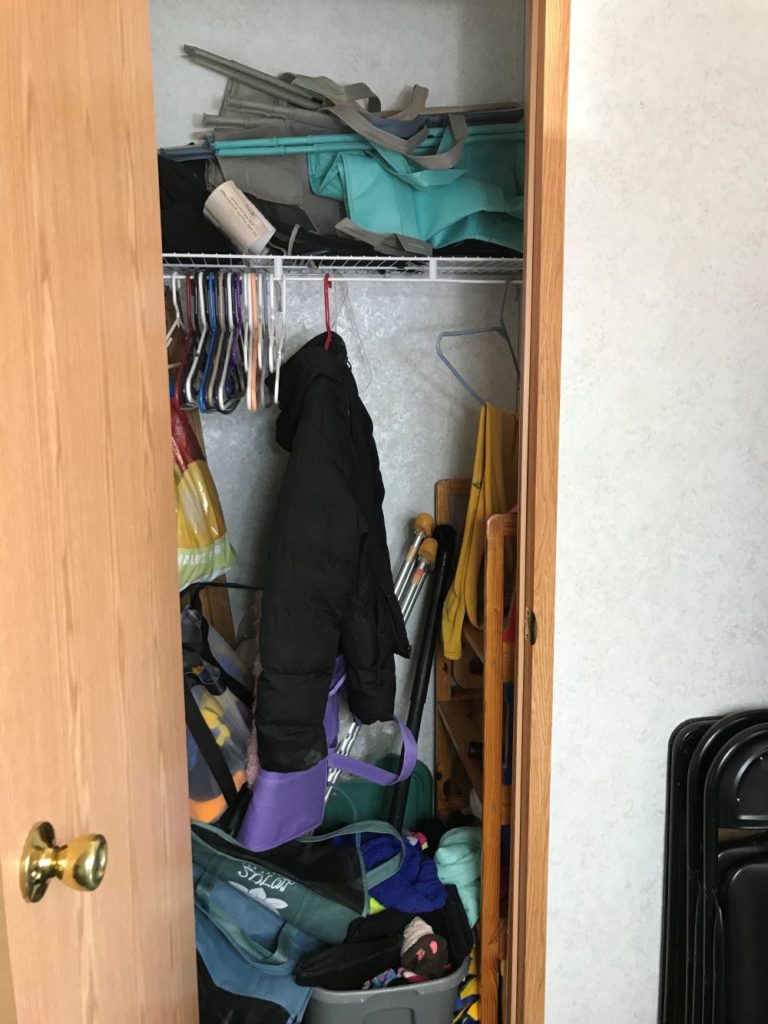 My original goal was to make this space storage for extra crockpots and kitchen appliances and have room to store the vacuum and the carpet cleaner, but that aspiration changed a bit with the quarantine.
Pantry Closet Makeover Supplies Needed
1″ x 2″ pine boards
1″ x 6″ pine boards
1″ x 12″ pine boards
drill (will make the project much easier)
Phillips head screwdriver (if no drill)
saw (circular saw will work, radial arm saw is better)
flat head screwdriver (for prying carpet tack strips)
hooks
Cleaning and Preparing the Coat Closet for Conversion
I needed to remove everything from the coat closet before I could even think about adding useful pantry shelves. I sent two bags of gloves, hats, and scarves to the clothing room at the school.
Next I uninstalled the wire closet shelf. This will be used to make a shelf for cooking sheets and lids in my kitchen island eventually.
I also cut out the green carpet. We will be replacing the carpet at some point, but I have to finish painting all the trim in the entire house before I can replace flooring.
Removing the carpet was actually pretty easy. I just needed to pry up the carpet nail strips and the staples that were keeping the carpet padding in place.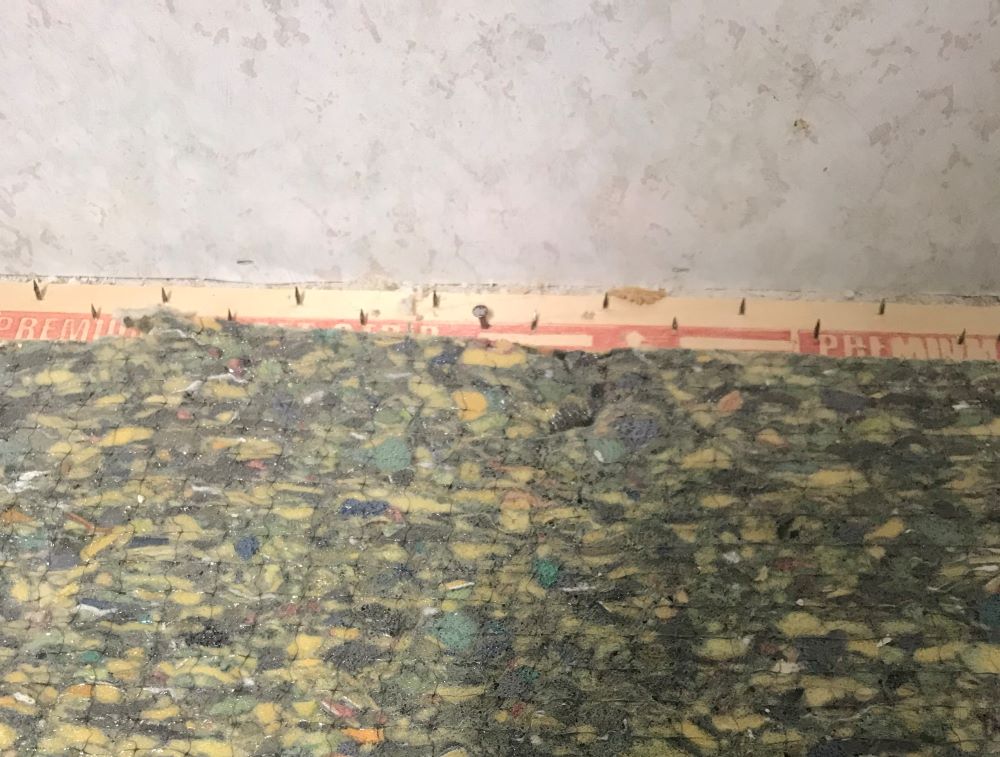 Planning the Pantry Shelving
With a blank slate in my old coat closet, I could do all the measuring needed to plan my new pantry shelves. I drew up a plan on graph paper, but I won't share my exact measurements because likely no one trying to repeat this project will have the same dimensions.
I had a deeper space on the right side of my closet, so I planned for 6 inch shelves along the right wall. The shelves on the back wall are 12 inches. There was no room for shelving on the left wall, but I extended my 1″ x 2″ supports because that was the only way I could hit studs in two places with those. That also gave me a nice place to install hooks.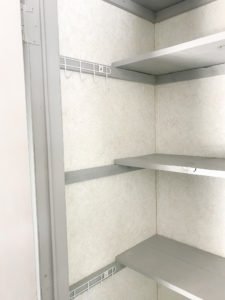 All the boards I used were the cheapest pine boards from Menards. I purchased them during an 11% rebate promotion as well.
I used 1″ x 2″ strips to support my shelves on the wall rather than some type of brackets. The arrangement of the studs in the wall, made using brackets impossible.
You can see the way I connected and supported the shelves here. There's a corner brace under each of the 1″ x 2″ boards where they meet, but it's not easy to see in the photo. The 6-inch shelf is connected to the 12-inch shelf with a mending brace.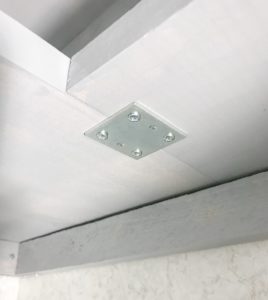 I also added these hooks right above the doorway for umbrellas and such.
Replacing the Closet Flooring
We hope to be replacing the green carpets shortly. I don't want to buy extra carpet for the closets, but I didn't want to leave the green carpet in closets either. I already had these Achim sticky tiles.
I originally purchased cheap sticky tiles to see how they would look with my new cabinets in the kitchen. Then I decided they were too close to the color of the new cabinets.
The Achim sticky tiles were a perfect solution for the flooring in my closet makeover. They were very inexpensive, and there are enough left to cover the small section of linoleum at my front entry as well.
Painting the Pantry Shelves
This is a closet makeover after all, so I wanted the inside of the closet to be somewhat pretty. I painted one coat of Heirloom Traditions Cobblestone paint on the pine boards and two coats on the door frame and door.
Heirloom Traditions is also the paint I used for my kitchen cabinets. The paint is amazing. It covers so well. My kitchen cabinets only took two coats of the paint. Heirloom Traditions has a built-in primer and built-in topcoat, so I didn't even need to prime. I hate painting, but I love this paint because it doesn't take coat after coat.
You can see the pictures of my kitchen makeover in DIY Countertop Refinishing Before and After with Daich SpreadStone Kit.
Pin this!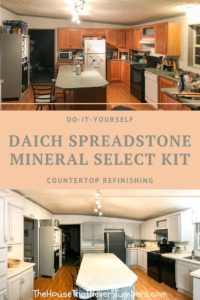 Stocking the Pantry Shelves
When I started this project, I had no idea we would be on a stay-at-home order just as I finished. Because we have a large family, I generally buy everything in bulk anyway. I buy the 96-roll toilet paper packs from Sam's and Costco on a regular basis as part of my regular shopping.
Thankfully, my hoarding tendencies were an advantage when COVID-19 hit the United States. I already had enough toilet paper for a good while, but our area has not been without toilet paper except for the very first week of panic-buying. I've been able to replenish toilet paper as we go, but I'm definitely missing my trips to Costco for the huge packs.
This pantry makeover that was supposed to hold my extra crockpots and small kitchen appliances became the perfect place to store some of our most frequently-used emergency supplies through this quarantine.
We are generally well prepared for most emergency situations, so we had plenty of food in the house when the stay-at-home orders were issued, but our supplies were not well organized until we converted this closet.
You may want to check out our 10 Emergency Foods You Must Stock post if you want to prepare for the unexpected.

DIY Coat Closet Makeover Success
Converting our coat closet to a pantry closet has allowed us to make optimal use of the closet space. Our supplies are now easy to see and sort in our emergency supply closet. A quick glance in our new pantry before our now less frequent shopping trips lets me easily assess our supply needs.
You probably have a lot of time on your hands right now, so go find a closet and start converting! Let us know if you have any questions.
Pin this!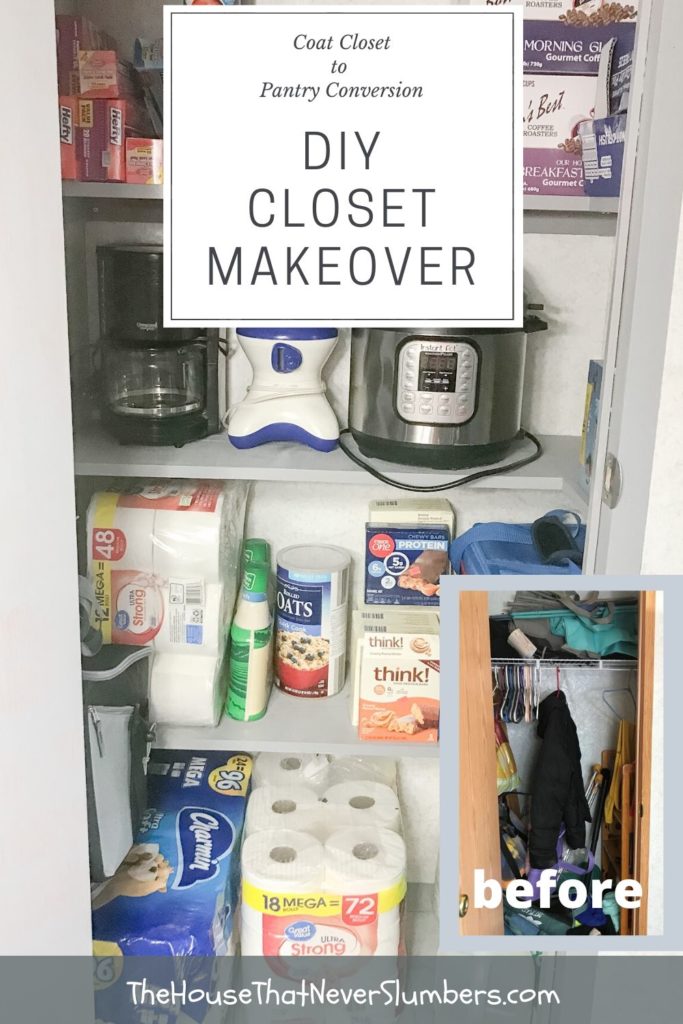 If you found this post helpful, please like, share, tweet, pin, follow, and subscribe to The House That Never Slumbers!