Christmas Tree Spritz Recipe –
Christmas Tree Spritz makes an adorable addition to any holiday platter. This versatile basic recipe can be altered in color and shape to form many different festive Christmas Spritz variations. You'll want to add this cream cheese Spritz recipe to your line-up of homemade Christmas treats. Spritz (or more accurately Spritzgebäck) is a traditional German Christmas biscuit. Spritzen is a German verb meaning "to squirt" because this Spritz is squirted through a cookie press.
It's always so much fun to try recipes from other cultures! My Everyday Challenges has a great Step-by-Step Guide for Macarons which are a traditional meringue-based French cookie. Macarons would be a pretty addition to any holiday cookie tray too.
*This post contains affiliate links.
We had never tried making Spritz until a few years ago when a lady from our church gave us a cookie press. I had owned a cookie press previously that we had acquired in a box of stuff that my dad had purchased for a few dollars at an auction because he wanted something else that was in the box. I was always intimidated by that cookie press, so I eventually sold it in a yard sale. After we were given this new cookie press, I figured it was worth a try.
The cookie press we have is an inexpensive plastic one. There's a clearance tag on the box that says $2.50, so I'm guessing the regular price wasn't more than $15. This one appears to be very similar to the one we own.
I'm not sure where I found this Cream Cheese Spritz recipe. It has been in my recipe box written on a white notecard for a number of years. The notecard included recipes for Cream Cheese Spritz, Chocolate Spritz, and Butter Spritz. I decided to go with the cream cheese version because butter is more expensive than cream cheese, and I had quite a bit of cream cheese stockpiled in my basement fridge from the last time Aldi offered it for 79¢.
Cream Cheese Spritz
1/2 cup butter
1/2 package of cream cheese
1/4 cup sugar
1/2 teaspoon vanilla
1 cup flour
food coloring (if desired)
sprinkles (if desired)
Bake at 375° F for 8-12 minutes (or perhaps longer). I start checking the cookies after 8 minutes. I use a baking stone for all the cookies we bake at The House That Never Slumbers. Sometimes the baking stone takes a little longer than a metal pan, but I find that I rarely burn a batch of cookies with a baking stone. That is not the case with a metal pan. I often get distracted and burn batches when using a regular pan.
To make Chrismas Tree Spritz, you need to use the tree-shaped disc in your cookie press. This Cream Cheese Spritz recipe could be used with any of the other shapes as well. 
DO NOT grease your cookie sheet. Whether you are using a baking stone or a metal cookie sheet, oil on the pan will keep the dough from sticking, so the cookie press will not deposit the cookie onto the sheet correctly.
Here's a video of MissChatterbox using the press.
Then she got carried away with the cookie press. A loaded cookie press should not be used as a weapon!
We have acquired a large variety of sprinkles in our spice cabinet which we put to good use on this Christmas Tree Spritz. If you will be using sprinkles, I highly recommend you use a cookie sheet with edges rather than one of those flat pans. The sides don't completely contain the sprinkles, but they're better at catching the excess than just a flat surface. My high school art teacher always called glitter "the herpes of the art world." I would consider sprinkles "the herpes of the baking world." Our Christmas Tree Spritz looked fantastic with all the sprinkles though.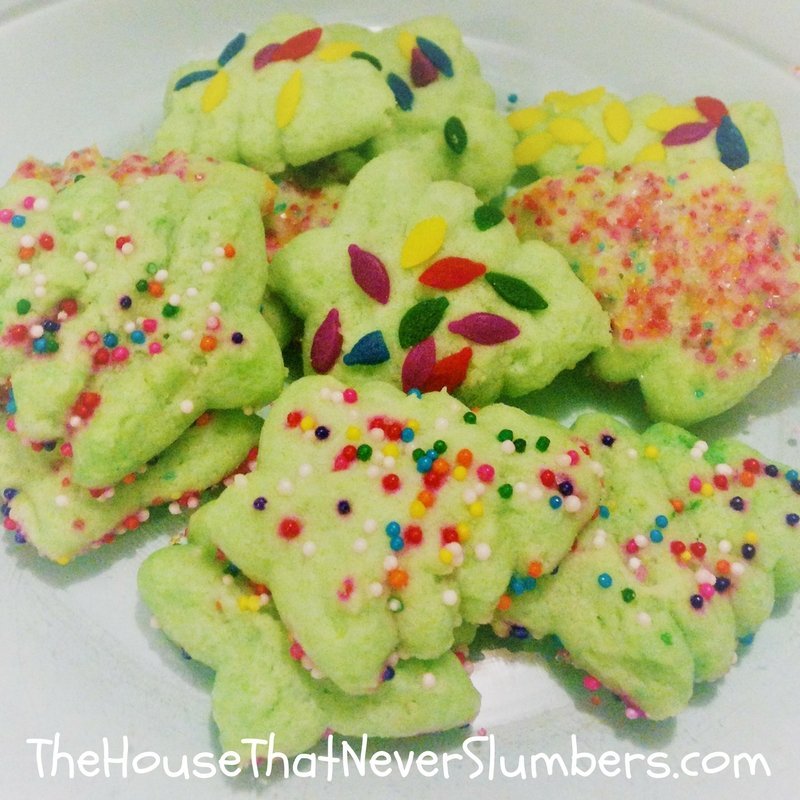 We had set aside some of the dough before adding the green food coloring because we wanted to try some Snowflake Spritz as well using a different disk in the cookie press. This didn't go nearly as well! Most of our snowflakes were bloopers, and they got too crispy and brown around the edges. The little snowflake candy bits were a definite FAIL! They melted into the cookie and looked like a pile of coal.
This may have happened because our dough was getting too soft by the end. I'm really not sure. I wanted to share our failures because we are definitely not a showcase house. I don't want to show you only the sanitized photos of our best work.
Spritz creates a delicate cookie that has a mild, buttery flavor. I almost think of Spritz as more of a cracker than a cookie.
A cookie press can be used with any Spritz recipe to make lots of different shapes which can be altered to any color you chose and embellished with sprinkles, icing, or candies. These edible works of art are only limited by your own imagination.
You will also want to check out our Chocolate Reindeer Spritz Recipe!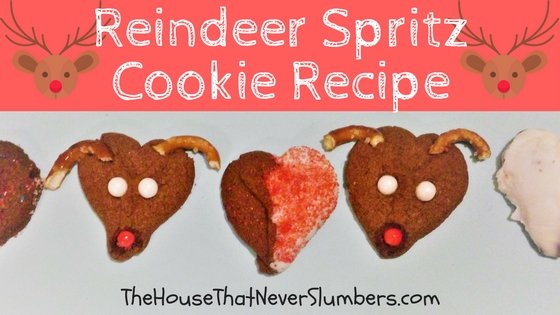 Please subscribe, like, share, pin, tweet, and follow us on social media!