7 Cheap and Easy Dollar Store Pool Hacks –
Maintaining a pool can cost a bit of money in chemicals, but the organizational side of pool ownership does not have to break the bank. We've come up with several cheap and easy ways to use common dollar store items to enhance our pool and keep all the pool accessories tidy.
*This post contains affiliate links.
Pin this!
You can find a video of these easy dollar store pool hacks in use at the end of this post! If you missed our earlier post How to Easily Remove Rust from Your Pool without Harsh Chemicals, you will definitely want to go back and watch that as well.
As you may already know from 13 Reasons You Need a Summer Waves Pool Right Now, our pool is a Summer Waves Elite 16′ x 48″. It looks like this.
All of these hacks will work with a metal frame pool like this. Some of the pool hacks rely on having access to loop something over or through the metal crossposts, so they might not work with all types of pools. Many of the hacks will work with any kind of swimming pool though, so don't stop reading if you don't have a metal frame pool. We still have dollar store pool hacks for you too.
You will also want to check out the additional pool hack that has changed our lives in Easy Shower Shelf and Swimsuit Drying Rack.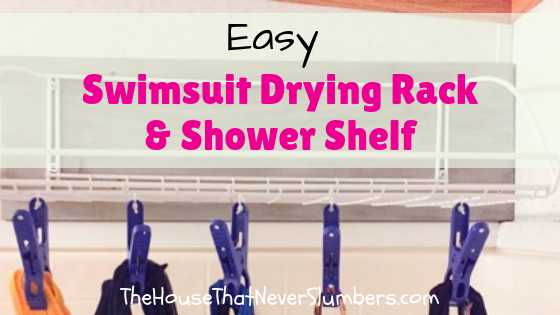 1. Dishpan Foot Bath
If you have a pool of any kind, you know that grass is the enemy of your pool. We have a huge yard which we have to mow weekly. The kids walk across the freshly mowed grass, and it sticks to their feet. They get in the pool, and there are grass clippings floating around that have to be skimmed. Pool stores and hardware stores usually carry a little foot bath that can be kept by the ladder of your pool.
They want to charge you a bunch of money for one that looks like this.
I didn't want to pay that much, so I paid $1 for a dishpan from the Dollar Tree instead. It's completely functional.
2. Mesh Hanging Pouches
I've seen mesh pouches that are made to attach to the side of your pool selling for $5-$15 elsewhere. The pouches we've used are made for washing delicates in the washing machine. They cost $1 each at Dollar Tree. I attach them to the side of the pool with zip-ties. I have one that holds all the small parts to the pool sweeper. I have another that holds pool toys and goggles. I need to add another to hold my book while I'm swimming.
3. Pool Float Organizer
You can buy a really fancy organizer to hold your pool floats and pay a ton of money for it.

But I found a way cheaper solution using $1 dog leashes. These 48″ leashes from the Dollar Tree make awesome straps to hold pool floats and the skimmer.
Or you can loop the leash through the center of the other types of floats. This keeps our floats from blowing away every time the wind picks up.
4. Floating Pool Cooler
This is probably the most fun cheap and easy dollar store pool hack. We used a foam noodle, two plastic shoe boxes, and a bit of rope to make this floating cooler. Just add ice to the bottom tub. It works great and protects your food from flies.
5. Towel Clips
These plastic clamps are super useful for so many purposes, but they make amazing towel clips. I just used zip-ties to add them to several places on the side of the pool and the ladder.
6. Spray Bottle
We keep a cheap dollar store spray bottle by the pool to use to mist ourselves when floating around while reading. You don't really want to be soaked while reading because it can get your book soggy. Misting with a spray bottle works much better.
7. Hose Holder
This pool hack didn't make it onto the video because I just invented it the other day. This cheap dollar store dog collar works amazingly for hanging the pool sweeper hose on the side of the pool. It's important to keep everything off the ground because I hate having to pick all the pool accessories up before mowing.
Cheap & Easy Dollar Store Pool Hacks Video
I made a video to let you see these hacks in use on our pool. Sorry about the rooster in the background! Please subscribe to our YouTube channel when you click over to the video.
Do you have any great pool hacks? We would love to learn more.
Related posts: