Best Gag Gifts for Christmas from a Fun Novelty Gifts Company –
There's a time for serious gift giving, and there are times when a serious gift just will not do. Whether it's the office white elephant gift exchange or an informal Secret Santa with your teen's athletic team, there are times you need a quirky gift with lots of personality. What on Earth has a nice collection of really cool gifts for every less-than-serious occasion. We're sharing just a few of our favorites.
*What on Earth provided complimentary products for this post. This post contains affiliate links. There's also a coupon code exclusively for my readers a the end of this post!
Funny Gifts for Teens
If you're in search of the best holiday gifts for teens with a sense of humor, look no further!
My teens were thrilled to receive Bob Ross apparel from What on Earth. We live near Muncie, Indiana where Joy of Painting was filmed, so Bob Ross is an important celebrity in east-central Indiana.
Bob Ross's son has been in town lately working on some kind of project. He stops by the restaurant where my mom works each time he's in the area, so she's spoken to him a few times.
You can see my 15-year-old daughter styling the Bob Ross sweatpants.
My 13-year-old claimed the Bob Ross socks, and they are her favorite pair. Aren't they so cute?
There are no mistakes. Just happy little accidents. – Bob Ross
While the Bob Ross sweats and Bob Ross socks aren't currently available, the Bob Ross waffle maker, the Bob Ross toaster, and a variety of other Bob Ross gifts are still in stock.
My youngest also claimed these very special Taco Socks.
What on Earth has an entire collection of novelty socks. You may want to check out the Big Foot socks, animal paw socks, and snack socks.
Best Gag Gifts for White Elephant
The Bigfoot Dress-Up set shown above is a brilliant idea for a white elephant gift exchange.
This soup can safe is also a great idea for white elephant. It would make a soup-er gift for your survivalist friends.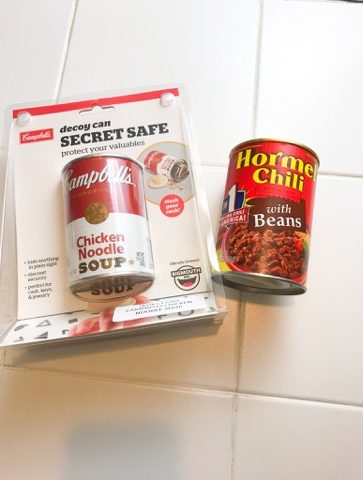 No one will ever find your hidden stash of cash if it's in your canned goods cabinet.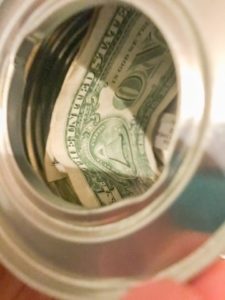 Do you remember our posts The Best of the Ugly: Christmas Sweaters Gone Wild and Ugly Christmas Suits to Make You Puke? Don't you think the beard/hair Christmas lights shown in the image at the top of this post would be amazing with any of those sweaters?
Novelty Christmas Gifts for a Country Girl/Christmas Gifts for a Farm Girl
My absolute favorite product from What on Earth is these cow corn holders. These Holsteins would be adorable in any farmhouse kitchen.
I would love to show you these charming cow corn on the cob holders in use, but it's impossible to get good corn on the cob in Indiana at this time of year.
These animal corn holders are also available in pig or puppy.
I ordered this three-tier hanging basket. As many of you know we're completely updating our kitchen, and one of my goals is to have everything stored off the counters in our improved kitchen. This hanging fruit basket is so convenient.
These pig measuring cups are another fun novelty kitchen item. This sloth mug is also adorable.
Best Gifts for Rednecks
In case you haven't noticed, we have a few rednecks living here. If you doubt me, check out Top Redneck Moments of 2017.
These shotgun shell lounge pants are right up the boys' alley.
Do you like their Donald Trump action figures or hate them? If Trump's not your cup of tea, they also have political figures from the other party. [Just a word of warning: the Trump action figure does have it's middle finger extended. I did not realize that when I ordered.]
The bald eagle pool float (shown in the first photo) is perfect for this America-loving bunch, but it's obviously been a little too cold to use it. We have around 6 inches of snow on the ground right now. Should I send one of the boys outside in swimming trunks to pose for a picture?
Quirky Gifts for Him or Novelty Gifts for Dad
This dadbag fanny pack would be perfect for any man to wear to Walt Disney World where fanny packs are a perfectly acceptable accessory. My nephew was happy to try it out. Unfortunately, it's not currently available.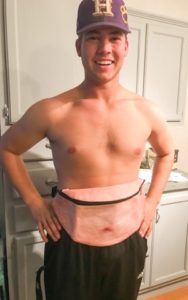 Best Cheap Gag Gifts
My girls asked for this Dachshund silicone ice cube tray. It's so much fun, and it was really cheap. We want to see if we can use it to mold chocolates too.
Some other cheap gag gifts available from What on Earth are:
If you're interested in any of these fun gifts or the many others available at What on Earth, you can get 10% off with the coupon code WOE1012.
What's the best gag gift you've ever given or received?
If you found this post helpful, please like, share, tweet, pin, follow, and subscribe to The House That Never Slumbers!
Also check out!