Cheap Places to Eat in Pigeon Forge, Tennessee –
So you're bringing your family to the Great Smoky Mountains, and you need to know the best food in Pigeon Forge at the lowest prices?! Look no further! I've been bringing my family to Pigeon Forge and Gatlinburg for years, and I've discovered all the Pigeon Forge dining deals.
As I mentioned in our prior post 10 Free Things to Do with Your Kids in the Great Smoky Mountains, we've been staying at Pigeon Forge or Gatlinburg every spring for the last two decades. You'll want to check out that post if you are looking for inexpensive things to do in Pigeon Forge.
Through the years we've also discovered all the ways to get the best Pigeon Forge food at a low price. Whether you are traveling to Pigeon Forge with kids or with adults, I'm sure you will want to save money on dining.
Pigeon Forge on a Budget
There were several years when the kids were little that we spent barely any money on our spring vacation to the Great Smoky Mountains. Spring is not the peak season for Tennessee.
Pin this to your Travel board on Pinterest!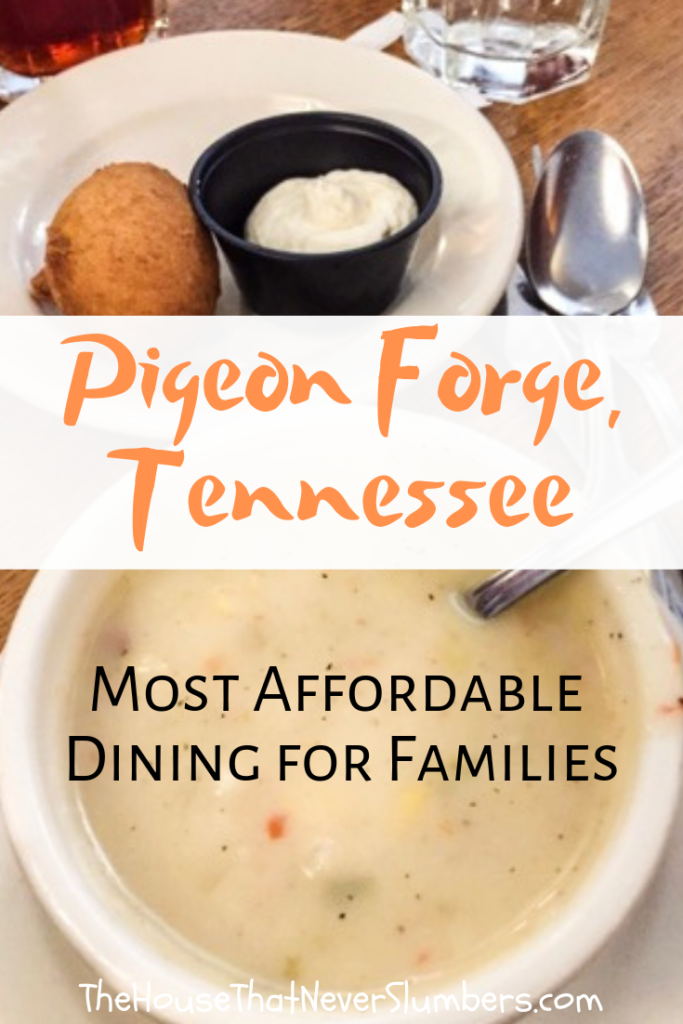 Because all the kids were homeschoolers back then, we were able to travel the week before all the school breaks would start. There were years we were able to find decent hotel rooms for $23.95 a night. The days of a $20 hotel room in Pigeon Forge are likely behind us, but hotel rates in the Smokies are still relatively low for Spring Break travel.
If you are looking for the best Pigeon Forge hotel, you'll want to check out our review and room tour of the Park Tower Pigeon Forge.
We've gradually had to spend more and more as the kids have gotten older and prices have increased, but we still do our best to feed everyone well at the lowest price possible.
*This post contains affiliate links.
Eat Some Meals at the Hotel
We could not afford to travel with a large family if we dined in a restaurant for every meal. The only vacations we've been able to do that were the times we went to Walt Disney World with Free Dining.
If you want to know about Disney Free Dining promotions, you should sign up for a Disney Rewards Visa card because Disney Visa cardholders are the first notified when Free Dining is released. (Do not sign up for any credit card if you cannot use it responsibly and pay off the balance every month!)
You can earn a sizable statement credit if you sign up for the Disney Visa through my referral link. You can read more about how we use this credit card to earn rewards dollars without ever paying any interest in this post.
Since not every vacation can be free dining at Disney, we normally only eat one restaurant meal a day. Our hotel (usually the Park Tower Inn, Pigeon Forge) has a serviceable free breakfast.
Then either lunch or dinner has to be the food items we bring from home. Remember my favorite folding table cooler? It comes in really handy to bring food from home because it has that great removable tray for the lunch meat.
I'll eventually write a post about all the food items we pack to feed our kids cheaply in the hotel without making them feel like we're too poor to eat well. You should subscribe to The House That Never Slumbers if you don't want to miss that post! Also, follow us on social media using the follow buttons at the very end of this post (sidebar on desktop).
Buying Groceries in Pigeon Forge
If you will be preparing some of your meals in your hotel room or cabin, you will need groceries. We bring some grocery items from home, but we find it's easier to buy some items (like bananas and bread) once we arrive.
The grocery stores in Pigeon Forge are a bit more expensive than our grocery stores at home. Pigeon Forge has a Publix, Kroger, Walmart, and more recently a very nice Aldi.
Food Delivery in Pigeon Forge
If you would rather not mess with shopping for groceries as soon as you arrive in Pigeon Forge, you may want to consider a shopping delivery service like Instacart.
For a small fee, Instacart shoppers will pick up the exact items you order online and deliver them right to you. I have not tried Instacart myself, but the people I know who have used it have been more than happy. Wouldn't it be nice to have someone shop for you while you unpack your luggage?
Buying from a grocery delivery service may cost a bit more, but if you factor in all the items my kids want when we go into a store, I would likely come out ahead on getting groceries delivered to the room. Plus I often see Instacart running promotions with discounts.
Lunch Prices Cheaper Than Dinner at Many Pigeon Forge Restaurants
Check menus online to find prices, and plan your meals accordingly! If we plan to visit a restaurant with a cheaper lunch menu, we'll have lunch there and dinner at the hotel. If it's a restaurant with the same menu all day, we will generally have lunch at the hotel and dinner out. If we are hiking or going to the speed park, I'll pack sandwiches and drinks in the van, so everyone can eat as they get hungry throughout the day.
ALWAYS HAVE A COOLER OF DRINKS IN YOUR VEHICLE! This will save you so much money when you don't have to pay $3 for a bottle of water at the Tanger outlet mall or a tourist attraction.
I usually make everyone drink water in sit down restaurants because I think it's ridiculous to pay $2 or more per drink. I'd rather spend that to get ice cream later. At Pigeon Forge restaurants with combo meals that include the drink, I let them have the soft drinks/tea.
You need to check the Pigeon Forge dining coupons before you dine anywhere in the city! Pigeon Forge hotels and many other venues have racks of coupons for the Pigeon Forge area. Check them!
Saving $5 on every meal by using a coupon can really add up over the course of a trip.
These are our favorite Cheap Eats – Pigeon Forge!
Pigeon Forge Restaurants We Must Do Every Year:
This is probably our collective favorite. It was definitely my father-in-law's favorite dining place in Pigeon Forge. My son loved going to Fuddruckers with Papaw.
Fuddruckers is a hamburger place with a great toppings bar. The fries are the best item on the menu, and they have warm cheese for the fries up on the toppings bar. You can also add onions and so on to your fries if you would like.
The buns are baked on site. The burgers are large, so sometimes two of us will share a Fuddruckers combo meal by cutting the cheeseburger in half. The chicken tenders kids meal is quite a bit of food too.
You will definitely want to sign up for the Fudds Club email list if you want Fuddruckers Pigeon Forge, TN coupons. They send a good coupon when you first enroll. Register about a week before you plan to be there, so your coupon doesn't expire.
They also send other random coupons throughout the year and for your birthday. The Pigeon Forge dining coupon books I mentioned above generally have a Fuddruckers coupon also (usually 10% off).
You can only use one coupon per order, so just pay separately if you want to use multiple coupons. We sometimes dine at Fuddrucker's twice during a week-long trip. Don't judge! There's not a Fuddruckers anywhere near our home.
The Pigeon Forge location of the Smoky Mountain Brewery has always had 1/2 price pizzas and calzones on Tuesdays and 1/2 price burgers on Wednesdays when we've traveled (ask before ordering just to be sure).
We've never tried the burgers because we eat so many burgers at Fuddruckers, but we get the pizza every year. Here's the Smoky Mountain Brewery menu. The Brewmaster pizza has a white sauce with spinach, roasted tomatoes, garlic, and chicken and is my favorite. My daughters usually share a large ham and cheese calzone. The guys get some other pizza with sausage and pepperoni.
You must try the soft pretzel and cheese appetizer at Smoky Mountain Brewery!
We usually order our half-priced pizzas to take back to the hotel in the evening, but you must order before a certain time if you want carry-out. They stop taking orders at some point, and we missed it last year and had to dine in the restaurant instead.
When we travel with grandparents and cousins, this ends up being a really cheap meal to feed a lot of people, and we always have leftovers to put in the hotel fridge for when people are randomly hungry late at night. Sometimes we end up with a day where we don't eat any meals in a restaurant because we have so many leftovers that no one's hungry, and they just want to hang out and swim instead of going out for dinner.
There's also a Smokey Mountain Brewery Gatlinburg location, but it doesn't have the same dining deals.
If we had a Sonic near our home, this would be just another fast food chain, and we wouldn't bother dining there on a trip. The rest of the fast food in Pigeon Forge is pretty typical stuff we have at home.
We don't have a Sonic close, so we usually stop at Sonic in Pigeon Forge. Sometimes they have 50 cent corn dogs on certain days. The slushes and soft drinks are usually 1/2 price during Happy Hour from 2-4, and corn dogs are 99 cents, so you will want to go during Happy Hour.
Sometimes there are also 1/2 price shakes late at night, but this is not true every time we travel, so I'm not sure if it's just a random promotion or seasonal. My kids like the slushes with the Nerds in them from Sonic. You can sign up for texts alerts to know what kind of Sonic deals are going on while you're in the area.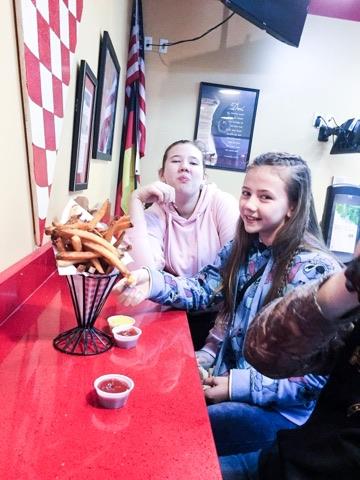 This is a German bratwurst and fry shop at The Island in Pigeon Forge. We tried the brats once and weren't that impressed, but we have to get the fries every time.
The fries are so good. We get two large orders and share them. You can find a Poynor's Pomme Frites coupon for $1 off a large fry here. They have a bazillion different sauces for dipping. The Black Forest garlic sauce is great.
This place also has a dessert called Spaghetti Ice Cream. Pigeon Forge has lots of other ice cream places, but none of those have ice cream that looks like spaghetti with strawberry sauce on top and chocolate meatballs. My little girls always bring their own money to buy one of these.
The Island is a short walk from our hotel, so we sometimes walk over to Pommes Frites a couple of times. Definitely, bring your own drinks to avoid paying a fortune at any of The Island shops or restaurants. We have a backpack cooler that I fill with a few bottled drinks before we leave the hotel.
Though I can't find the exact brand and bag anymore, the cooler backpack I have is very similar to this one. It's great because the heavy drinks are on the bottom, and the dry compartment is on top.
This is a really fun southern restaurant – the type where they serve the drinks in mason jars. They have decent lunch specials for $8.99 each Monday-Friday, and kids meals are $5.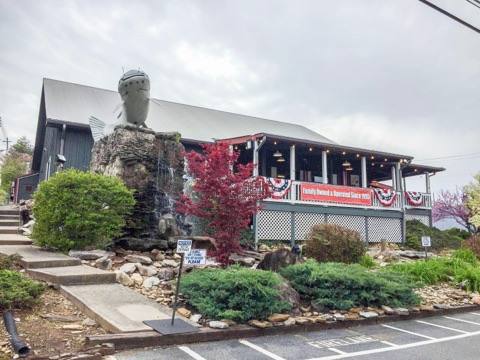 You cannot share meals here because of the all-you-can-eat vittles. (We often split meals in sit-down restaurants that are not all-you-can-eat.) The vittles are the best part at Huck Finn's – soup beans, sweet onions, pickles, hush puppies, slaw, and mashed potatoes or fries.
I have never seen Huck Finn's Catfish coupons in the little coupon books (probably because their lunch specials are already cheap), but I always check every time we travel just in case.
There's an Auntie Anne's Pretzels in the Walmart. I know they have Auntie Anne's everywhere, and I usually try to stick to food we can't find locally when on vacation, but this one is worth mentioning because they had great coupons last year.
They had a stack of coupon pages sitting on the counter every time we were at the Walmart. One of the coupons was B1G1Free on any specialty pretzel. We grabbed a couple of pretzels a few times when we were in Walmart.
This actually prevented us from stopping for a meal twice that trip because after the pretzels the kids were full enough they weren't ready to eat again before going back to the hotel, so they just ate leftovers later.
[Update – Salsaritas is now closed. There's another sit-down Mexican restaurant, 5 de Mayo, in that building. We have not tried it, but I walked inside to check it out while the rest of the family waited on our food next door at Sonic. It smelled really good. I'm only leaving Salsaritas on the list because there are restaurants in other places, and it's a place worth trying if you find one.]
This place is next to Sonic. It's kind of like Qdoba or Chipotle, except they have something called a Quesorito which is a burrito smothered in white queso. The burritos are pretty big. Two people could share if they want the same toppings.
They have a combo deal here to add the drink and chips and queso or chips and salsa. We usually just add the combo deal to half our meals. This place was really impressive the first few years it was open. It has not been nearly as impressive the last two times we've visited. It's still adequate, just not overly impressive.
They have a different special on the sign each day, so you might want to pay attention to that.
Restaurants We Do Some Years But Not Always:
We don't have a Chic-fil-A close to us, so my kids get excited about it. If we go to the park that was listed in my guide 10 Free Things to Do with Your Kids in the Great Smoky Mountains, we usually stop to grab Chic-fil-A on the way there and eat at the picnic tables around the playground.
Applebarn is fairly expensive, so we don't eat there every trip. The lunch prices are less than the supper prices, so we go early in the day if we are going to Applebarn.
It's fun to look around at the orchard shop. Sometimes we buy a jar of apple butter to take home. The main feature everyone loves about Applebarn is the apple fritters they serve with every meal. When we realized no one in our family cares much about anything but the fritters, we stopped going to Applebarn as often and now just stop in to grab a few orders of fritters to-go.
If anyone in the family acts really sad about not visiting Applebarn, we'll just get that kid a takeout meal when we get our fritters because usually, nobody else cares. Then nobody feels like they missed out on their favorite part of the trip, and we didn't drop $100+ for a meal most of the family could leave or take. We probably dine there as a family about every third year.
My parents are crazy and like to waste money on food. If my parents come on the trip, they usually eat at Applebarn once for breakfast, once for lunch, and once for dinner (but not all in the same day). It's a meal where you are seated a long time as they bring all the courses, so most years my kids don't want to take time away from all the other fun outdoor activities to sit and eat at Applebarn.
It's often something we do in a year where we get bad weather. If you do happen to be at Applebarn, see if you can get the tables where the seats are hanging porch swings. My kids have loved that the few times we've been seated there.
We just finally tried The Old Mill in 2018. We went to the Old Mill right after church on Sunday morning, so we did have a bit of a wait, but it was worth it. I have no clue why we didn't dine at The Old Mill before then!
It's one of our new favorite restaurants in Pigeon Forge. The lunch prices are not horribly expensive. This restaurant is similar to Applebarn with its traditional Southern-style cooking, but it has a different flair.
Instead of vegetable soup, they give you an amazing corn chowder. Instead of apple fritters, they give you corn fritters which are very tasty. The Old Mill and Applebarn are two places that we will probably alternate doing one or the other for each future trip.
Not Great but Worth Doing Once in Your Life:
This one is actually in Gatlinburg. It's an arcade on the main street. My son used to make us take him here every year to get something they call the Ogle Dog which is really just a footlong corn dog.
He didn't mention it last year, so I'm hoping he forgot about it (Don't worry, he never reads this blog.). This place isn't really a restaurant at all, but I thought I would mention it just because it was a novelty to my son and something he once considered his favorite part of the trip.
Fanny Farkle's menu prices are similar to buying food at a carnival, so they aren't the cheapest but two people could share the footlong corn dog.
We've only been to the Gatlinburg location. I think there's now one at The Island in Pigeon Forge too. None of us found the food here particularly spectacular, and it's pricey, but it was fun to do once.
We were there with my husband's family, and it was probably more fun just because it was such a large group. I don't know if it would have been as exciting with just our household.
One of the other families ordered the Alligator Bites appetizer, and that came with deep-fried jalapeno slices which none of them wanted, and they ended up passing them down the table to us. Surprisingly, the fried jalapenos were the best dish I tried there.
Not Cheap but a Must on Every Trip:
This place is expensive, but it's too good! There's usually a coupon in one of the Pigeon Forge coupon touristy booklets, and we make two people share, so it's not like we're paying $5-$6 per person. Sharing means two kids have to work together to compromise on toppings and flavors, but cooperating is a part of life, so we just consider it a valuable life lesson.
I just read an article about how kids from large families tend to be more easy going and get along better at jobs and marriages because their lives are just non-stop conflict resolution from the time they are born. There's probably some truth to it, so I'm just doing my part with my frugalness to make them be better in relationships later, right?
Do you know any cheap places to eat in Pigeon Forge or Gatlinburg? Let us know in the comments. Do you agree these are the best places to eat in Pigeon Forge?
Pin this to your Pigeon Forge Pinterest board!
You should also check out 10 Free Things to Do with Your Kids in the Great Smoky Mountains:
And don't forget to read 5 Simple Items You Must Pack for Your Next Hotel Stay!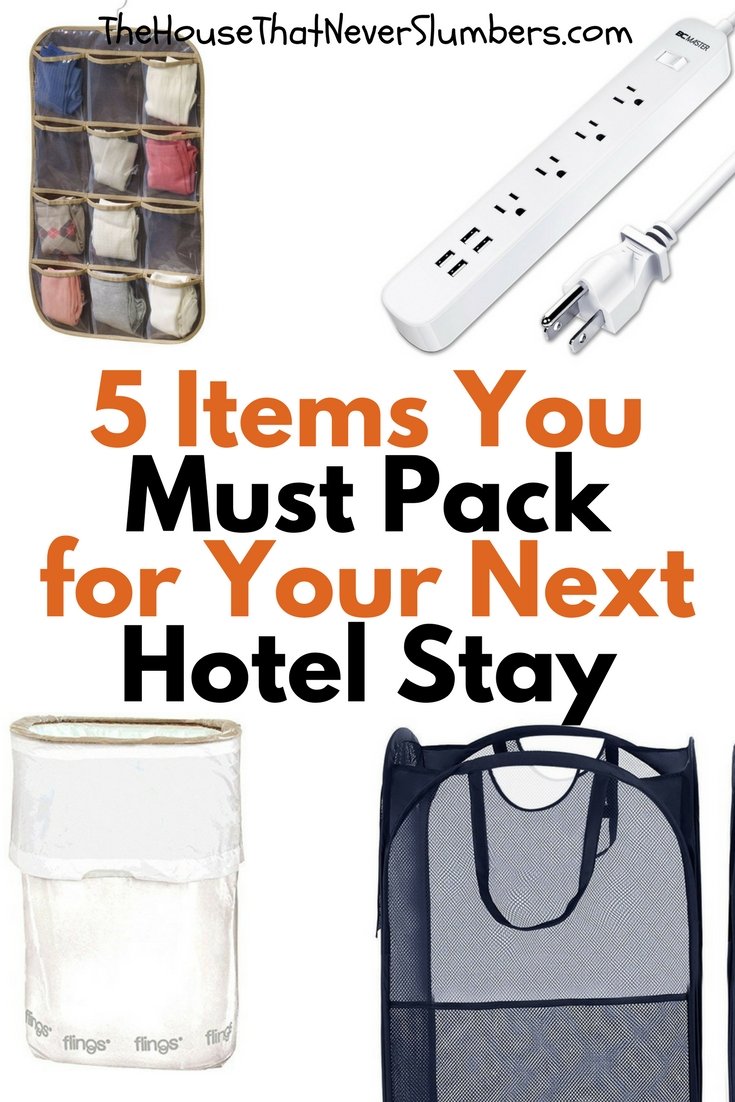 If you want to get updates on all our awesome travel tips, life hacks, DIY's, and other frugal, redneck ramblings, subscribe to The House That Never Slumbers!