Top 5 Reasons to Play Nancy Drew: Sea of Darkness Video Game –
If you've ever wished you could be a detective, Her Interactive offers a long-running Nancy Drew video game series that can give you a taste of the detective life through computer simulation. Nancy Drew: Sea of Darkness is the 32nd game in this series which is obviously based on the infamous Nancy Drew mystery novel series. 
*This post is a sponsored collaboration and may contain affiliate links.
My oldest daughter had several of the earlier games in this series when she was younger, so I was thrilled to have the opportunity to try Nancy Drew: Sea of Darkness with my younger girls. 
Nancy Drew: Sea of Darkness has so many cool features. We are sharing our favorites, but there are really too many to list. My youngest daughter tried to give you a good sampling of the various characteristics she likes best in the video demonstration below.
1.) Nancy Drew: Sea of Darkness is geared more toward girls.
It often seems like the whole world of video gaming is focused only on guys. Am I right? It's nice to see these games from Her Interactive that cater more to the ladies. Many males would likely enjoy this game too, but using Nancy Drew as the main character in this first-person video simulation game definitely gives it more appeal to females.
2.) There's a lot of reading involved with Nancy Drew: Sea of Darkness.
This game requires SO MUCH READING! This is excellent if you are trying to give a reluctant reader a means to practice reading skills. In our homeschooling at The House That Never Slumbers, we do not use textbooks. We use a lot of quality literature, and the kids learn to read by completing relevant tasks rather than sounding out words on random worksheets.
Video games like Nancy Drew: Sea of Darkness are great because they give a child an authentic motivation to read. The child needs to find the clues. 
3.) Nancy Drew: Sea of Darkness provides an interdisciplinary approach to learning.
Reading isn't the only educational skill being fostered by Nancy Drew: Sea of Darkness. This video game touches on all the content areas. The puzzles and deciphering the clues require logic and problem-solving skills. The video game is loaded with information about the culture of Iceland and the ins and outs of the sea and sailing.
Math, science, history, geography, and language are all integrated into the storyline of Nancy Drew: Sea of Darkness. This intertwining of content areas is the junction where real-life learning takes place. 
Even the Icelandic language is sprinkled within this Nancy Drew mystery. One of the tasks within the game involves matching Icelandic vocabulary with the English equivalent, and my daughter can now recognize and remember many of the words for common items.
4.) Nancy Drew: Sea of Darkness lets you become a detective.
Who hasn't wanted to be a detective at one time or another? Nancy Drew: Sea of Darkness lets the player work through the clues as the story unfolds to solve the mystery just like a real detective. The storyline is fairly suspenseful and keeps the player guessing about what will happen next in the action.
The player must piece together the clues to move on to the next task. Secret passwords, hidden puzzles, and missing persons all make this game exciting and keep the player interested. 
5.) Nancy Drew is a classic – loved by all ages!
Nancy Drew: Sea of Darkness is only one of many, many Nancy Drew products developed through the years. My mom read Nancy Drew books from the library when she was a little girl. She read the mystery books to us when we were small, and I later read them myself. My own girls have also enjoyed Nancy Drew. 
Nancy Drew: Sea of Darkness takes the story to the next level as you get to experience the game as Nancy Drew herself. It's so much fun to see the mystery through Nancy's eyes!
Pin this!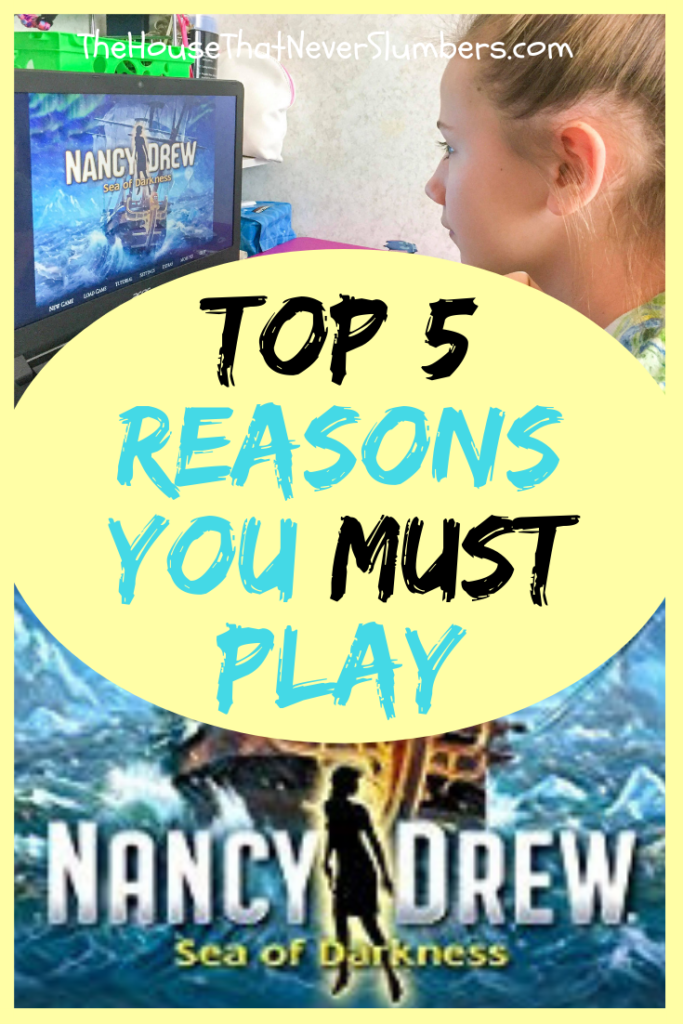 Nancy Drew: Sea of Darkness would be a great gift for a preteen or teen girl!
My daughters (ages 12 and 14) really liked this game. It has kept their attention and exposed them to great educational content. Nancy Drew: Sea of Darkness would be a wonderful gift for the mystery-loving girl in your life. You can purchase Nancy Drew: Sea of Darkness here.
Nancy Drew: Sea of Darkness Video Game Review Video
Don't forget to check out our video review of this game on YouTube! Please give us a Like and Subscribe while you're there.